Allow us to tell you a story about Paphos. Not a Paphos travel story but a genuine, archaic narrative in the time before the light.
So, let's go back hundreds of thousands of years.
With no laptops, internet, cars, buildings (or even materials to build), our planet is a deserted place made of earth and water. A painter, Sandro Botticelli, probably the only human in existence at the time, is relishing the sun. He's standing at an isolated spot destined to be one of history's most famous shores — not just a point of interest in Paphos.
Suddenly, waves are building, and their whooshy calls break the silence. Angels are coming down from the sky tooting their trumpets in joy and excitement. The wind is blowing faster, and then, suddenly the waters are calming down. The naked body of a maiden is contoured against the sun. Botticelli, romance aficionado, grabs his paintbrush and prods his canvas maniacally.

He had witnessed the birth of a goddess. Aphrodite, the goddess of love, had just been born at a beach in Paphos, Cyprus.
Paphos: A modern-day capital of culture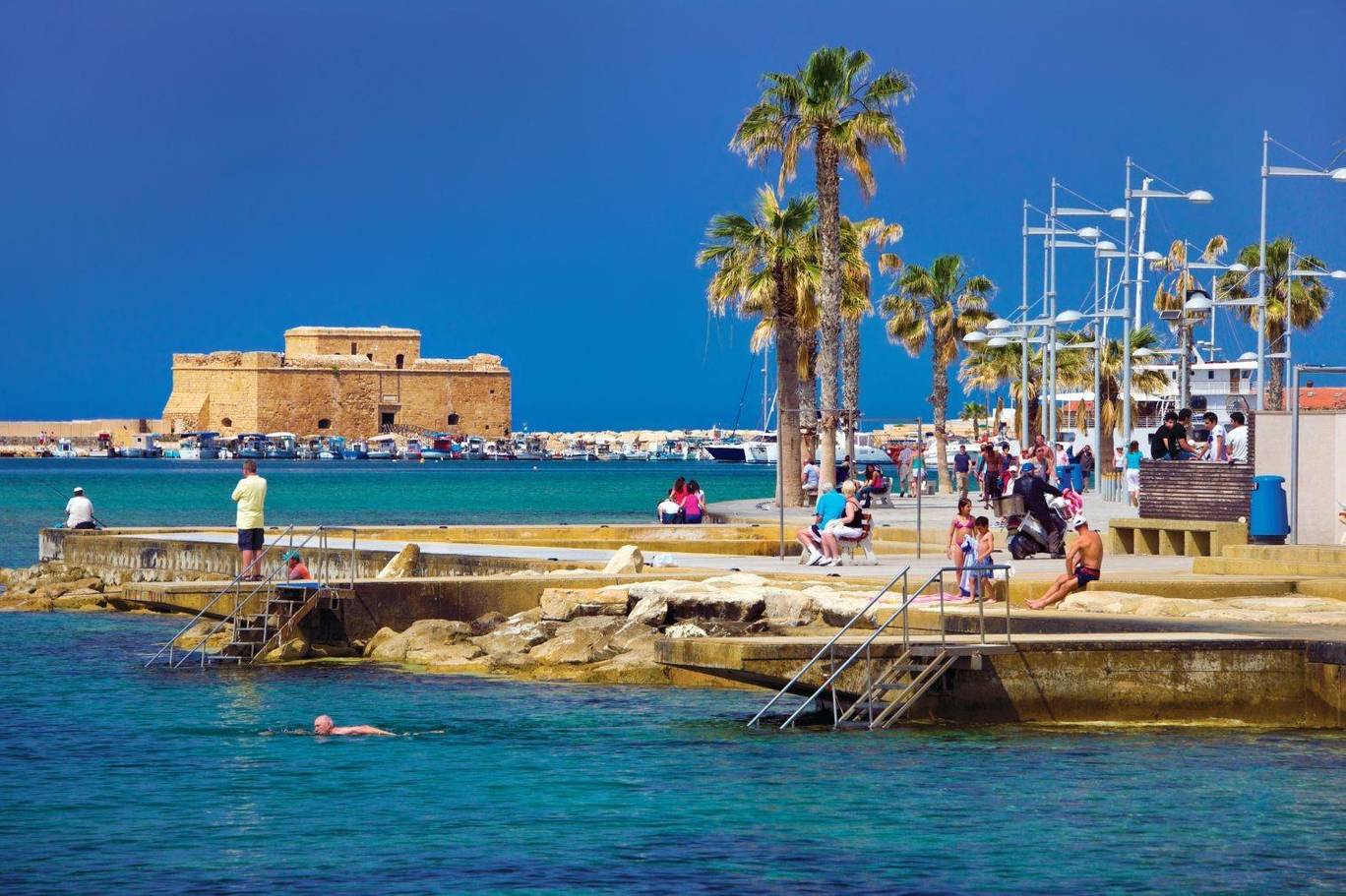 Back to 2019.
Paphos today is still a cultural place full of many different activities for the culture enthusiast. Every year, Paphos' travel rates figure up while millions of tourists travel to Paphos, this small town of only 36,000 residents, to quench their cultural thirst.
Unsurprisingly, in 2017, the town was selected as a European Capital of Culture, and Paphos' Old Town is officially included in the official UNESCO list of cultural and natural treasures of the world's heritage. Why? Because of the ancient ruins waiting for you for an exciting trip back to the Roman period, the Middle Ages, and the prehistoric times.
Things to do in Paphos
So, now that you know what Paphos is all about, you know that it's a place you should definitely visit for sightseeing, food, and history. Let's gather everything in one place. Here's a mini list of five cultural things to do in Paphos:
1. Enjoy a walk around Paphos' Old Town
Receiving the European Capital of Culture Award in 2017 wasn't only an honor for Paphos; it was also a chance to get a facelift. And the financial funding it received was ideal for that. With that said, Paphos is not just a place perfect for cultural activities but a beautiful place to look at as well. White-washed architecture, imposing buildings from another time, and natural light which feels like real-life Instagram filters are just a few to mention.
Apart from the magical scenery, Paphos' Old Town location allows visitors to enjoy panoramic views of all the surrounding landscapes and the coastline the town is famous for.
2. Go for a vineyard tasting
In case you didn't know, Cyprus is famous for its wine. And wine in Cyprus is much more important than just a way to please your palate; it's a way of living, spending time with your loved ones, and enjoying food in Paphos or any other place on the ancient island of Aphrodite.
Over the years, wine quality and production have improved so much that it's now recognized globally as one of the best wines in the world. The reason? The modern production methods which the ancient tradition which remains unchanged for thousands of years.
With just a Google search, you'll be able to find favorite Paphos food with splendid wine varietals as well as wineries that offer the experience of wine tasting right where it's produced. A Paphos travel experience to die for!
3. Walk the spectacular Medieval Castle by the Paphos Harbor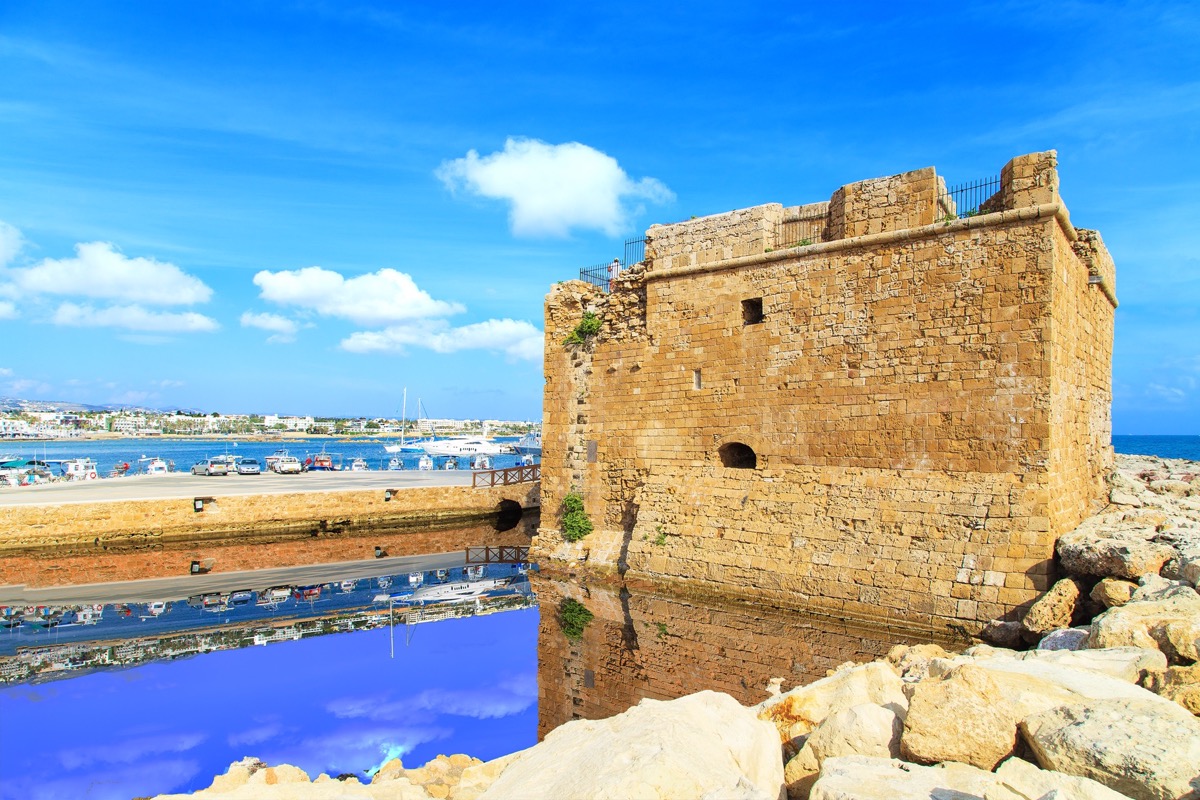 Please, don't forget that Cyprus is an island. And just like it happens with every island of the Mediterranean Sea, sunsets play an integral part in forming the place's visual identity. And the best place to enjoy these sunsets is to follow the 3-mile-long coastline leading you directly to the Paphos Castle, right on the edge of Paphos harbor.
For just a couple of euros, you can enter this architectural gem and Paphos' most wanted point of interest which was initially designed to be a Byzantine fort.
4. Find devoutness at the Chrysorrogiatissa Monastery
Cyprus has a strong religious background, so places of worship have been around for centuries. In the foothills of the Troodos Mountains, there's a monastery, standing tall for as long as eleven centuries.
The Chrysorrogiatissa Monastery is unquestionably beautiful. But what makes it even more interesting is the museum located right in it which praises Byzantine art with unique icons and pieces depicting Jesus Christ and Virgin Mary. Moreover, the museum hosts the famed sculpture of Virgin Mary crafted from pure silver.
5. A day in Paphos' zoo
Paphos' zoo was previously a private property owned by businessman and animal enthusiast, Christos Christoforou. At the beginning of the century, though, he decided that more people should gain access to his collection.
So, now a Paphos travel experience would feel incomplete if you didn't visit the town's zoo. Here you can see glorious flora and magical landscapes which work as a home for a massive animal collection — from white lions to meerkats. What's worth your attention, even more, is the collection of 200 species of birds.
Things to see in Paphos
When you travel to Paphos, time shortens. All the things you can do in Paphos, the things you can see, the foods you'll taste, all the Paphos sightseeing… There's just so much you can (and have to) do that 24 hours will honestly feel like 30 minutes.
One of the activities you have to consider is visiting all the ancient ruins. Because sightseeing in Paphos is a real must-do. Here's a list of five things a culture and history enthusiast can see in Paphos.
1. Tombs of the Kings
Probably the most notable ancient ruin a tourist in Paphos can visit. Don't be fooled, though. You're not going to find any kings buried there, and the name probably refers to the significance of the monument which dates back to the 4th century BC.
In any case, all tombs are decorated with carved, solid rock, and well-preserved mosaics that will travel you back in time. Yes, you guessed it right. Get ready for some fascinating, ancient architecture as well as findings of a long-ago everyday life found inside the tombs.
2. The Mosaics of Paphos
Speaking of mosaics and sightseeing in Paphos, in Kato Paphos, there's a collection of world-recognized mosaics. These mosaics record the everyday life of ancient Greeks and Romans, and describe myths of gods, nymphs, heroes, and goddesses.
When traveling to Paphos, you'll for sure run into many mosaics. In fact, mosaics in Cyprus have been of vital importance up until the early seventies. Floors made of tiny stones and walls made up of little pieces decorated the houses of the wealthy for centuries.
We're not going to delve into specific details about which mosaics are the best to visit on your next Paphos travel adventure — each one has its own beauty. But if we had to pick a couple, the mosaic of Scylla in the House of Dionysus, and the battle of Theseus with Minotaurus are definitely worth your attention.
3. Foinikas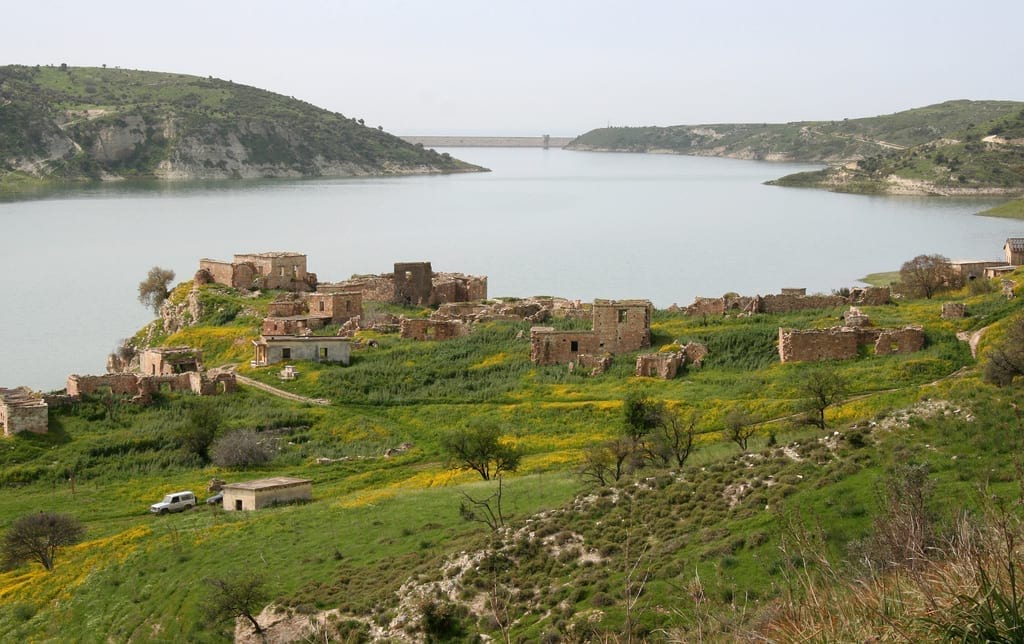 Cyprus, as a country, has many deserted villages. However, the most glorious one might be Foinikas, about 2 miles northeast of Anarita. You know it as the "sunken village" since several buildings that are still standing are submerged in water due to the unusual amount of rainfalls.
Historians say that Foinikas was abandoned after the conflict of 1974 between Cyprus and Turkey.
4. Agora and Odeon
Here's an important tip. Every time you go sightseeing in Cyprus or Greece, you need to find where the Agora was and pay a visit. Back in the ancient and Roman years, Agora was the city center, the marketplace, the place where everything happened. The ancient Agora in Paphos might not have much to offer visually — there aren't many buildings standing except for some columns and foundations.
Nevertheless, you're going to feel this powerful vibe that places which used to be important usually come with.
Do you want more sightseeing from your Paphos travel experience? Right next to the Agora, there's the Odeon, a small, ancient theater that, to this day, accommodates performances and cultural events.
5. Sanctuary of Aphrodite
Last but not least, you must pay honor to the goddess of the island, Aphrodite (or Venus as the Ancient Romans liked to call her). As an important religious ritual center, the Sanctuary of Aphrodite dates back to the 12th century BC.
So, in this ritual center, the goddess wasn't represented as a human form but as a conical stone which the ancients anointed with sacred oils. To be honest, the place might confuse you a bit, and that's because many Roman additions have changed the original, protogenic character.
Whether you like it or not a trip to Paphos would never feel complete without a visit to the maiden who put a spell on Boticcelli. Definitely your number one priority on your "Paphos: Things To Do" list.
Where to Stay in Paphos
When all is said and done, you'll most likely feel exhausted and go back to your hotel at the eleventh hour. But all this exploration and cultural bites should come with a place to stay in Paphos, that'll be entirely in sync with the aesthetic experience you've lived. Casa Mespilea sounds like an excellent choice.
Five paragraphs ago, we talked about mosaics being part of the way of living in Paphos for centuries. And this is the first thing you're going to see as soon as you enter the door.
A floor made from tiny pieces of rock, furniture from another time, decoration dating back to the 19th century. All these, covered in a veil made of cultural influences from the prehistoric, Hellenistic, and Roman years, and a Paphos travel adventure waiting for you.
Located in the center of the small town and near Paphos' points of interests, Casa Mespilea is the perfect place to spend your holidays just a breath away from the discoveries we described above. Live like a local and get to know all the tales of Paphos — both past and present.
And who knows? An ancient goddess might be staying in the room right next to yours.