Mykonos Island has become a global sensation the past few years, dotted with whitewashed villages, super luxurious hotels and resorts, chic beach bars, and a cosmopolitan Cycladic attitude that's hard to compete. As most Greek Islands, Mykonos is also home to an abundance of beautiful beaches, as well as traditional taverns where you can take a taste of Greek Cuisine.
When visiting Mykonos, you must be prepared to spend some extra money. And the luxury atmosphere of the island, in addition to the high level of service that you are going to receive on this island is worthy of every penny. So, as in every destination out there, there is a list of things to do, mandatory for every visitor that visits them for the first time.
Below, we will explore the top 5 things to do while you are on Mykonos Island, for a memorable experience that you will treasure for a lifetime!


Oniro Mykonos: The Newest Addition to Mykonos' Luxury Hotel Collection that have managed to become a sensation
Oniro Mykonos redefines luxury hospitality with its luxurious facilities, high-end services, and panoramic views over the sparkling Aegean Sea. The hotel makes up a tranquil sanctuary for those travellers who want to rejuvenate body and soul, while it's a favorite among design lovers. All rooms feature a minimal, modern design with golden and earthy elemens that add a touch of glamourness and luxury to your stay. Among the rooms, the artful and refreshing Junior Suite Seaview stands out for its splendid views towards Aegean Sea.
For your dining experience in Mykonos, there is one place to hit during the day/evening. For a gourmet menu of Greek and Mediterranean flavours, Stars Restaurant will surprise you with its beautiful and delicious dishes, like the octopus confit, the lobster salad, or the sea urchin risotto. Of course, your breakfast will be taken daily at deck restaurant, served in an a la carte style and including local specialties like Strapatsada, Cast Iron Baked Eggs and Avocado Toast.
Your favorite place to be during the day will be definitely the pool, where you will be able to enjoy the Greek Sun in a relaxed yet luxurious environment, with your favorite cocktail in hand. Just lay back and enjoy the splendid views to the Aegean Sea and they will provide you with refreshing drinks and snacks.
Last but not least, you will be delighted to hear of the hotel's luxury spa, where you can enjoy relaxing therapies and massages, as well as refreshing sessions in the sauna. So, this is definitely one of the best hotels to stay in Mykonos. And, don't forget - check prices directly to the hotel's booking engine to get the best rates.
Go Beach Hunting until you have experienced all the beaches on the island
One of the fascinating things to do on the Greek Islands is exploring their beaches. Mykonos is blessed with 28 wonderful beaches, including organized and secluded options. Most of the beaches in Mykonos are sandy, with beautiful turquoise waters and excellent swimming conditions, so instead of sufficing in one or two beaches, explore a different beach everyday.
One of the best beaches to visit is Agios Sostis, an unorganised beach 5km south west of Chora known for its remote location and low crowds. Just for the experience of an organized beach, Super Paradise is also great, named after the popular beach bar Super Paradise. This beach is frequented by gay travelers, while there are spots on the beach to enjoy massage.
Enjoy the delicious experience of a traditional Greek Tavern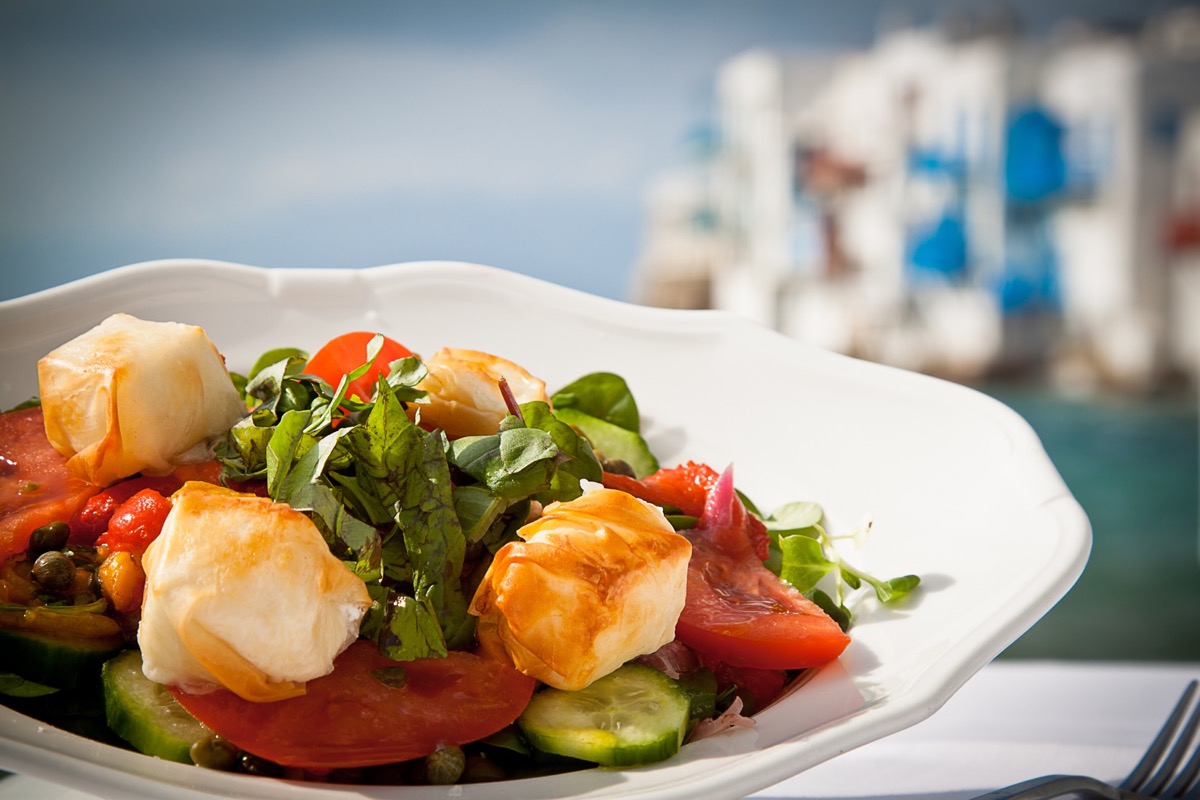 Nothing beats the atmosphere of an authentic Greek tavern. The enchanting aromas, exceptional service, and home-cooking perfectly match Mykonos' cycladic setting. That said, you will find some difficulty in finding a truly traditional spot to dine in Mykonos, as the island is quite touristic. Thankfully, after a little research, you might be able to find some traditional taverns that have still retained their traditional atmosphere.
Some unique taverns that definitely stand out are Fokos at Fokos Beach, Nikolas at St. Anna Paragkas, Kiki's at Agios Sostis, Nikos at Chora, Kounelas at Chora, Kostantis at Ornos Beach, and To Maerio at Chora. All the above taverns are exceptional, serving traditional yet delicious cuisine at very reasonable prices.
Attention: Always ask for a menu before ordering as there are many scums in Mykonos who will try to take your money.
Take some breathtaking shots at Mykonos' Windmills
Mykonos Windmills is the most imposing sight to see in Mykonos, and the are located southeast of Chora. They are visible from the port, so they are the first thing that you will most probably see if visiting via ferry. Although you can admire all the windmills from outside, only two are open to visit until today, Geronymos and Bonis Mills.
Mykonos is popular as the island of the winds, due to the gusty winds blowing in the area. These windmills helped in the flour production, while they are regarded as a symbol of Mykonos' rich past. They are three-story constructions made of stone, white-washed to blend with the rest of the buildings on the island.
Experience Mykonos' Awesome Nightlife
Some of the craziest parties and nightclubs are found in Mykonos, while its usual comparison with Ibiza says much about the island. A huge number of tourists visit it every year, just to take a taste of its elegant and luxurious nightlife, so, only a fool would visit Mykonos and not go clubbing.
Most of the popular clubs of Mykonos are located in Chora, while some major clubs are Cavo Paradiso, Babylon (gay club), @54 (mixed club), Skandinavian Bar and Club, Tropicana Beach BAR & Restaurant, and Super Paradise Club.
Wander around the white-washed streets of Mykonos Chora
Finally, a simple yet very impressive thing that you must do in Mykonos is wander at its Chora charming streets. The cobblestone little streets are dotted whitewashed buildings, painted in blue and white, and an assortment of boutique stores where you can find unique clothing and souvenirs to take back home. This will become part of your routine actually, as there is nothing more refreshing than a walk through these streets.
These are the top activities that you can do in Mykonos, and they will greatly enhance your vacations on this island. So, book at Oniro Mykonos, and start packing for the most luxurious and enchanting vacations of your life.