Dreaming for the ultimate -out of the ordinary- romantic escape for you and your sweetheart? Well, you are in sheer luck! Yangon, or else the Garden of East, is a magic multicultural blend of British, Chinese, Burmese and Indian influences and currently one of the hottest romantic go-to destinations for a truly mind-blowing honeymoon experience.
The former colonial capital of Myanmar is a heavenly place where the hustle and bustle of the big city intertwine with the tranquility of the Buddhist philosophy in a setting of unsurpassable beauty. With lush and verdant tropical gardens, buildings of exquisite British colonial architecture, golden pagodas, ancient temples, lakes of breathtaking beauty, vibrant street life and heartwarming hospitality Yangon will undoubtedly leave you and your significant other awe-struck.
So play your cards right and enhance your Yangon honeymoon by booking a room at Chatrium Hotel Royal Lake Yangon and let Cupid do the rest!
Chatrium Hotel Royal Lake Yangon– luxury & romanticism hand in hand
Chatrium Hotel, a jewel among Myanmar's hotels, will delight you lovebirds with posh amenities you will find nowhere else and stunning vistas of Lake Kandawgyi. Ideally located just 10 minutes away from the heart of Yangon and proximate to the city's cultural and historic draws, the hotel is famed for the romantic ambiance and the serenity it exudes making it the ideal choice for honeymooners and couples who want to escape the real world.
It boasts a wide selection of marvelous accommodations-from deluxe rooms to suites- each and every providing amazing facilities, premium in-room services (top in our list the in-room breakfast) and heart-warming decoration that will elevate your romantic stay.
Case in point: Chatrium Hotel is famed for its extremely hospitable staff.

Honeymoon overlooking Kandawgyi lake
All rooms boast mesmerizing views but if you opt for the Royal Lake suite overlooking Lake Kandawgyi you will be completely caught off guard. Immerse in Yangon romance with your beloved in the balcony of your meticulously decorated spacious room while marveling the reflection of the Shwedagon Pagoda in the waters of the lake. Cuddle up and watch millions of golden sparkles stretch playfully across the lake and the sky. The scenery is picture-perfect! Yangon is where honeymoon fantasies become reality!
Share moments of ultimate relaxation at Chatrium Hotel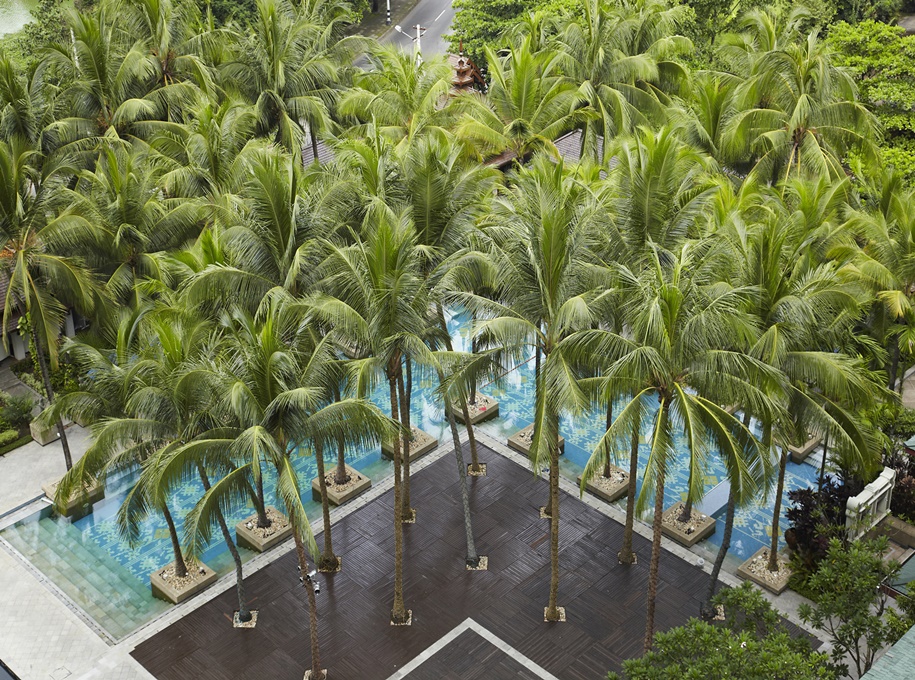 Be sure to enjoy the hotel's outdoor pool as well as the sauna for utmost relaxation in an absurdly romantic setting that cannot be missed. After your swim take a signature cocktail at the pool bar and say cheers to the upcoming romantic memories you will hold for a lifetime. For couples more into sports, Chatrium Hotel hosts a high-end fitness center fully equipped. Don't lose the opportunity to take a little extra care of your special someone in Nemita Spa, Chatrium hotel renowned spa, for romantic wellness moments of pampering together. The spa offers a wide range of holistic treatments from Thai massage to herbal baths that ensure supreme unwinding in an intimate environment after a wonderful day packed with sightseeing.
Embark on a culinary journey at Chatrium Hotel
It is no secret to the foodies of Yangon that Chatrium hotel hosts the most magnificent restaurants in the city. For lovers of theme-buffet restaurants, Emporia restaurant provides an exceptional selection of Asian, Thai and continental dishes. In Kohaku Restaurant you can indulge your Japanese cuisine cravings either by opting for the a la carte menu or making a selection from the glamorous buffet. While in Tiger Hill Restaurant you will taste Chinese cuisine –especially dim sum- at its best. In any case, we highly recommend that you don't leave Yangon unless you have tasted the menu in all three of them. And we rest sure that you will, given that the delicious and mouth-watering tastes, the luxurious setting and the laid-back vibe will keep the two of you coming back.
Extra tip: The Lobby Lounge of the hotel offers a wide selection of dishes and stunning vistas of the Shwedagon Pagoda.
Even thought you will hardly want to leave this magnificent hotel we propose in brief some of the things to do in Yangon for couples.
Romantic rendezvous at Kandawgyi Lake
Located east of the Shwedagon Pagoda, Kandawgyi Lake (aka Royal lake) enjoys a prime location amid Kandawgyi Nature Park and Yangon Zoological Garden and has always been a hot spot for romance seekers. With a history that dates back to the days of the British colonial era, the lake is an acclaimed place for the serene setting and the breathtaking views it offers.
Couples at Kandawgyi Lake can enjoy unforgettable moments either in the relaxing area of the splendid gardens or walking leisurely holding hands around the boardwalk of the lake. Kandawgyi Lake is packed with onsite restaurants and cafes but our suggestion is that you prepare a special honeymoon picnic box with a bottle of champagne and live your love story by the lake.
Pay your respects to Shwedagon Pagoda
Yangon is home to 2.500 years old Shwedagon Pagoda, one of the most important Buddhist temples in the world, and Yangon's prime highlight. This 99 meters iconic landmark, encrusted with gold and diamonds, should optimally be visited at sunset where the lights blend perfectly with loads of golden shimmers that will enchant you and your darling. Can you think of anything more romantic?
Highlights for romantic holidays in Yangon
Yangon is a beguiling city full of historical and cultural sites with the Reclining Buddha, the Sule Pagoda and the National Museum of Myanmar holding the most prominent places. Still when in your honeymoon in Yangon you better soak the culture of the city living like locals. Travel around the city on the Yangon Circular Train for an extraordinary ride. Immerse in the tea-culture and share a '' cuppa'' with your love in one of the innumerable tea houses dotted around the street. Get a taste of Yangon's thriving street food scene and feel the nightlife vibe in the 19th street of Chinatown. Shop memorabilia at the bustling Bogyoke Aung San Market and explore Yangon's art scene.
Crave for more of Yangon? Make your reservation now at Chatrium Hotel Royal Lake Yangon.