Beautiful beaches, turquoise-colour waters, thrilling outdoor activities and sports, awesome fun parks, and luxury beachfront resorts ~ welcome to Da Nang!
Da Nang is one of the fastest-growing cities in Asia, and it's currently transforming into one of the top-notch destinations for families with kids. The abundance of family activities in Da Nang has caught the attention of young families, who frequent it for thrilling adventures with their kids.

Of course, the "City of Bridges" offers much more than "fun trips". It has no shortage of sightseeing attractions and breathtaking landmarks, which can easily transform your fun holidays in Da Nang into an educational trip to remember. So, enough praising Da Nang, let's get to the real thing.
Let's discover the best things to do in Da Nang with kids!
Build a sand castle at My Khe Beach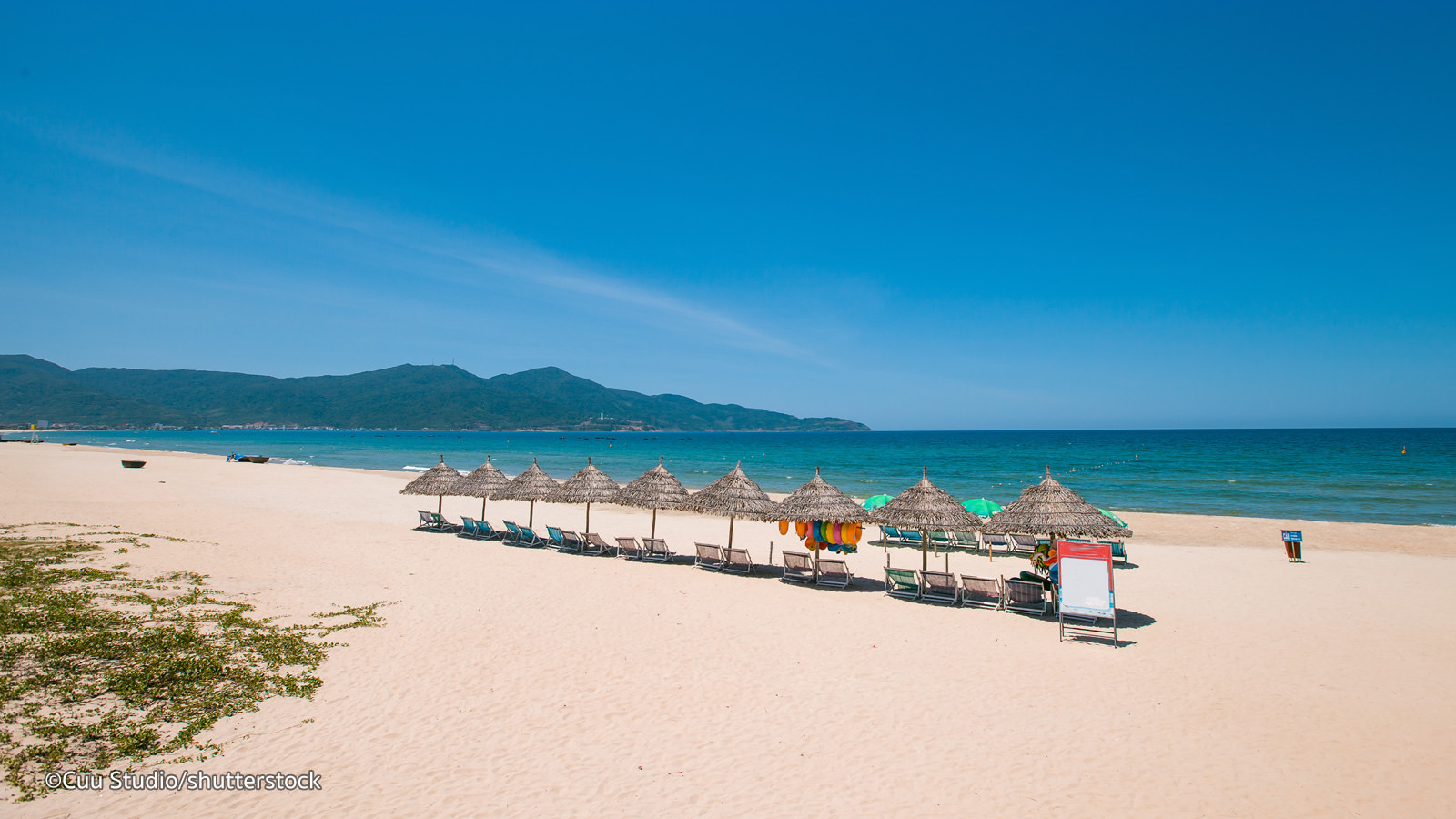 My Khe Beach is a beautiful, long stretch of sand that might end up becoming your favorite hotspot in the entire Da Nang. The beach is blessed with fine, white sand and blue waters which are impossible to resist jumping into. This is a favorite place for both adults and kids.
The adults can relax on the sand, sunbathe or swim at the beache's crystal-clear waters. While, the kids can have fun building sand castles with the beach's fine sand, or swimming at its shallow waters. Of course, the beach can get pretty busy during the high season, while there are various live performances and events scheduled for the evenings.
ALTARA SUITES: THE BEST HOTEL TO STAY IN DA NANG FOR FAMILIES WITH CHILDREN
Da Nang surely boasts an abundance of things to do for families, but to ensure that your vacations will flow smoothly, you must pay special attention to your accommodation as well (especially if you are not an Asian). As we want to make our readers' holidays as easy as possible, we handpicked a luxury, family-friendly hotel in Da Nang that's far from 'just a place to spend the nights'.
Comfort, luxury and an abundance of family-friendly facilities and amenities: these are only some of Altara Suites' virtues that make it one of the top hotels for families in Da Nang. Its location is more than enough to persuade families to choose it, as it's found by My Khe Beach - the most beautiful beach in Da Nang.
Of course, it's also very close to public transportation, so navigating through the city becomes super easy when staying at this hotel. For accommodation, you can book one of the 4 available room types, which can host up to 4 people, and we are sure that all will offer an equally pleasing experience.
Climb a 21-metre-tall Climbing Wall, watch 3D Panoramic Movies & ride a 29-metre-tall Tower Drop at Ba Na Hills Fantasy Park
Photo Credits: Fayfay.com
This is not for the faint of heart - and, we are not talking about your children, but you. Ba Na Na Hills Fantasy Park is a recently opened theme park atop Ba Na Chua Mountain, that's a paradise for the children and a heart attack for parents. Imagine seeing your kid climbing a 21-metre-tall climbing wall with its tiny arms and legs. Well, that might be a sight, but rest assure, cause this is a perfectly safe park, and your kids are gonna love it.
You can access it via cable car, which becomes quite the adventure during the cloudy days, as you are literally flying through the clouds. Some of the must-dos when visiting Da Nang include going for a stroll through the French Village, visiting the Wax Museum, riding the Alpine Coaster (not for the faint hearted), experiences the 4d death race.
Shopping, Shopping & Shopping at Vincom Shopping Centre
Shopping is inevitable when visiting new places, either you are visiting alone, with your other half or family. Your shopping experience at Da Nang will mostly take place at the stunning Vincom Plaza Mall. At this four-storey shopping mall, you will have the chance to shop mid-range and upmarket international brands, and souvenirs for your loved ones back home.
Of course, the mall has no shortage of family-friendly amenities, like the super-fan ice-skating rink or the games arcade. There is also a cinema with popular Hollywood films, a toy shop (which you might as well skip if you don't want to stay forever in this mall), and a bookstore that sells English publications. The mall works daily until 23:00.
Dive deep into the Vietnamese culture at Lady Buddha
Enough with the fun places, let's discover a place that will allow you dive deep into the Vietnamese culture and history. There are plenty of places like that in and around Da Nang, but we are focusing on the impressive Lady Buddha. This is the tallest Buddha statue in Vietnam, and it's found around 14 km from Da Nang City Center.
The statue is found within Linh Ung Bai, it's 67m tall, and it overlooks the sea, facing down while holding a bottle of holy water in its hand, symbolizing peace to the offshore fishermen. There is also a 2m Buddha Statue on Lady Buddha Statue's hat, with 17 floors, each featuring 21 Buddha statues with various shapes, facial expressions and postures. Overall, your walk at Linh Ung Bai will be educational and fun at the same time.
THINGS TO DO AT ALTARA SUITES: FROM ROOFTOP COCKTAILS TO IN-ROOM FAMILY DINNERS
With so many activities to do in Da Nang, you might have limited time to spend in the hotel, but we highly suggest trying one of the available activities within the hotel grounds for families. Actually, there is an abundance of things to do in Altara Suites, from sunbathing at a rooftop swimming pool, to in-room dining while watching the Da Nang View, or even relaxing wellness session in a Jacuzzi.
At the hotel rooftop, there is a stunning infinity edge pool that is beloved by all families, and, more particularly, by children. It's an excellent option for both adults and their kids, as you will be able to relax while your kid is playing at the pool, which is protected by a safeguard. The pool-side bar will provide both you and your little angel with plenty of light snacks and drinks during the day.
In-room dining is another exceptional service for families. After a day of exploration, you can head back to the hotel, and enjoy your dinner at the privacy of your own room. You can choose from a diverse menu with a rich selection of dishes, which also includes special menus for families. This will be one of the moments that you will cherish your room's breathtaking views.
Last but not least, we cannot help but mention the amazing sauna and steam rooms, that will allow you to relax in an intimate environment while over lookings the city.
Ride ferries and the huge ferris wheel of Asia Park
Featuring 80 indoor and outdoor rides, and a 115 metres Sun Wheel, it's no wonder why Asia Park is the favorite place of every kid in Da Nang. The entrance fee is quite cheap, while children under 1 meter can entere for free. The park is separated into the cultural park, the amusement, the central zone and the dinning.
This park is not just for kids, but adults frequent it to let their inner child out. The ferris wheel is by far the most impressive ride in the park, but the Festival Carousel, the monorail that encircles the park, and the cultural park are also worthy visiting.
These are only some of the activities that you can do in Da Nang
Of course, there are plenty, plenty more activities to do in Da Nang. In addition to My Khe Beach, Non Nuoc Beach is another great option for families with kids. Cu Lao Cham Marine Park at Cham Islands will also offer you a scenic ride along the coastline to remember, while the activities there are all amazing.
Lastly, the Marble Mountains is where you should take your family photos, as the scenery is simply breathtaking. Buddhist sanctuaries, pagoda temples, and spectacular views ensure a thrilling experience for both you and your kids. So, are you ready for your Da Nang Experience?