A trip to Greece was my dream as girl, all these myths, and all that beauty was really getting to me from a very young age. Still, I wanted my experience to be the absolutely perfect one, so I never went on this trip on my own. When I met my hubby, he promised that one day he will get me to Greece, and surprisingly enough he did! As a gift to our wedding we decided to go on our honeymoon to the island of Crete in southern Greece. We picked to travel around Heraklion, and get the most out of our romantic holidays.
Just the two of us, in a luxury hotel in Crete
When going for a honeymoon in Crete, exotic as it sounds, there is a thing you don't want, families around you. You're about to start your own family, so what's better than a luxury holiday full of couple life? Trying to find one adults-only hotel in Crete, that combine a beachfront, where you can enjoy a truly amazing summer in the island, is not the easiest task. Luckily, I came across Castello Boutique Resort and Spa, what seems the perfect couple hotel in Crete. I made my booking and was excited to find out what was Crete going to be like for us.
A mesmerizing seaside city
When finally arriving at Heraklion, I was breath taken by the beauty! The city itself was dreamy combining the old and the modern. The sea was all around us and we had a big list of nearby beaches to visit every day! After the long boat trip to Crete, I felt exhausted and we went straight away to check in our hotel. Entering the stylish lobby, the friendly staff welcomed us, and led us to our room.
We picked the superior room, which came with an independent pool, all to ourselves, a perfect start to our honeymoon. We tossed our traveling clothes instantly and got our first swim in our own pool, cooling down the heat and the sweat of the summer in Crete. We ordered some drinks to our room, and we enjoyed the true benefit of an adults-only hotel: silence and serenity!
Sun, Sand, and tasting the summer
What I love about Greece, is of course the culture, history, natural beauty and of course food. Thankfully, Castello Resort is close to Heraklion town, where we headed on our first active day in Crete. After visiting Ammoudara beach, and had a long day in the sun, enjoying the beautiful waters, and reading our books, we went back to the city and had some delicious local delicacies, such as marathopites, a pie dough with fennel, as well as cured cuts, fresh salads and local wine.
Getting back to the hotel all filled up with the sun, the sea and the amazing food, all the standard things to do in Crete being checked, we had a much needed siesta. Waking up rejuvenated, but feeling quite rusty, we headed at the spa, to enjoy a massage by the spa's specialists, one of the perks of staying at one of the best luxury hotels in Crete. We were tired from the long day, but decided to get ourselves a drink at the Aroma bar, to finish our first day where it started, in the tranquility of our couple hotel.
From diving in the blue waters, to diving into history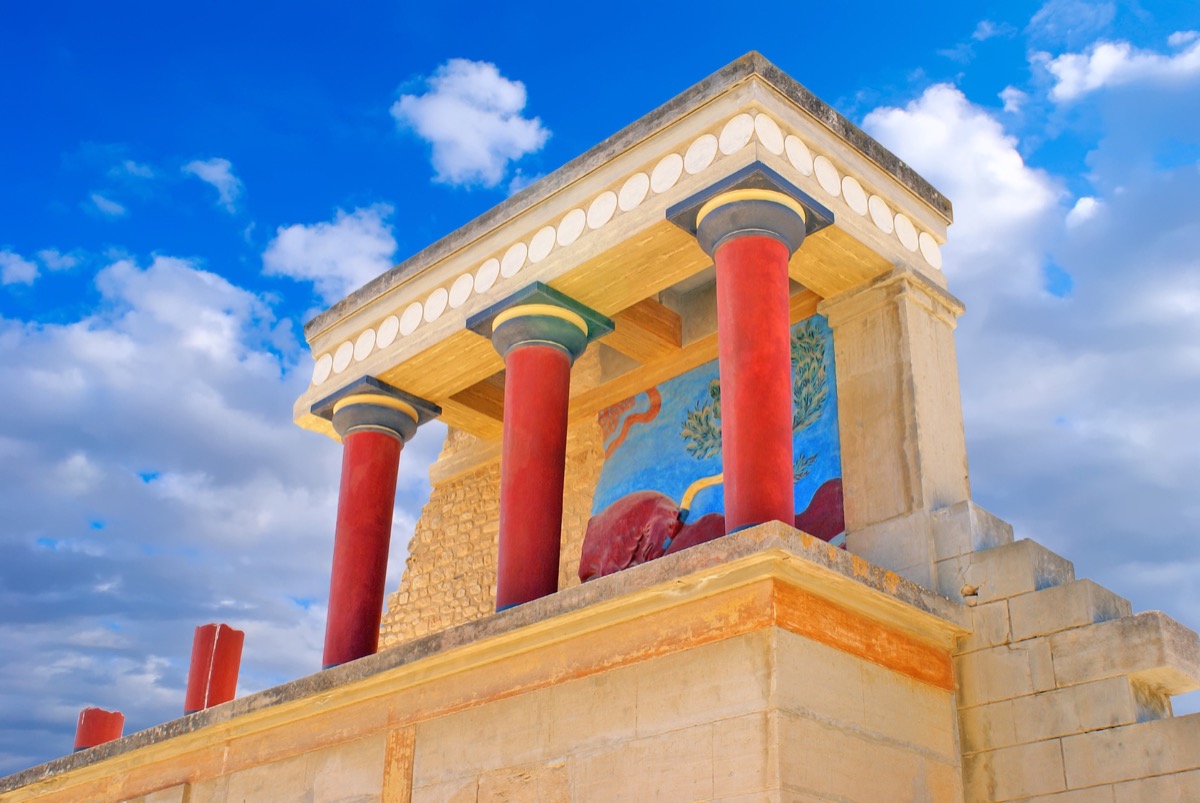 The main reason why I wanted to visit Heraklion was to visit Knossos, the ancient city of Crete, where great kings lived and a whole civilization emerged. After having a full breakfast at Elia restaurant located in our hotel, we drove to Knossos, and had a tour to the famous monument, I admired the wall paintings, the ruins and the magnificence of the castle. On our way back to Heraklion, we stopped at another beautiful beach, for a much needed swim, and by the evening we were heading back to our hotel, to enjoy a meal at our restaurant, and make the most out of our romantic holiday in Crete, by spending the rest of the night in our private pool.
Last drops of heaven
The next days we enjoyed the fact that we picked one of the best beachfront hotels, and sunbathed around the hotel's spaces, enjoying cocktails and the other services of the spa, leaving our luxury hotel to get more out of my list of things to do in Crete. We were lucky enough to listen to folk Cretan music from a local band, and in our last day, we visited a famous winery, where I bought my favorite wine to bring back home.
While our honeymoon in Crete was reaching to its end, I could not but to appreciate again the privilege of picking an adult-only hotel for us, as we enjoyed ourselves unlimitedly, in perfect harmony. I would definitely recommend Castello to all the newly wed couples, to enjoy a special and absolutely unforgettable honeymoon in Crete!