Picture your wedding in Greece. How do you imagine it? Perhaps taking place at a whitewashed church, overlooking the endless blue of the Aegean Sea. Followed by a glorious feast with your closest people. This is certainly the best idea of a Greek wedding.

Such wedding you will be able to enjoy in almost every island in Greece. However, we have found a wonderful hotel in the Dodecanese that will offer you three unique wedding venues where you can exchange your vows with your other half in any setting that you would like to.
Before heading out to explore the wedding venues, let's read a little bit more about the hotel.
Esperos Village Blue & Spa: An Adults Only Hotel in Rhodes offering 5-star Accommodation
Combining seamlessly the blue of the crystal clear waters with the atmosphere of a lifestyle hotel, Esperos Village Blue & Spa makes up the perfect hotel option for anyone to stay. As an Adults-Only Hotel, whatsoever, it's a particularly appealing option for couples.
Though it might not be a central hotel (about 12 km away from the city center), its gorgeous view over the bay of Ammoudes/Kallithea make up for it. It's also a few minutes walk from a Blue Flag awarded beach, which is much more convenient than you think.
What's even greater is that even if this hotel is Adults-Only, it's part of a larger complex, Esperia Group, and there are three other hotels on the same location. The difference is that the other 3 are all family-friendly, so in case you would like to invite families in your wedding, that's totally possible.
So, let's discover how your wedding at Rhodes could eventually look like.
Aghia Sophia: Getting Married traditionally
The whitewashed church of Agia Sophia will gift you a wedding ceremony that you will treasure for a lifetime. The first thing that you are going to notice is, naturally, its terrific sea views. The feeling of walking down the aisle with the endless blue of the Aegean Sea on the background... totally breathtaking.
A small buffet will be casually set at the paved courtyard of the church, that will ease your guests' appetite with a variety of cocktails and finger food. The reception can take place in any venue between Vergina, Castello or Ammades Seaside.

Ammades Wedding: Getting Married on the Beach
The sophisticated and stylish Ammades Seaside Restaurant & Bar will allow you to exchange vows barefoot on the beach. Wear your most bohemian wedding dress and swear vows of eternal love with the endless horizon of the beach as your backdrop. After the ceremony, you can either arrange a special buffet for your guests to feast on local flavours, or ask the hotel to bring out the tables/chairs and enjoy your meal sitted, while overlooking the sea.
Don't forget that if you want a modern reception, you can arrange a beach party at the hotel's beach bar. So imagine that: after exchanging vows on the beach, you and your husband strip naked to your swimsuit (what a shock for the grannies), and you opt for a dive at the beach's deep blue waters. Be sure to tell your photographer in advance to capture the priceless reactions of your close family and friends, as you and your newly wed partner unexpectedly strip and dive!


Castello Venue: Getting Married in a Medieval Setting
Your wedding at Castello Venue will resemble of a royal ceremony. It was designed following the architecture of the medieval towers of the old town in Rhodes. Its unique interior can accommodate a wedding reception, as well any kind of events of your choice, like cocktail parties etc.

Vergina Modern Hall: for huge receptions up to 1000 people
The modern and huge Vergina Hall can accommodate up to 1000 people in a comfortable setting, so it's great for Big Fat Greek Weddings. The hall is equipped with all modern comforts and a technology that will exceed your expectations. There is also a dance floor in the middle of the hall, where you can enjoy your first dance as a married couple. Lovely, isn't it?
This hall is also great if you are planning a double wedding. So, in case you decide to get married alongside your sibling, or your best friend, you don't have to worry about how many people you can invite!

A great wedding is always followed by a greater honeymoon!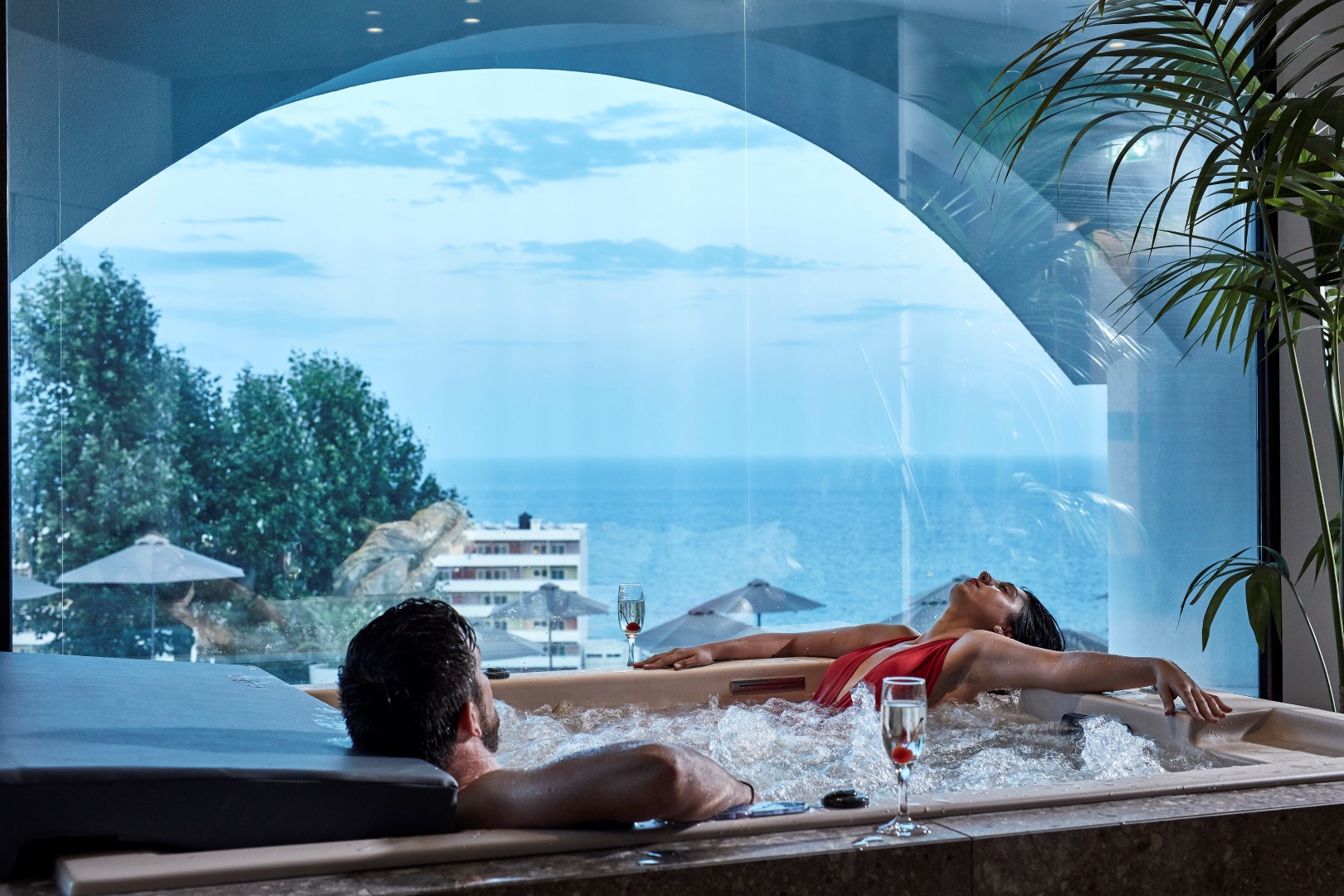 So, after your wedding at Esperos Village Blue & Spa, you can stay for a little longer for your honeymoon to get out of the trouble of finding other destination. However, if you want to avoid any misunderstandings that your relatives can take any part in your honeymoon or simply want to see more of Greece, you can schedule a short tour to the nearby Islands. Rhodes is connected to all the other islands of the Dodecanese and Crete, so you can start your trip from whichever island you would like to.