Have you decided where your next holidays are going to be? If not, Mediterranean summer is everything you need to relax and enjoy your holidays. Cyprus is your perfect getaway, especially for all-inclusive seekers, families, and last-minute travelers who don't know where to book.
Limassol is the second largest city on the island, after Nicosia, with a long coastline, attractions, spectacular views over the sea, castles, and archaeological sites, waiting to offer you the most dreamy holidays. In fact, it was listed among the 10 best coastal cities in the world for 2022. The more you explore Limassol, the more you discover its charm and beauty!
If you haven't had time to book your holidays in Cyprus or do the market research and organize your whole trip yet, there is a solution that contains everything you need. An all-inclusive resort that is there for you, with facilities and services that cover all your requirements for your last-minute booking.
Cyprus is an ideal destination for families and travelers who wish to have all-inclusive facilities. If you haven't booked your holidays yet and are looking for the ideal option, then look no further than the 5-star St. Raphael Resort. It is located in Limassol and has over 250 rooms in its main building. On top of that, there are Executive Wing Rooms, Suites, Presidential Suites, and more.
With such a huge variety of rooms, you will definitely find what you're looking for to book your last-minute holidays for you and your family.
An all-inclusive hotel with attractive prices even for last-minute bookings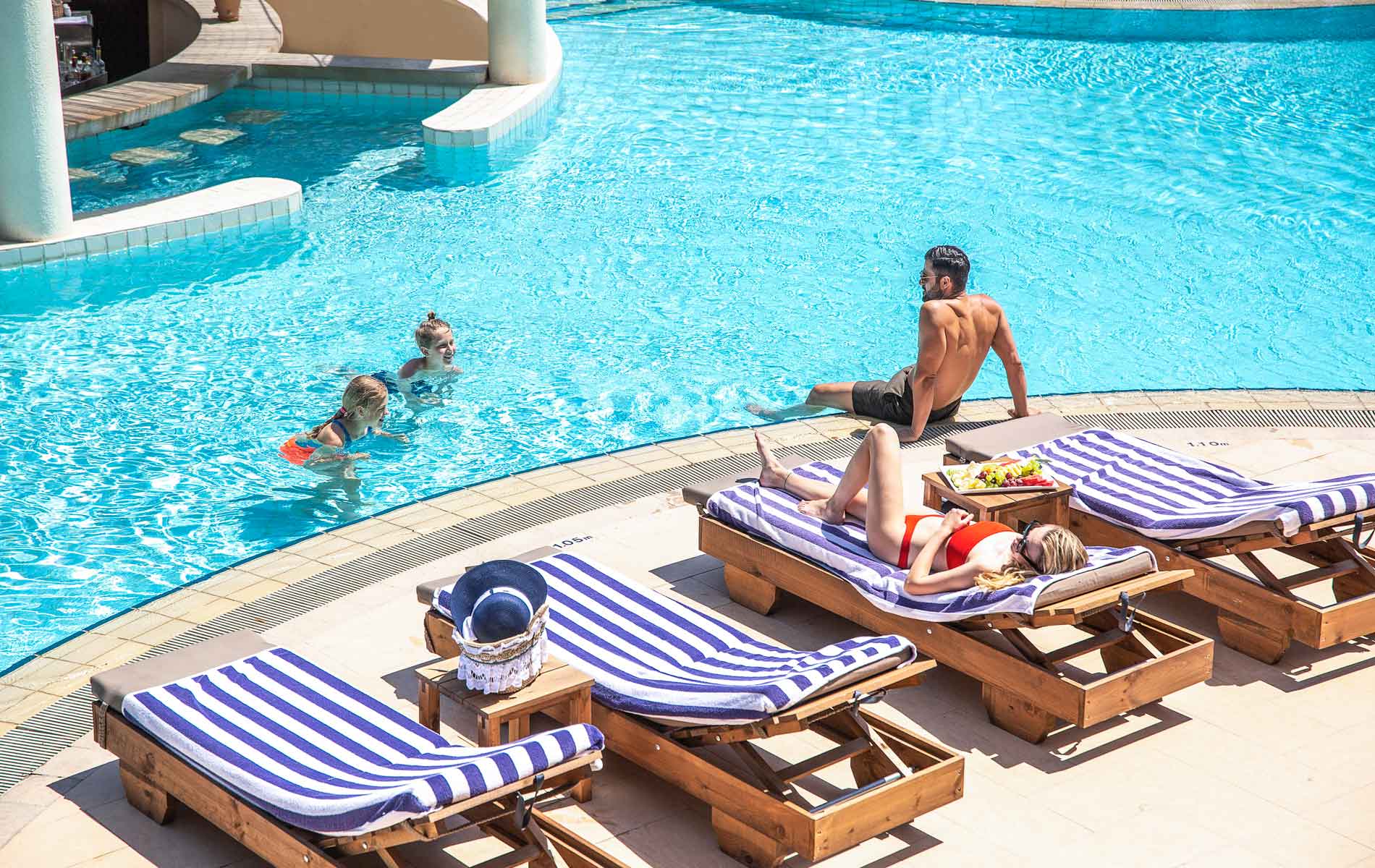 The St. Raphael Resort complex is perfect for travelers who don't book their holidays until the last minute. The well-organized reservation department and the abundance of rooms make it easier to manage last-minute reservations, while its geographical position on one of the largest blue-flag certified beaches of Limassol as well as its vast spaces create the ideal hospitality setting for all-inclusive facilities. There is a variety of culinary options, with eight restaurants including international, street food, vegan, and other cuisines, as well as the new authentic Thai restaurant Golden Monkey, which you will find on the first level of the hotel's Tower. For carefree moments by the water, there are four different pools, two outdoor, one especially for children, and one indoor pool, for endless summer fun for the whole family.
Moreover, the resort has its own private marina, wellness and spa area, game rooms, conference area, tennis courts, and cleaning services such as laundry, drying, and ironing. At St. Raphael Resort you also will find activities such as diving, cycling, and canoeing, and facilities like a private parking station and the first eco-friendly gym in Cyprus. All of these at the best prices with direct comparison and online booking from the resort's official website, even if you book at the last minute.
Tip: Book as a member club, and enjoy personalized hospitality services and discount offers.

Family holidays with specialized services for everyone
Family vacations create the greatest memories for you and your children. Invest in travel experiences for your family and spend carefree moments that you will remember for a lifetime. By letting the experts organize your vacation for you, you'll simply enjoy the moments of relaxation you've been looking for without the stress of meeting your family's daily needs and wants.
The resort is considered a family hotel due to its customized rooms, designed with families in mind, special services, and excellent hospitality. From the moment you arrive until you check out, you don't have to worry about anything, as the hotel also offers facilities exclusively for your family's needs, such as baby carriages, baby and child care services, playground equipment, indoor play areas, and entertainment services, such as board games, painting, and puzzles.
At the same time, thanks to the abundance of activities and water sports, your whole family will enjoy beautiful moments in the wider area of the accommodation under the guidance of the resort's experts.
When your last-minute booking provides you with eco-friendly services and sustainable tourism practices
A hotel that respects its surrounding environment and ecosystem should have adopted practices of saving energy and producing less waste. St. Raphael Resort has invested a lot in a more sustainable and ecological way of tourism, which its guests can experience during their stay. One of these eco-friendly practices is the first eco-gym in Cyprus, which converts calories into kilowatts with power-generating cardio equipment! At the same time, the hotel is committed to reducing waste in plastic and water, as well as recycling and saving energy.
One more reason to book your stay at the 5-star St. Raphael Resort is that, despite its large size, it wins the bet in still having a minimum carbon footprint while offering ultimate luxury. For more details about the resort's sustainable practices, you can click here.
Experience Cypriot hospitality in a complex by the sea, with 30 years of experience and all-inclusive facilities
St. Raphael Resort can spoil you pleasantly with exceptional services and premium offerings, like the resort's concierge services that will satisfy even the most demanding customer. The hotel has eight restaurants, with options from international cuisines as well as vegan and vegetarian dishes. It also provides spa and relaxation services, private transfers, private photoshootings, in-room services such as online room order, flower bouquet or Moët & Chandon in your room, gaming package at Cyprus Casino, and many more. In addition to the already mentioned perks, the hotel complex is located right on a blue flag certified beach so that you can enjoy a relaxing holiday on the beach or by the resort's pools.
So, what makes St. Raphael Resort the best choice for luxury all-inclusive holidays in Cyprus?
To answer with only one word: hospitality. At St. Raphael Resort, the staff and all the people behind its success story want to make sure that every guest doesn't just feel at home; they want guests to feel like they are at their own sustainable luxury resort! St. Raphael Resort is the epitome of luxury and sustainable tourism for families and, as stated on its website, "the ultimate destination for your next holidays!"
Over the years, the resort has won several awards that reflect their hard work. The most recent one was the "Travelers Choice Award for 2022," which recognizes the resort's commitment to hospitality excellence, top services, and personal attention to every guest.