We can comfortably say that South Kuta is the place where Bali's modern era tourism began. Taming a huge wave, watching the sky turning into crimson red, dining in a world-class restaurant, shopping at big shopping malls; these will be the glorious memories of your holidays in South Kuta.
South Kuta is also home to a wide diversity of hotels and resorts, including both budget and high-end options. Among Bali's most popular accommodation, there is a hotel that stands out due to its delicious cuisine, world-class accommodation, and abundance of high-end facilities.
Bali Dynasty Resort is a stunning hotel whose light, traditional and fun atmosphere makes it ideal for all travellers, and more especially families and couples who wanna have some Balinese fun.
One breakfast, Two Venues!
Breakfast at Bali Dynasty Resort is hearty, delicious and diverse. There are two venues at the hotel where you can take on the very first meal of the day. From 6 to 10:30 am, you can enjoy "home favourites", as well as four different Indian delicacies (ranging from masala tea to other famous dishes) at SEN5ES Restaurant.
The chic and enticing H2O Restaurant is the second venue, serving a sumptuous breakfast for the guests in the family rooms. Breakfast at H20 Restaurant is served in a buffet style and it's complemented by a live hot cooking station. For a quick, hassle-free snack during the day, you should opt for Cafe Piazza that opens daily at 8am. There, you can enjoy various freshly baked pastries, cakes, sandwiches and wraps.
It's more than simply dining...
For casual dining, you should opt for the centrally located (by the pool) H2O semi-open-air Restaurant. This restaurant is Bali Dynasty Resort's social hub and a place where you can enjoy poolside cocktails and hearty international cuisine. There is a different themed buffet event every evening accompanied by live entertainment. Some noteworthy themed evenings are the Italian Pizza & Pasta Night every Monday, the Brazilian Churrasco every Thursday, and the Roast Night every Sunday.
For the best of Chinese cuisine in Bali, enjoy a sumptuous lunch or dinner at Golden Lotus. Golden Lotus has a rich menu of delicious Chinese dishes, including various specialities like the HongKong Dim Sum (for lunch and dinner), the worldwide famous peking duck, baked pork ribs, Shanghai Chicken, and Sizzling Platters. Don't miss to try the recently launched Hainanese Chicken Rice!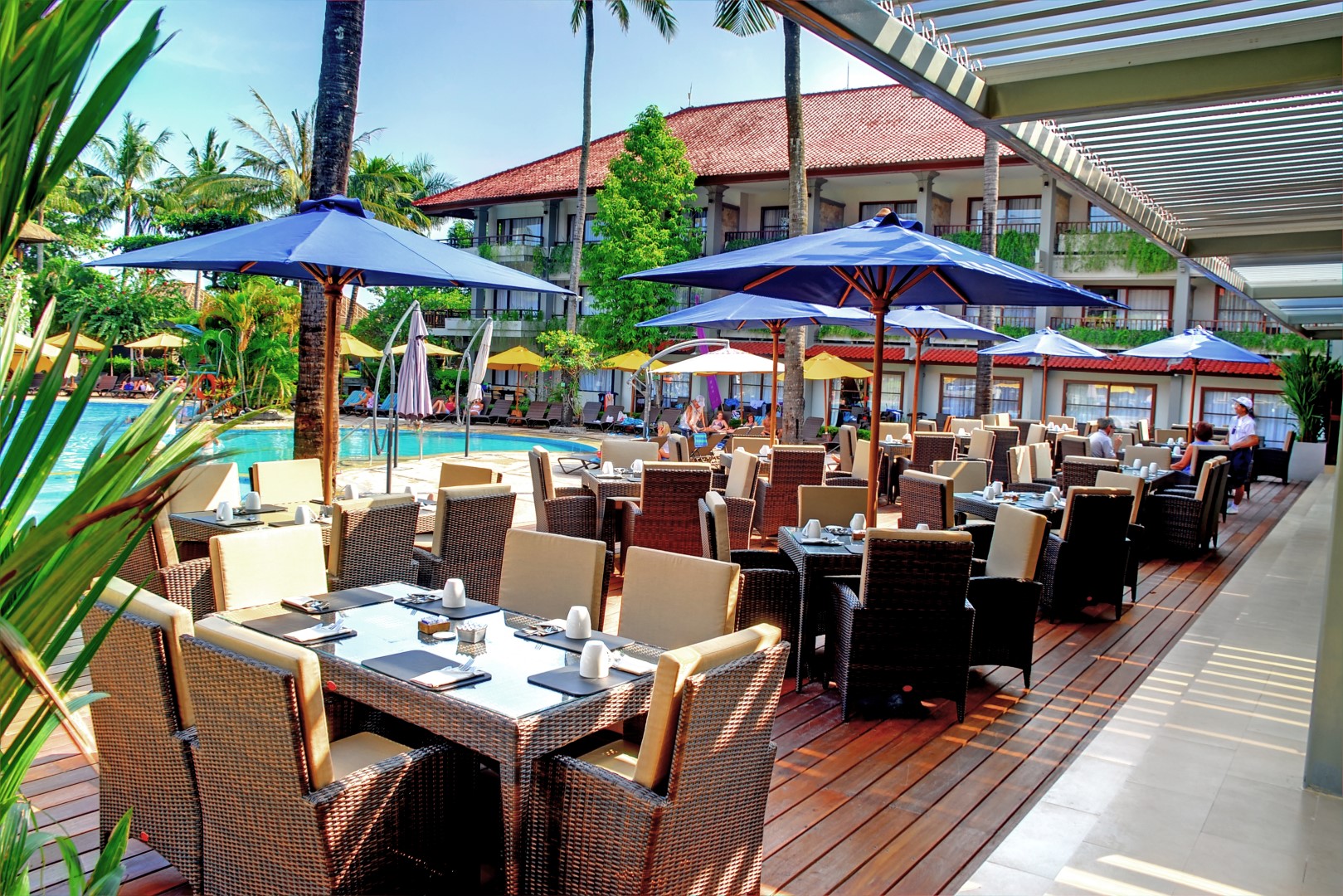 It would be shame if you visited Bali and didn't enjoy a meal at Gracie Kelly's Irish Pub, alongside a glass of cold beer. This pub is a great place to enjoy traditional cuisine, serving specialities like the Beef and Guinness Pie, Mammy Kelly's Fish and Chips and the hot Sticky Dazte Pudding. A live band performs every evening, lifting up the mood of its guests. There are also pool tables and a dart board where you can kill some time with your pals.
Welcome to your temporary home!
Home to 313 guest rooms, Bali Dynasty Resort features from budget rooms to exceptional design suites. All rooms have ensuite bathrooms, and are equipped with tea and coffee making facilities, IDD telephone, hairdryer, satellite TV, DVD player, WI-FI access, safe deposit box, mini bar, and air-conditioning.
Let's start from the 33 sqm deluxe room which is ideal for up to two adults and overlooks the outdoor garden facing. For a premium experience, opt for the spacious, 76 sqm executive suite, that overlooks the pool and can host up to two adults and three children below 12 years old. The suite features a fully equipped small kitchenette and gives you access to 10 free minibar items per day.
For a more unique stay, we highly recommend you the luxurious Tent Villa, located at the Rooftop Ashoka Spa. It can accommodate up to two people and it's ideal for couples and honeymooners. The room is set within a rooftop garden that overlooks the stunning Indian Ocean.
Gain peace in mind and body!
Sixteen massage beds and two saunas await you at Bali Dynasty Resort's stunning Ashoka Spa. The spa offers a complete wellness experience to mind and body featuring a rich menu of treatments, from traditional Balinese Massages to personalized Signature Treatments. The spa menu includes a wide diversity of therapies, tailor made for couples as a pair and individually (the so called "him and her" therapies).
"Divine Dynasty" is the ultimate couples' package that lasts for approx. 3,5 hours - the most relaxing 3,5 hours of your life. The therapy takes stage at the serenity of your private Ashoka Couples Suite, and it starts with a super deluxe foot bath ritual, followed by a traditional Balinese massage, and a body scrub of your choice. You can discover more details about the packages here.

Make these holidays an excuse to change your lifestyle!
Your hassle-free holidays in Bali and Bali Dynasty Resort will introduce you to a more relaxing lifestyle, which you should definitely implement in your life. Make these holidays the starting point of a new happier "you". And when you feel overwhelmed by the city's fast rhythms, don't forget that this place is always open for you to relax and unwind!