Welcome to Interlaken, a German-speaking traditional resort town built on a valley between two impressive lakes with crystal-clear waters, Lake Thun and Lake Brienz. Littered with picturesque timber houses dense forests and of course high-quality hotels, there's no denying this town is a sight for sore eyes, whichever season you decide to visit.
Whether you wish to visit the grand natural spectacle Jungfrau, take part in sports activities, or indulge in Swiss spa remedies, Switzerland is a European country that's on every traveler's bucket list. In this guide, you'll discover the things to do in summer and winter. Let's get stuck in!
Fun Fact: In fact, the name Interlaken means precisely that - between two lakes.
Check in at Salzano Hotel!
In summer, you'll be welcomed by a chalet-style boutique hotel, cheerfully adorned with petunia baskets and surrounding verdant views of Interlaken as well as the nearby Lake Thun. Check into your room at SALZANO and draw back the curtains for views of the Eiger, one of the main summits of the Swiss Alps.
The ultimate summer in Interlaken!
A summer vacation in Switzerland means warm temperatures and perfect conditions for outdoor summer activities. Indeed, with the abundant number of things to do in Interlaken in the summer, you can see why it has adopted its reputation as the 'Adventure Capital of Switzerland'
There's nothing like a bit of wakeboarding to wake up the spirit!
Get your kicks and thrills by riding across Interlaken's stunning lakes. Enquire within SALZANO about Mountainsurf, a local activities center that organizes and provides equipment for kayaking, pedalo, banana-rides, and wakeboarding activities.
Idyllic mountain streams leading to the spectacular Lake Thun
Walk just ten minutes from the hotel, and you'll find yourself beside the beautiful Lake Thun. Just a few feet away from the lake you'll notice the clear blue water that is so welcoming in the summer months. Sit by the grassy shore of Lake Thun and after you've spent some time in the sun, cool off with a refreshing dip in Lake Thun's refreshing waters.
A Gastronomy experience that'll bring you closer to Nature!
Head on over to SALZANO Restaurant and become a part of their natural dining experience. The Restaurant's ethos is rooted in the town's opportunities for adventure within nature, which has inspired their menu, "Adventure-Nature." Uniquely innovative, featuring gourmet dishes, there are bound to be some surprises for even the most well-traveled culinary experts.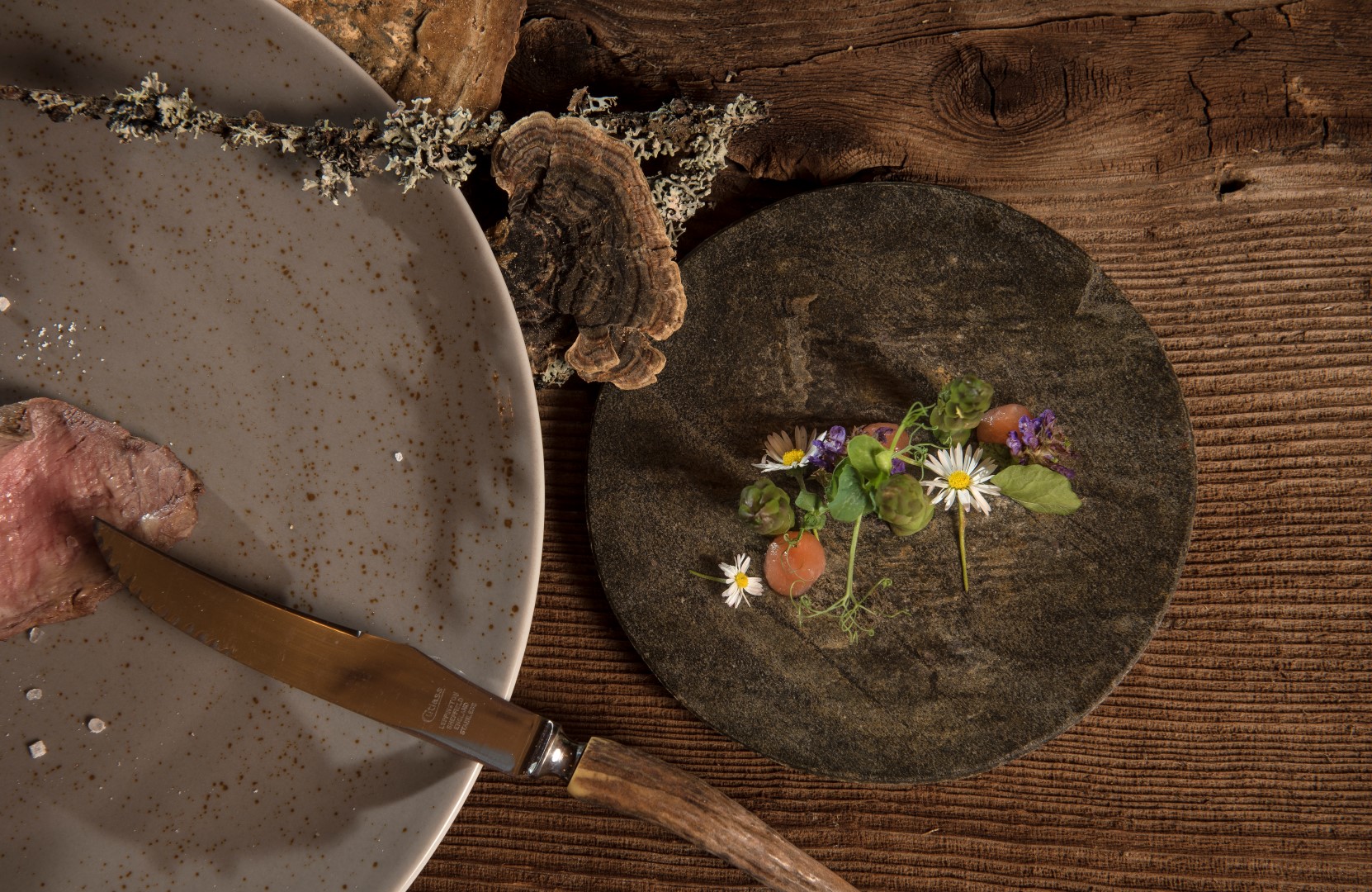 During the renovation of SALZANO, they use natural materials, such as pine wood, stones and herbs to inspire the kitchen's philosophy. SALZANO Restaurant now utilizes local herbs and trees. Sit at the restaurant taste the refreshing pine tree ice cream that'll melt into your mouth, cooling you down during the hot summer months... a tasteful reminder of Switzerland's rich, green landscape!
Get into the swing of things at Adventure Park!
Interlaken
Hop around and test your bravery by participating in Adventure Park Interlaken rope courses. There are nine courses for you to choose from, each varying in difficulty and height, promising the challenge of an exciting afternoon. Heights reach up to 20 meters, and activities include zip-lining, free-falling, and climbing.
For golf lovers!
Golf enthusiasts can head over to the Interlaken-Unterseen golf club. Located within the famous Alpine panorama, your swings will feature the stunning backdrop of Switzerland's landscape.

Winter scenes and adventure in Interlaken!
Approach the Salzano Hotel, a chalet-style boutique resort covered in a blanket of thick white snow. Enjoy the dreamy twinkling lights that beautifully decorate the building making it just that little bit more festive. Step inside your cosy room with a bed made up with plenty of warm blankets to snuggle into. Draw back the curtains to the bright open views of Jungfrau Mountain, one of the main summits of the Swiss Alps.
"Baby, it's cold outside..."
Get creative at the Funky Chocolate Club
A visit to Switzerland in the winter surely demands cozy moments by the fire, with a mug of hot chocolate. Visit the Funky Chocolate Club and make beautiful chocolate-creations. Learn about the origin of Switzerland's high-quality chocolate production while you sip on the Club's famous Hot-Chocolate and Chocolate-Fondue.
Greeting Nature: Your Swiss Spa Experience!
Spend a day taking care of yourself and treat your body as a temple with a string of spa treatments. Salzano's qualified massage therapists Raffaela, Steffi, and Rosalien are at your disposal for all your wellness needs. The extensive spa brochure provides you with plenty of spa therapies to choose from; reap the benefits of aromatic baths such as the Brechelbad. Unwind in the rustic, wooden benches dry sauna with herbal scents released into the air. You can also enjoy pleasurably relaxing moments in the Steam Bath, a Panoramic Outside Sauna, 5 Adventure Showers and treatments such as a Hot Stone Massage.
End your spa day by lounging in the spa's relaxation area, a bright, naturally -lit room furnished and designed with natural materials that aim to restore balance and harmony in the body and soul. For the final touch of polish and glamour, pamper yourself with manicure and pedicure.
A Romantic Swiss Dining Experience!
Enjoy a romantic dinner with delicious, well-presented dishes at the hotel's world-class restaurant. Your lunch will be further complemented by beautiful flower arrangements, while the seductive warmth and natural light of the nearby fireplace will make you feel more relaxed than ever.
Be sure to request more personalized options if you have any dietary requirements - you can trust SALZANO to provide first class treatment and high-quality food every night of your stay.
Your Ski Adventure in the heart of Europe!
Winter sports' fans can enjoy access to skiing in the Alps while staying in the lakeside setting of SALZANO. Although Interlaken boasts a picture-perfect green summer landscape, the launch of Jungfrau Top Ski region has seen an influx of travelers who wish to take advantage of the trails in ski centers above Grindelwald, Mürren, and Wengen, nearby mountain villages. These towns are all linked to Interlaken by mountain railway which SALZANO can assist in organizing, if you're interested.
Scenes from a Postcard!
The beauty about Switzerland and Interlaken is that it doesn't matter what time of year you visit. It's as pretty as a postcard in all the seasons. Summer provides a verdant, sunny landscape, gin-clear waters of a refreshing lake and plenty of outdoor activities.
In winter, you can ski, admire the views of the snow-covered summits during spa treatments and admire the stunning scenery. If you're still unsure about which season suits your visit in Interlaken, make your Swiss great-escape one step closer to reality by checking booking information at SALZANO.