Ubud Village is located central to Indonesia and is considered to be the cultural hub of Bali. Ubud has a wide variety of activities for travellers to choose from that go beyond the most obvious (yet certainly not underrated!) walk through the green landscape.
There is a particular charm that is present in Bali's flourishing jungle as well an understanding and respect for tradition, religion and culture that is evident throughout the island. Local artisan crafts, natural animal parks and the local residents of Ubud Village are all factors that make Bali such a unique destination.
Although it's not the go to destination for vacationers seeking a dynamic nightlife or a steamy club scene, there are plenty of activities for adventurers to stick their teeth into. Luckily for you wild wanderers, we have picked some of the best activities for you to do in your time in Ubud Village, while we have also found the best place for you to stay.
Check in at Blue Karma Ubud - a touch of class in the wild Bali jungle!
Hosting plenty of activities and tours, you won't find a single dull moment at Blue Karma Ubud. Of course, if you are seeking tranquility and pampering, Blue Karma Ubud Spa's Blue has a full range of spa and wellness facilities. The resort also has highly praised yoga retreat packages as well as extensive guided tours that explore every corner of Bali.
After check in, expect to unpack in your very own spacious and private bungalow, traditionally decorated in wooden carved statues and furnishings. But if you don't fancy getting busy just yet, relax under the palm fringed infinity pool overlooking the jungle, and begin unwinding among the gorgeous green surroundings.
"The King of the Swingers, the jungle V.I.P..."
One of the many points of interest of Bali, is the Ubud Monkey Forest. Luckily, this jungle of mischief is less than a 15 minute drive away from Karma Blue Ubud. Escape in the wild, home to 200 mischievous long-tailed macaques or macaca fascicularis monkeys. In fact there are over 20 males, 80 females and 98 babies all divided in three specific areas.
Arrange your visit with Karma Blue Ubud and you may even witness thrilling displays of "battle of the fittest" between two groups of monkeys; they will often fight each other to re-claim ownership of their territory! Although there are three temples in the Monkey Forest, the monkeys are known to be the safe-guarders and protectors of the most important Hindu temple, Dalem Augung which is situated in the middle of the forest.
Conservation, Education and Recreation!
Further immerse yourself in Bali's wildlife, by arranging an excursion with Blue Karma Ubud. The Bali Safari and Marine Park combines Balinese culture with the African Savanna and is home to hundreds of rare and endangered species.
The park's mission is to careful protect and reserve the animals. Visitors are fortunate enough to see beautiful animals such as the Sumatran elephant, tigers/white tiger, leopard, Komodo dragon and cheetah. We recommend taking a stroll on an Elephant to witness the African Savanna beauty from unseen heights!
Stroll along a path surrounded by infinite green fields
Enjoy 2 complimentary treks into the Paddy Fields Rice by Karma Blue Ubud where you will be taken through the jungle, see the local farmers hard at work, as well as Balinese artists painting in their studios.
The excursions take place once in the morning and span up 60 minutes till arrival at the center of Ubud. As the trek comes to an end, the shuttle bus can swiftly take you back or, if you choose, you may stay and further explore the Centre!
Breathe, and ease into it...
Blue Karma Ubud gentle yoga classes are ideal for new yoga bunnies who seek a large, gorgeous space to begin their practise. Ease into it with the Inner Yogi's Journey package where you'll come in contact with competent and friendly yoga teachers daily, who will assist in helping you gently stretch and relax any achy or tense spots.

Enjoy a Romantic dinner at Paddy Fields!
Treat your loved one to a private, romantic candle-light dinner at Blue Karma Ubud, surrounded by heart shaped flower petals around your table. Cherish your partner in the midst of absolute flowery and lush-green seclusion. Enjoy the local grown vegetables and fruit that make up unforgettably delicious vegetarian options as well as traditional Balinese dishes.

Make your own Balinese Ancestral Remedies!
Let go of your burdensome, urban worries and wind down at the Blue Spa by enjoying a wellness package like the Touch White Blue Karma. This package includes a flower foot bath with salt and essential oil, an authentic Balinese massage with blend of exotic oil, a refreshing Body scrub and more.

However, if you want to truly immerse yourself and get your hands dirty and learn how to prepare you own traditional Balinese treatment, you're in luck as Blue Karma Ubud offers a special Boreh Class. Prepare your own Balinese body wrap, spa and mask by using traditional herbs and spices. Reap the benefits of your beauty-work as the all-natural treatments stimulate your nervous system, improve your circulation and ease your digestion.
Neka Art Museum - Art and Geese aplenty!
Jump on a shuttle bus and head over to the peaceful gardens that are home to the diverse Neka Art Museum. The museum itself was named after Balinese teacher Sutejka Neka, an art collector who gathered painting for documentation.
The museum provides an insightful overview of the colourful and at times sexually explicit Balinese art! Displayed, you'll find the works of local artists and perhaps even the appearance of geese strolling through the galleries — this isn't an unusual sight as they reside in the open gardens.
A fiery festive evening activity!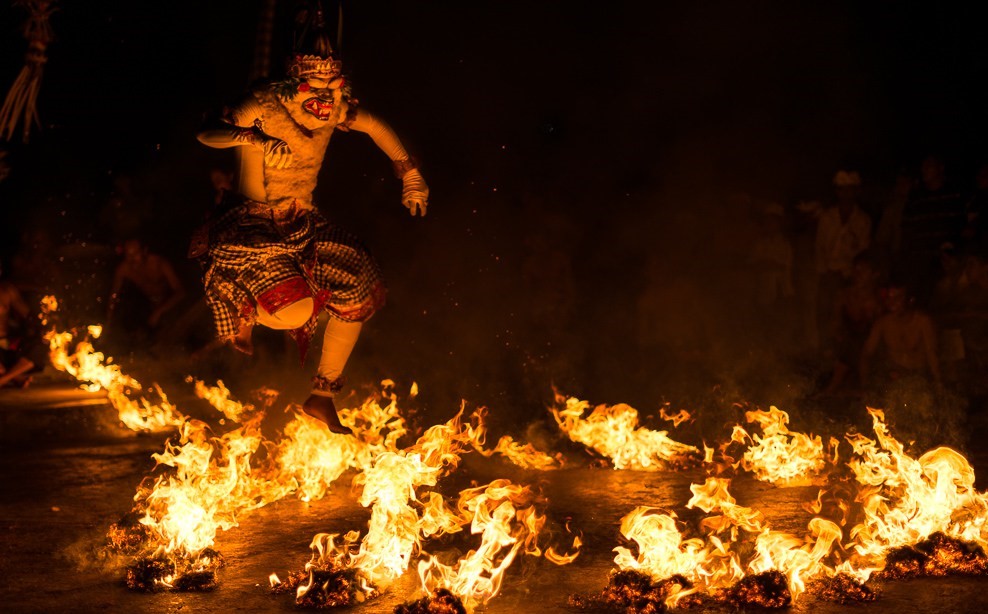 Photo Credits: Patosan
Be entranced by storytelling as men use their bodies to create figurines and shapes that will leave you stunned. The Kecak Fire & Trance Dance is performed outside the red-lit Uluwatu Temple, only a ten minute drive away from Karma Blue Ubud . Before the dance begins, read the pamphlet that provides a brief outline of the story of King Rama and become mesmerized by the deeply moving performance artists.
And if you just can't get enough...
For an extensive tour that will expand your mind and quench your thirst of knowledge of Bali, Blue Karma Ubud has exclusive tour packages; whether you want to choose a full day or half day tour there's plenty to do and learn! For the latest prices and to get any extra hotel info check the link below!