Immerse yourself in luxury beach paradise... Welcome to Halkidiki!
To all you beach babies who can't resist nodding off on a sun lounger, or relaxing on a floatie in the middle of the sea, Halkidiki's gorgeous shores will welcome you with open arms, including your favourite beach cocktail in hand! Halkidiki beaches are renowned for being home to some of the most scenic bays in Northern Greece, where the rural landscape and pockets of green forest surrounding its jutting peninsulas will tickle and satisfy all your senses. In this guide we'll tell you where to find the lushest luxury resorts on the most gorgeous Halkidiki beaches!
A Buzzing Beach:
Porto Carras Beach
Photo credits: George Lizardos
Sithonia, one of Halkidiki's three peninsulas is home to Porto Carras beach, a stunnning bay that stretches across 9km of sand and crystal-clear waters with plenty of undiscovered cloves for you to explore.
The ultimate Luxury experience:
Portos Carras Meliton 5*
At this resort you may also find Porto Carras Meliton 5*, a modern luxury accommodation that is highly accredited for its plentiful wellness facilities which include five swimming pools, a kids pool, gym, sauna, hammam, thalassotherapy, as well as outdoor and indoor jacuzzis. If you're a luxury wellness traveller that is looking for a relaxing getaway, look no further – Porto Carras Meliton's Spa Center will take care of all your needs!
Choose one of four restaurants to dine in, as well as a Pool bar, Beach bar, and an all-day Bar-restaurant. However, if you prefer to dine outside, Panos Tavern is a restaurant located in the quiet bay of Sithonia, which boasts excellent reviews of fresh seafood dishes and service. Why not start your evening by jumping on a yacht that stops outside the taverna; staff are known to help park the yachts to welcome customers!
Photo Credits: Touristikos Odigos
A Family Friendly Gulf!
Karidi Beach
Photo credits: Nikana.Gr
Northeast of Sithonia you will come across Karidi Beach, one of the most sought-after beaches amongst tourists who seek shallow waters and powdery soft sand. This beach is perfect for families as you can walk out up to 50 metres and the sea's waterline still does not surpass your waist, therefore you don't have to worry about the little ones swimming inside these waters.
The beach itself is quiet (you won't find any loud music blasting here!) and unorganised, so we would recommend getting some advice from locals about where to find necessary beach accessories. If you're peckish, there is a new restaurant called Melia that is located at the entrance of the beach – we advise you try out their tasty "kalamari gyros"!
Have all senses stimulated at a vibrant luxury resort!
Ekies All Senses
For the quirkier luxury travellers, we recommend staying at the plush Ekies All Senses Resort in Vourvourou. The fun concept design is clearly defined by the retro interior with a modern twist that enhances the hotel's colourful and fun ambience. Start your steamy summer vacation with a 40 minute couple spa therapy session at Ekies All Senses Resort! By day, you can enjoy the wonderful hot Greek sun under the cool shade of a lamp (yes, we're serious!) and try the iced teas with raw herbs at the beach bar, Loligo. By night, dine at the modern Greek cuisine at Bubo restaurant, which features an a la carte menu.
A bit of Kassandra and Sithonia!
Gerakini Beach
The long beach of Gerakini is located on a bay between two of Halkidiki's peninsulas, picturesquely framed with olive trees .The beach itself is known for its improvement over the most recent years with more private areas for the beach with glistening white sands that stretch up to 450m against a deep blue sea. In fact, Ikos Olivia Beach has a private spectacular beach with glistening white sands which stretch up to 450m against a deep blue sea.
Your perfect luxury group holiday resort!
Ikos Olivia
Ikos Olivia is set on Gerakini beach and has its own exclusive bay, Ikos Olivia Beach. If you're travelling as a group or family, spend your vacation splashing around in your 2 bedroom bungalow's private pool. Ikos Olivia also features an Asian restaurant located by the pool area as well as a luxurious spa with 7 private treatment rooms. Some of these treatment rooms include an indoor/outdoor heated pool with jacuzzi, a thermal suite, a beauty corner (including a hair and nail salon) and of course a fitness studio for those who wish to stay active.
Embrace the sky at Ouranopoli beach!
Ouranoupoli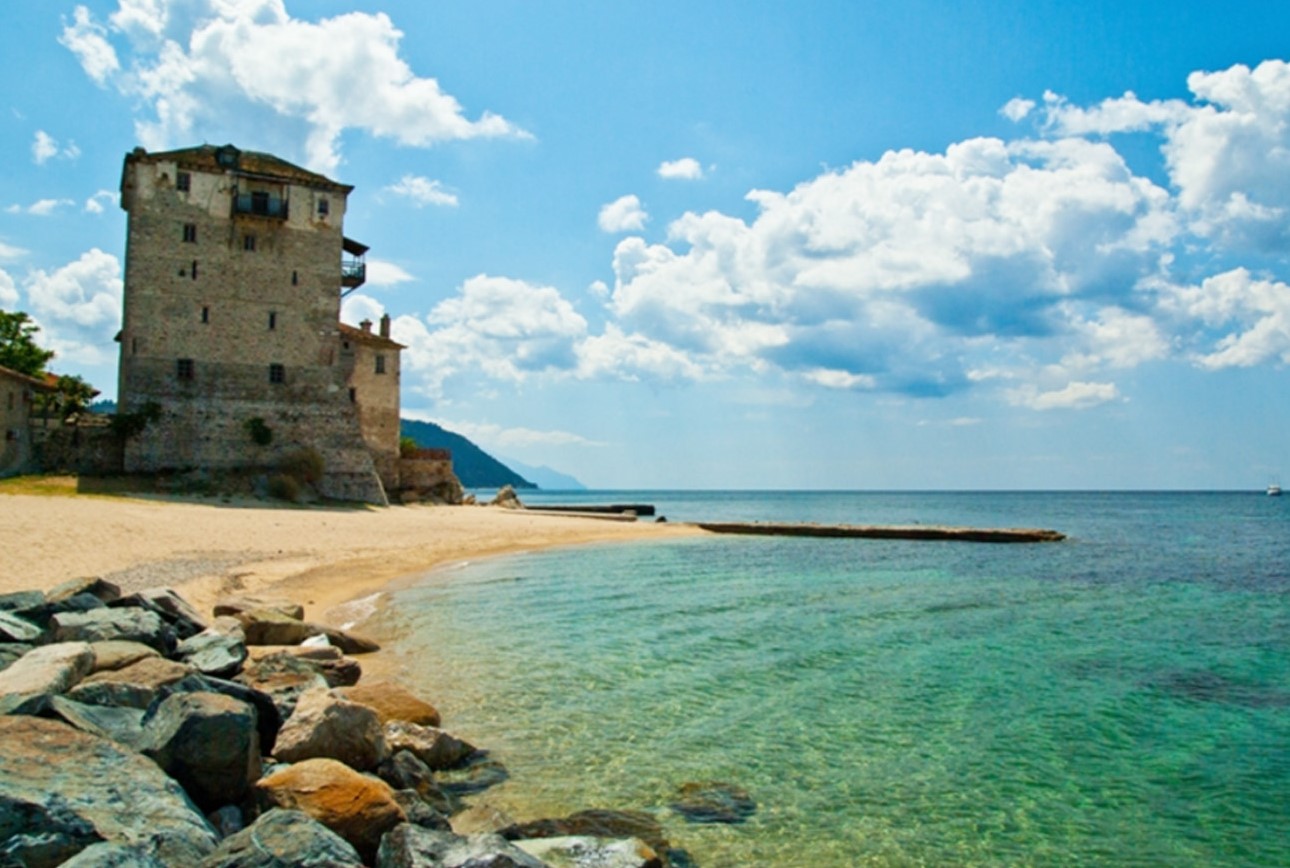 This beach stretches across 5km of clear turquoise water and an organised beach environment that provides visitors with an authentic Greek summer experience. For those interested in water sports there are facilities available if you're ready to dive into some action! The beach is famously known for its charming Byzantine tower that is perched on the edge of the beach.

Discover Halkidiki in style!
Eagles Palace
Not far from Ouranoupoli beach you will find Eagles Palace, a luxury hotel that provides fabulous beach services as well as stunning accommodation. If you prefer to explore the monasteries and other sights of nature in style, the friendly hotel staff can organise your very own private yachting excursion for an incredible sailing experience.

To extend your Greek experience, why not try the local specialties at the comfort of this stunning resort? The Chef of Melathron dinner restaurant creates buffets featuring specialities inspired by Mount Athos as well as more international dishes.
So now you know where to go... Here's when you should go!
If you're seeking a vacation with just a few dotted travellers and locals spotted on beaches and restaurants we recommend visiting in September, at the end of Halkidiki's high season. However, many people visit in July and August to chase the warmer temperatures and be part of the vibrant night life. Either way, we guarantee that if you are looking for premium accomodation, beautiful coastlines and lush hotels in Northern Greece, Halkidiki's fine beaches will certainly welcome every luxury traveller with open arms and cater to their every need. If you're intruiged about any specific hotels, be sure to check the websites as linked above!