Breakfast is something that the majority of us ignore, mainly due to the fast rhythm of our daily lives. But, what about when we are on vacations? Well, it's only natural to change your habits during your holidays, so a balanced breakfast is crucial. The days of the simple and common continental breakfasts are over.
The hotels & resorts in Thailand seem to have gotten a grip of their customers' needs, so the majority of them include a diverse breakfast menu, in order to satisfy all kinds of tastes. From healthy sections filled with goji berries, Greek yogurt and muesli, to live cooking shows, to traditional Thai breakfast dishes cooked on the spot.
We have collected the best hotels and resorts in Thailand, which are distinguished for their diverse and delicious breakfast ideas:
Bangkok Marriott Marquis Queen's Park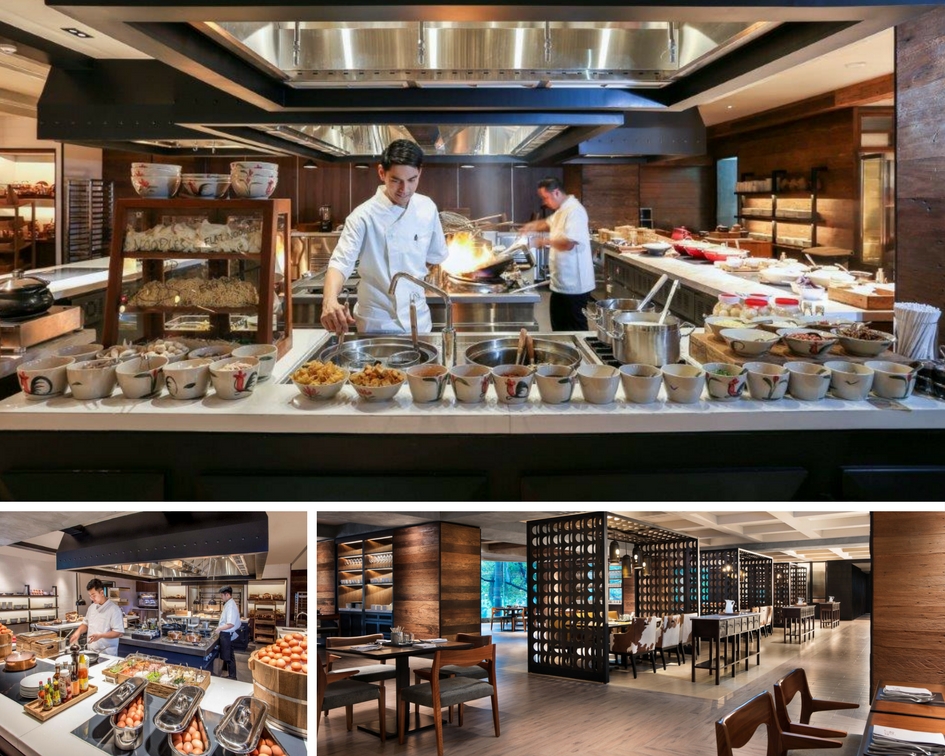 Bangkok Marriott Marquis Queen's Park is a 5-star hotel in Bangkok whose high-quality is easily observable even during the breakfast. The breakfast is served in a buffet style and it starts from the very start of the day, at 6 am. Apart from local Thai cuisine, you will notice various dishes from other countries including from the Indian, Chinese, Japanese and Western cuisines.
The breakfast is separated into different section some of the most notable ones being:
❀ Tropical Fruit Bar: Here, you will find all kinds of tropical fruits that you would not find easily in the western countries including dragon fruit, passion fruit, papaya etc.

❀"All About Eggs": As the name suggests, here you will find eggs and omelets, prepared however you would like.

❀Hot Cooking Stations: This section is pretty hot, indeed. Here, you can see live cooking shows, however, the best part is when you get to eat the prepared dishes. The kitchen includes a Chinese Wok & Dim counter!
Anantara Riverside Bangkok
The breakfast of Anantara Riverside in Bangkok, is served from very early in the morning in a buffet style, at the restaurant called "The Market" which pretty much prepares you on what you are going to see next. The presentation of the breakfast is neat while it is characterized by its diversity of products.

First of all, there is wide selection of local exotic fruits and vegetables including dragon fruit, passion fruit, mandarins, amla, apples, mango, rambutan, papaya, mangosteen and more. There is also a fresh fruit salad, which you can accompany your yogurt, or you can select yogurt with handmade marmalade or muesli.
The selection of breads and pastries is actually huge, and if you have a sweet tooth, this hotel will become your paradise. Some distinctive sweet breakfast delicacies are the blueberry crumble, the breadpudding, the chocolate cookies, the donuts, and the delicious Danish pastries.
At the outdoors area, there is actually a live cooking station where you can enjoy plenty of traditional Thai, Indian, Chinese and Western dishes, which are prepared right in front of your eyes. Last but not least, the friendly staff of the hotel really adds up to the whole experience!
❀ Since the hotel was not satisfied enough by offering just a good breakfast, it decided to make your breakfast an 'once in a lifetime' experience, by arranging everyday morning cruises. There is nothing better than enjoying your morning meal while watching the sun rising over the iconic historical sites of Bangkok!
Akyra Manor Chiang Mai
Akyra Manor Chiang Mai has chosen to offer a more gourmet breakfast menu to its guests. There is a standard breakfast buffet where you can try a selection of home-baked pastries, exotic fruits, fresh juices and salads, cereals and traditional jams, while you can also order dishes from the gourmet a la carte menu.
The menu includes a selection of freshly prepared dishes including egg recipes, sweet delicacies, Thai specialties and the hotel's signature dishes. Vegetarian options are also available while dishes including nuts are marked in the menu with a symbol. It's pretty difficult to choose among the menu's dishes, so we have picked the chef's recommendations:
❀ Tortilla Chicken: A particularly simple and delicious dish enlisted under the flour fuel-up section. It consists of lettuce, bell pepper, onion and specially marinated chicken!

❀ Kuay Jam: This is the best way to start your exploration of the traditional Thai cuisine. This delicious dish is made with rice noodles served in aromatic chicken broth with crispy pork, spring onion and deep fried garlic. It could not get Thai-er than that!

❀ French Toast: A sweet dish in the morning is essential, especially after a gourmet savory breakfast. French toast with seasonal fruits might sound too simple, but don't forget that you are in Thailand, so you would never guess what fruits could be used in this toast.
Hua Hin Marriott Resort & Spa
Hua Hin Marriott Resort & Spa offers its breakfast in two venues, Amber Kitchen and Big Fish Restaurant, while you can also take your breakfast at the al fresco terrace occasionally. Even though Amber Kitchen is considered the main breakfast venue, each venue has its own special delicacies and features.
Amber Kitchen has an extensive breakfast buffet, since it's the main breakfast venue, with more than 50 hot and cold dishes and 20 different kinds of pastry and desserts available. If you want to eat healthier, you can actually make your own salad, or choose from the wide diversity of tropical fruits. Some signature breakfast dishes in Amber Kitchen are:
❀ Hua Hin omelet with Seafood
❀ Lime Leaf and Ginger

Big Fish Restaurant features a more limited breakfast menu, however, it also includes some specialties that you may not find in the main venue. Furthermore, its location is also a great advantage, since you can actually take your breakfast nearby the beach, which is pretty idyllic and beautiful. Some signature breakfast dishes in Big Fish are:
❀ Truffle scrambled eggs on an English muffin
❀ Whole-wheat croque monsieur
❀ Laab moo Eggs Benedict
Phuket Marriott Resort and Spa Nai Yang Beach
Last but not least, we have picked Phuket Marriott Resort and Spa, which has chosen to satisfy all of its customer, even the lazy ones, by extending the breakfast's schedule up to 11:30 am. The breakfast is served in a buffet style and can be enjoyed either at the indoors area of the restaurant, or at the stunning al fresco terrace.
The buffet consists of a wide diversity of hot dishes, freshly-baked breads, croissants and pastries, a selection of cereals with fresh dairy products, and fresh tropical fruits. Furthermore, the dishes are actually prepared in an open kitchen, while traditional Thai and Chinese dishes, some Western favorites, as well as regional specialties are available as well.
For drinks, you can try the hotel's premium coffee, the freshly-squeezed tropical juices or choose from a wide selection of teas. There is also a station that is dedicated to Thai tea and "Oliang", a traditional iced coffee.
❀ Signature dish: Don't miss to try the "eggs Benedict and omelet topped with southern Thai crab curry", which is the hotel's signature breakfast dish!