Often overlooked by the travel community, Belgium is one of the hidden gems of Europe, dotted with medieval towns that time forgot, and charming cities for romantic city breaks. It's also home to a verdant capital that's ranked among the most beautiful in Europe, standing out for its beautiful parks, exquisite building architecture, and beer making.
As you might have already understood, staying in one city will certainly not show you the most of Belgium's beauty. This is why we have created this very special list which is not about the top destinations to visit in Belgium, but rather than beautiful destinations around Belgium and what they are known for. So, let's discover them!
1. Brussels - Picturesque Alleys, Awesome Nightlife & Shopping Scene, & Endless Beer!
As the capital of Belgium, the vibrant Brussels is blessed with a rich nightlife, a diverse shopping scene, ancient landmarks that date centuries back, and, of course, tasty beer. This beautiful, cosmopolitan metropolis has seen some great development the past few years, while it's nowhere near the dull European cities that you are used to. Among the must-dos in this city are visiting the Grand Palace, and exploring its delicious street food that will definitely make you fall in love with this place.
A Luxury Hotel in Tongeren that will help you think out of the box!
Located in the city of Tongeren, Eburon Hotel is a luxury hotel for the 'different minded', whose young and dynamic team will help you enjoy an experience of a lifetime. This hotel offers something more than accommodation, it offers experiences to its guests, through a series of unique packages and facilities.
You can choose between two rooms, the comfort and the select one, both of which are fully equipped with all the facilities and amenities of a modern hotel. Although, we highly recommend the Select Room as it's relatively larger than the the Comfort one, spreading through 45m2, while, when staying at this room, you will receive free bathrobes and slippers as well as acces to the mini bar complimentary.
Breakfast will become your most anticipated meal while your stay, as the hotel's buffet breakfast is recipes-packed including freshly baked croissants and pastries, fresh fruit salads, and more. At the hotel's esaki restaurant, you can try from Japanese to Thai cuisines at their finest!
The hotel has created four exclusive packages for its guests highlighting unique experiences like dining in the city, wellness, and Romance.
2. Antwerp - Culture, Art and Amazing Shopping Opportunities
Belgium's second city, Antwerp is a popular destination for fashion aficionados and culture explorers. Reflecting on its mid-16th century reputation as one of the most important cities, it's home to a wonderful assortment of museums, as well as the baroque painter Pieter Paul Rubens. Of course, its awesome food culture is also not to be ignored. There are plenty of food festivals scheduled around the city, while it's home to some of the best restaurants to enjoy traditional Swiss cuisine.
3. Bruges - Romantic Canals & Medieval Architecture
Also called the 'Venice of the North', Bruges' romantic atmosphere is hard to compete. Beautiful squares are dotted around the city with cobbled alleys running alongside beautiful canals. Its gorgeous parks and sentimental legends have made it a global favorite for couples and honeymooners. Beer is also very popular in this city as it literally runs through the city's vanes, with 12,000 bottles worth of Brugse Zot and Straffe Hendrik flowing beneath its streets from an underground pipeline.
4. Ardennes - The Perfect Adventure amidst lush Forests and Hills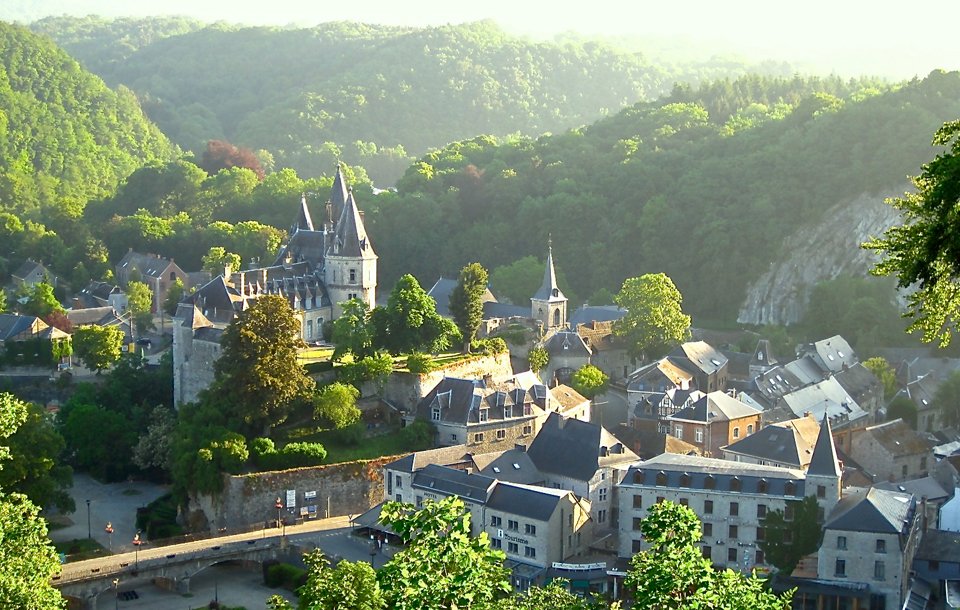 Stretching to the South and East of Wallonia, The Ardennes is a real paradise for nature lovers, standing out for its lush hills and rugged, windswept wilderness. It's the perfect town for outdoor activities, and re connection with nature. Its pure air and natural beauty will allow you to relax, and find again your inner peace.
5. Dinant - Spectacular Cliffs and a Traditional City that time forgot!
Dinant is a small and picturesque city that stretches along Meuse River in the province of Namur. Its Old Town is considered to be the most impressive sights in Wallonia, while it's home a few excellent sights like the Citadel of Dinant, Grotte la Merveilleuse, and Bayard Rock. It's also the place where the creator of the saxophone grew up - how cool is that?
Extra: Tongeren - The oldest town in Belgium that boasts Roman-era sights and an antique market that every city would be jealous of
As a bonus to our list, we have included a city that boasts to be the oldest in Belgium, Tongeren. This remarkable city is known for its Roman-era city walls, while its Sunday antiques market is among the most popular in the country. What will steal your heart, however, is the blossom fields, which is very popular among tourists and totally Instagrammable, ideal to improve your Instagram feed. Finally, the city is home to some great restaurants, so you will be able to enjoy the finest dishes in Belgium