Sitges, London, Mykonos, Ibiza... these are the first destinations that most gay men think for gay holidays. But, isn't it high time we got over those cliches and visit more destinations? We are on planet earth, people, it's sad to limit ourselves to a few destinations. This is why, next time, we urge you visit an alternative destination: for example, Crete Senesi at Tuscany.
Crete Senesi is an Italian region with limited nightlife venues, while most of the things to do evolve nature and alternative activities. This is why, in order to ensure a pleasant and fun trip that won't get you bored, we encourage you to visit this destination with friends or your other half. Either case, you are going to love it!
But, did we pick Crete Senesi randomly? No! There is a reason why we picked this destination. And, the reason is not other than a stunning hotel named Borgo Casabianca that charmed us with its gay-friendly attitude and luxurious facilities.
Borgo Casabianca: sassy name, sassy character
Housed in an 18th century manor house, Borgo Casabianca is a unique hotel that every art aficionado should experience. The hotel is perfectly located near Crete Senesi, making it the perfect nest for couples, honeymooners, relaxing holidays, as well as the perfect starting point for Tuscany explorations. It's also a popular venue for weddings!
It has a fabulous, rustic design and decoration that travels you back in time. The rooms are all clean, spacious, and equipped with modern facilities that ensure a high-quality stay. There are currently 20 flats (7 hotel apartments and 13 country houses), and a total number of 30 rooms available. Of course, all of them offer a similar, high-quality experience.
Some standard facilities found in the flats are fridge, Tv Satellite, telephone, crockery, cutlery, glassware, kitchenware, and a kitchenette with electric cooker and dishwasher. So, if you feel like cooking, you can totally do so.
Tinaia Restaurant: dinners in a wine cellar
Tinaia's enchanting, rustic design converts all meals in this beautiful restaurant into special occasions. Especially if you are travelling with your other half, you will both love this place. The restaurant serves authentic Tuscan cuisine, including a wide diversity of traditional Italian and regional recipes. The wine-cellar converted into a mini restaurant is by far the hotel's highlight, equipped with a "Torchio" (ancient wine press) and "Botti" (ancient wine barrels), that further upgrade its environment.
It goes without saying that there you will find a rich selection of International and local labels, ideal for every meal and and occasion. If those who prefer al fresco dining, the restaurant's outdoor terrace comes as a great surprise. Also featuring a rustic atmosphere, the outdoor terrace is perfect for outdoor romantic dinners and fun nights with friends or relatives. Of course, live music nights are arranged during summertime, and cooking classes can be organized from April do December as well. Wine tasting dinners are also available upon request.

Fun & Exploration in Tuscany: day trips of a lifetime
As a huge region, Tuscany boasts an abundance of activities to do, sights to admire, and towns to explore. Due to the fact that Borgo Casabianca is the perfect starting point for Tuscany exploration, we made it the starting point of every trip. We have created 2 special trips for you to follow, each highlighting a different side of Tuscany.
THE WINE LOVER'S TRIP
Good wine and breathtaking landscapes await you at this super exclusive trip for wine lovers. Starting from Borgo Casabianca, the first stop is at Montepulciano, the birthplace of one of the oldest wines in Italy, Vino Nobile di Montepulciano. After you have grabbed a couple of Montepulciano wines from their birthplace, it's time to head west. Heading west, you will encounter Pienza, a breathtaking town with the iconic Italian countryside landscape. There you can take some stunning photos right before arriving to our 2nd big stop: Montalcino. Montalcino is a melting pot of vineyards, wheat fields and olive groves. There you can taste the renowned Brunello, a brown colored wine of prestige and superior quality.
The previous areas were relatively close, but the next stop, which is the town of Scansano, is about 1 hour and 15 minutes' drive, and we assure you that it's totally worth it. Scansano is heavily connected to a certain wine, Morellino di Scansano, a red wine that's made from the Sangiovese grape variety. We highly suggest you visit Museo della Vite e del Vino, a wonderful museum dedicated to Morellino wine and its grapes. For last, we have included an area that every wine aficionado has included in their bucket list, Monti del Chianti. Even though it's a 2 hours' drive from Scansano, this scenic landscape will reward you with plenty of breathtaking shots. Of course, the route passes through various villages and the town of Siena, so you can always make a stop for more exploration.
Scansano is about empty mountain roads, and the renowned red, dry wine, Morellino di Scansano. This powerful wine is said to be a descendant of the varieties used by the Etruscans, so it's not for the lightweight ones. Make sure to explore thoroughly this area, as it's totally worth it. This is a great one-day trip, but if you want to discover the recommended areas more thoroughly, it could last up to 5 days.
THE EXPLORER'S TRIP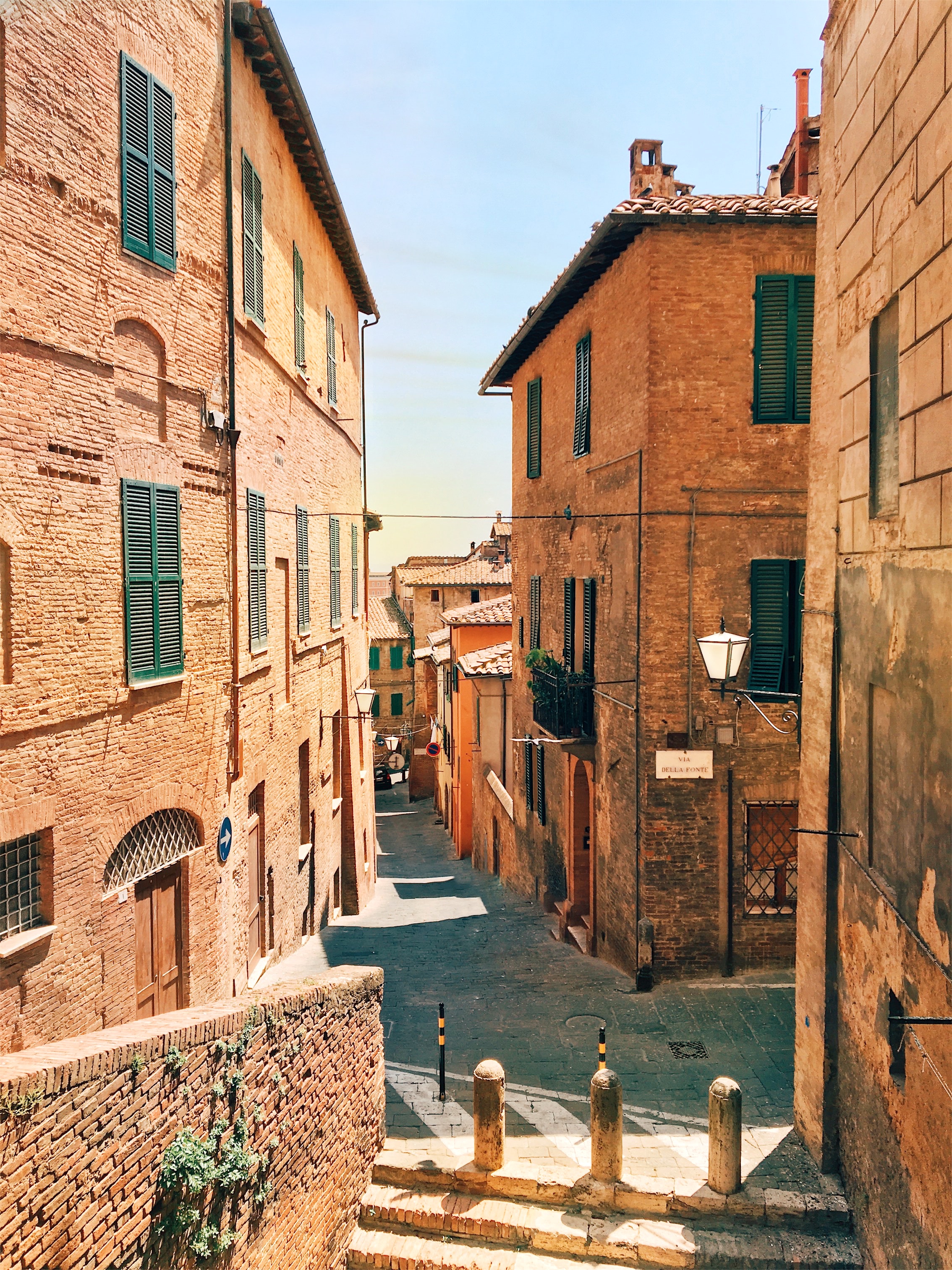 Town hopping in Tuscany is a 'thing'. After all, it is blessed with an abundance of beautiful towns and villages. This trip covers only a part of Tuscany, and it's still quite huge, making it difficult to complete it within a day. We have created this route, which is the fastest way to see all of it with-in a day, but you can seperate the trip for two days. Starting from Borgo Casabianca, the first stop is at Siena. Think of Siena as a compact Florence. Its center has been designated as a UNESCO World heritage Site, so it's a must-see. Don't miss out the breathtaking Duomo di Siena!
Next stop: San Gimignano. Perfectly preserved, this town is known and beloved for its skyline of medieval towers. It used to feature 72 towers, but only 14 stand until today. Luxe Adventure Traveler has named it the Medieval Manhattan in an article with the top things to do in San Gimignano. Don't miss to try the delicious and multi-awarded ice-cream of gelateria dondoli, found at the town's center - it's a must. After San Gimignano comes the city of Alabaster. Volterra is a popular destination, known for its peculiar urban layout of Etruscan origins. There, you will find an abundance of Roman remains, alongside handicraft workshops, selling alabaster hand-made objects. If you are looking for souvenirs, this is the best place to buy some.
After Volterra, comes the widely popular and so beloved, Pisa. To fully explore Pisa, you need at least 2 days. This is why, for this trip, we recommend you focus on exploring Piazza dei Miracoli, where several gorgeous buildings and monuments can be found, alongside the tower of Pisa. Other popular monuments found there include the Cathedral, the Baptistery and the Graveyard. As the tower of Pisa is pretty crowded, it's highly recommended to reserve entrance in order to avoid extended waiting hours. After Pisa, there are 3 more towns to explore.

According to our schedule, it will be midday to afternoon when you reach Lucca, so we will focus on the culinary aspects of this gorgeous town. To explore Lucca, you need at least two days exploring its narrow streets, ancient churches, and stunning towers. For food, there are plenty of quaint little cafes and histories restaurants to enjoy a sumptuous lunch in the town center. After Lucca and with a full stomach, comes our last stop which is Florence. There, you can check out some popular spots like the Ponte Vecchi, Piazza and Pallazzo Signoria, Palazzo Pitti & Boboli and the Duomo. It will take about 2 hours to reach back the hotel!
Photo by Daniela Turcanu on Unsplash


Don't blame us when you fall in love with Tuscany!
Photo by pepe nero on Unsplash
Either you pick one of the above recommended trips, or create a trip of your own, we are sure that you are going to fall in love with Tuscany. Of course, as you have already understood, renting a vehicle is absolutely necessary. If you are visiting with your man, we recommend you opt for a full Italian experience, and rent a vespa. If you are visiting with your besties, then car it is (which might be more convenient in some occasions). Either way, your gay holidays will be transformed into an educational and breathtaking trip that will change your perception of gay holidays in general. So, we highly suggest you start planning your trip right-away by booking at Borgo Casabianca here.