Croatia may be small in size, but it has a rich and diverse cuisine bustling with vivid colors, seductive aromas and strong flavors. The country's cuisine has been influenced by several neighboring cultures, especially the Austrian, Hungarian and Turkish cuisines. Local food in Croatia varies per region, with each area boasting its own distinguishing recipes and delicacies.
In the main part of Croatia, breakfast usually features oats, coffee beans and corn-flat bread. Eggs are also prominent in the morning tables, prepared in all sorts of ways, from sunny side up to poached. A typical Croatian breakfast stands out for its mouth-watering dishes, rich in fat and flavor.
However, there is a specific region in Croatia, where breakfast has significant differences from the rest. Dalmatian breakfast features a Mediterranean character, with lighter, less fatty, and much stronger tastes. A typical Dalmatian breakfast includes local cheese, fresh salads, homemade pies, mini sandwiches, light chocolate cakes, sweet desserts, and dried fruits.
Among all the places you can visit in Dalmatia, a specific hotel with a sumptuous Dalmatian Breakfast, manages to win the hearts of anyone who tries it. This beautiful hotel is Cornaro Hotel, located in the heart of Split, right by the entrance of the exceptionally well-preserved palace of the Roman Emperor Diocletian, a UNESCO World Heritage Site.
Cornaro Hotel: Where old meets new!
At the very heart of Split City lies the wonderful Cornaro Hotel where traditional and modern blend together, creating an example of design excellence. The property's central location grants easy access to various ancient sites, dining venues, shopping areas, bars & cafes, where you will spend your lazy Split days.
For your stay, you can choose among a wide diversity of rooms and suites, depending on your personal needs and preferences: from comfort single/double rooms for budget travellers, to premium suites with private jacuzzi, walk-in wardrobe and separate living area.
There are many services and conveniences you can enjoy while staying at Cornaro Hotel, such as transfer services, laundry services, ticket reservations, sightseeing arrangements, shopping information, pet services, etc. All you have to do is ask!
Your entire Cornaro experience is expected to be flawless, however, what will definitely stick in your mind and make you want to go back, is the hotel's exceptional breakfast — an experience infused with a true Imperial touch.
Diocletian's Breakfast: A feast of tastes and flavors
Cornaro Hotel's sumptuous, gourmet buffet breakfast offers original Dalmatian flavors, with authentic recipes sourced from local cooks. As the property is located at the very entrance to the historic Diocletian's Palace, the hotel's people have made sure to design an Imperial experience during breakfast, that will guide you through a generous feast with royal treats & tastes, that will ensure a fresh start to your every day in Croatia.
Among many choices, you can choose from a wide selection of homemade jams and delicious honey, which you can spread on freshly-baked bread with pure local butter. Try also the fresh salads, enriched with dalmatian spices, herbs and marinades, made with 100% extra virgin olive oil.
Drink freshly squeezed juices or detox water enriched with fresh fruits and vegetables. Or, try one of the delicious made-to-order smoothies made with local milk and fruits. Can't wake up without a cup of coffee? Try the hotel's rich selection of coffee or tea, and start your day with as much energy as possible!
Naturally, a wide diversity of savory tastes is also available at the hotel's breakfast. These include local cheeses, hams and prosciutto, a wide diversity of regional pies and delicacies, homemade bread and pastries. Are you allergic to gluten? Check out the many choices in gluten-free recipes, that will keep you full without lacking taste.
More breakfast choices at Cornaro Hotel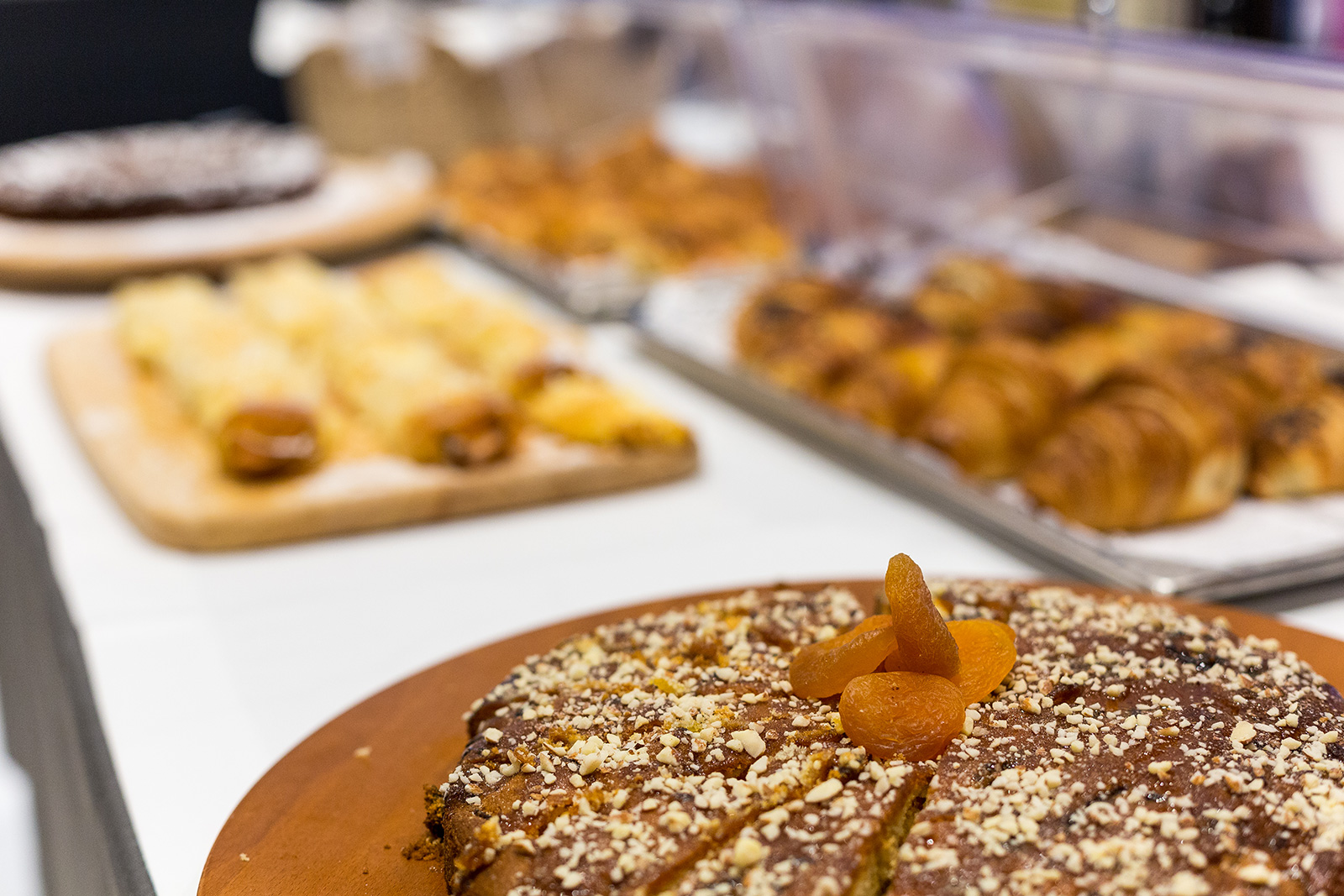 Diocletian's Breakfast Experience is unique and flavor-packed, but it's not the only breakfast option in Cornaro Hotel. A rich menu of all-time favorite European breakfast dishes is also provided, for those who prefer to stick to their usual breakfast habits.
An Imperial Holiday!
Your trip to Split is expected to be filled with loads of sightseeing and cultural moments, enriched with a strong essence of the Roman Empire grandeur. So, if you want to stay by the Palace's entrance and wake up every day eating what the Emperor Diocletian used to eat, then don't waste any more time and start planning your trip now!