Named after the Greek goddess of wisdom and courage, Athens is Greece's proud capital and birthplace of democracy, theater, and Western civilization. Not as picturesque as other European cities, like Rome or Barcelona, but its vivid nightlife, hundreds years of history, diverse dining options, and exceptional hotels overlooking the Acropolis make it very hard not to love.
Since we know how tricky is to avoid the tourist traps, and all European capitals are "thankfully" packed with them, we will show you how to spend 48 exciting hours in Athens and savour every second whilst in the city - all written by a local. Starting from the basics, let's find a place that you can call home. Athens is home to a wide diversity of Airbnbs however, very few of them offer the quality stay of a hotel.
For accommodation, we recommend NJV Athens Plaza, a centrally located 5-star hotel in Athens' historic Syntagma Square. Its wonderful location, luxurious services, and world-class accommodation make it the perfect hotel for your city exploration!
Check in at NJV Athens Plaza Hotel in Syntagma Square!
Conveniently located in the heart of Athens, at the historic Syntagma Square, NJV Athens Plaza Hotelwelcomes guests from across the globe for almost 40 years. The hotel's contemporary rooms and suites stand out for their splendid sense of luxury, spaciousness and stunning views over the Acropolis.
The hotel is home to a great restaurant, the Parliament Restaurant, where you can enjoy gourmet Greek cuisine, a cozy cafe where you can grab light snacks during the day or enjoy your morning coffee, and a wonderful bar where you can try delicious evening cocktails and frequent live music nights.

Day 1
The first day of your holidays in Athens should be more relaxed as you will most probably feel tired from the journey. The best way to reach Athens is via Airplane, however, keep in mind that the airport is about 1 hour away from the center of Athens via Metro and Bus. Your first day in Athens should be devoted to exploration of the local life.
Afternoon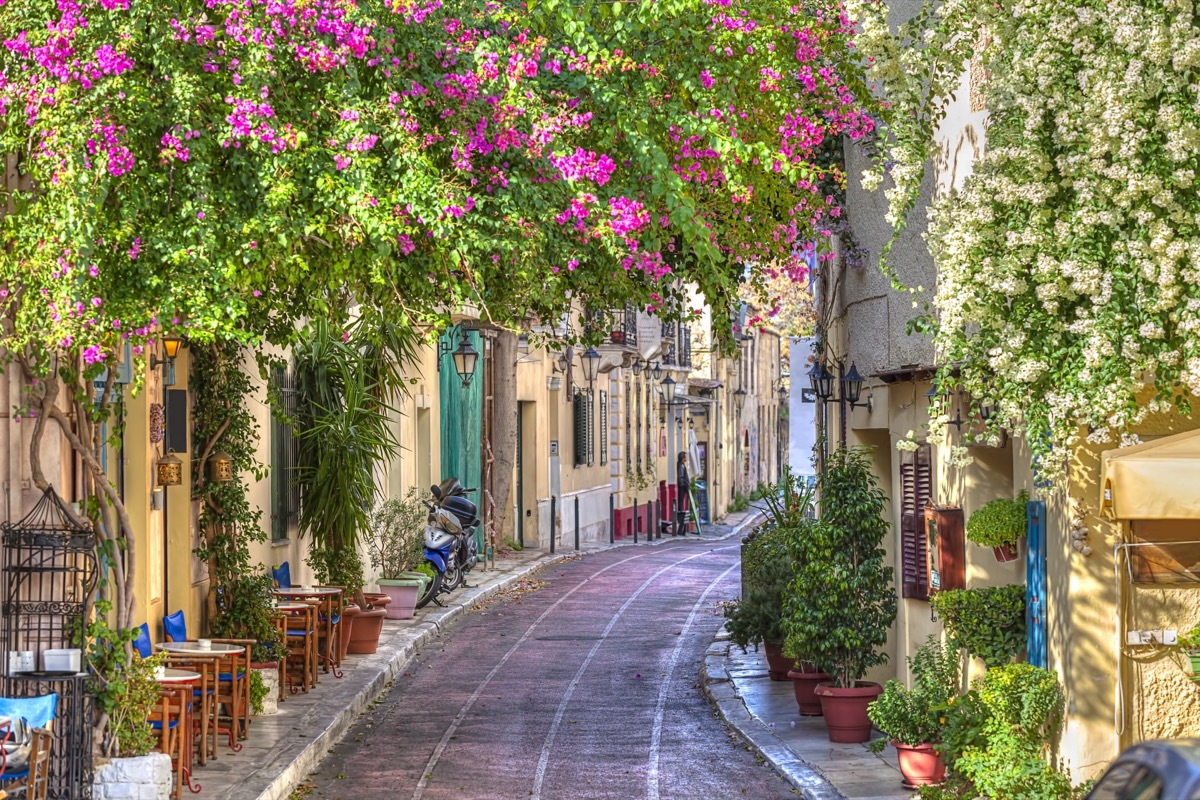 Either you take the metro station or the bus to reach Athens, you will be dropped right at the hotel's doorstep (Syntagma Station). If you are lucky, there might be an available room to settle in before 2pm. If not, you can simply check in your luggage at the hotel's lobby and leave the room check-in for later.
The first thing you should do is opt for a brunch at Mama Roux or HARVEST, located only 5 minutes' walk from the hotel. Now that you have filled your batteries, spend the rest of the afternoon, shopping at Ermou Street, Athen's most popular shopping street. The street hosts various European brands like H&M, Zara and United Colours of Benetton.
While shopping, catch a breath at Le Petit Village, a cozy cafe located at Ermou Street, serving exceptional handmade lemonades, superb coffees, and delicious small snacks. Since you will be super close to your hotel, head back to leave your shopping bags, make a shower to refresh yourself and quickly head back to your Athens tour.
Evening
Evenings in Athens, especially during Summer and Spring, are all about walking and exploring. Take a walk at the nearby Psyrri Square and enjoy a dessert at the amazing sweet shops found scattered around the area. Visit "Ta Sermpetia tou Psyrri" for traditional desserts, and take photos at the extravagant and fairytale-like Little Krook.
After your walk at Psyrri, head to thissio and take a walk at the huge cobblestoned street that surrounds the hill of Acropolis. If it's still day and you fancy views over the city, "climb" Vrahakia and admire the views alongside other couples. Don't visit Vrahakia when it gets dark since they are quite dangerous. After your quite long walk at Psyrri and Thissio, go for a cocktail at one of the numerous rooftop bars of Athens.
We highly recommend you Zillers which is at Monastiraki, since it is known for its superb views over Acropolis, good prices, and it's very close to NJV Athens Plaza!
Day 2
Your second day at Athens will be devoted to sightseeing and culture exploration. Since Athens is packed with many sights to see, even metro stations display statues, it's natural that a day is not sufficient to see all of it. Following, we will discover some of the most popular sights to see in the city.
Morning
For once again, the hotel's ideal location will make your sightseeing exploration as easy as a pie. The hotel is at a walking distance from many popular sights like the Acropolis, the National Garden, and the Hellenic Parliament (the closest one). So naturally, the first place to start is the Hellenic Parliament where you can admire the evzones in their traditional costume and pay respect to war memorial.
Then you should go down Mitropoleos Street, in the midst of which, you will find the imposing Metropolitan Church of Athens and the Statue of Constantine XI Palaiologos. Head straight down and you will find yourself in the picturesquare Monastiraki Square. Then, you should walk at Adrianou Street up to Thiseio where you should walk at the huge pedestrian street of Agion Asomaton and Apostolou Pavlou.
You will find various sights at this street, and at its end, you will find Dionysiou Areopagitou street through which you will encounter the gorgeous entrance of the Acropolis. It's high time you climbed that mountain whose history has gained worldwide reputation: the Acropolis. If you are lucky, you may encounter a free sight day, if not you will have to pay a small fee. To fully discover it, you will need about two hours.

Afternoon
After all that climb, you will be exhausted, so make a stop at the new Acropolis Museum, to discover its ancient sights and enjoy lunch at its stunning rooftop bar-restaurant. This will take you two to three hours. After your Acropolis Museum exploration, head to the theatre of Dionysus, a huge amphitheater that dates from the 6th century B.C.
These activities will pretty much fill your afternoon, so we highly recommend you to go straight ahead to the main street of Leoforos Vasilissis Amalias, and turn left. If you continue straight ahead, you will find yourself at the parliament and NJV Plaza Hotel. While on the way, make sure to make a stop at the Temple of Olympian Zeus, the Statue of Lord Buron, and pass through Zappeio Hal and the National Garden.

Evening
After this exhausting day, you will definitely need a bath before your night-out. Head back to your Junior Suite, take a hot bath at your marble bathroom and enjoy a cup of tea overlooking the stunning Acropolis from your veranda or window. Now that you have relaxed from such a tiring day, put on your best mood and opt for a cocktail at the hotel's stylish bar.
Explorer's Bar is a vintage bar featuring a stylish decoration with wooden wall panels, green leather armchairs and couches, classic crystal sconces and hand-made carpets. It will surely be the perfect conclusion to your Athens' two-days trip.
If you follow this schedule in the end, you can say that you saw the most of Athens in only two days. What keeps you away from this wonderful experience? Don't waste any more time and start by checking prices at NJV Athens Plaza here, or learn more about the hotel on its website here.