Greek cuisine is among the most characteristic around the world, distinguished for its authentic and delicious recipes. Nowadays, you will find a Greek eatery in almost every corner of the earth – most probably selling the iconic Greek fast food "souvlaki". Greek food focuses proudly on the renowned Mediterranean diet, making heavy use of olive oil, vegetables, herbs and spices, seafood, white meat etc.
There are many wonderful Greek eating habits that are part of the Greek culture. Eating is a social affair for the Greeks. You will hardly ever see a Greek eating alone. For Greeks, mealtimes are a time to bond , an opportunity to meet their friends and family and share their news over a table and a delicious menu — a habit that is still reflected in the traditional Sunday family meals throughout Greece and Cyprus. 'Eating on the go which is largely a Western trend, is not popular among the Greeks as they take their time when enjoying their meals.
An authentic Greek experience is not difficult to be found anywhere in Greece and Cyprus, however, you should keep in mind not to end up dining in a touristic restaurant or tavern. You must always make sure to look for those places that locals choose for their meals as well, and you will not be disappointed!
In an effort to offer this feeling of 'traditional Greek dining experience' to its guests, Louis Hotels have created the Greek restaurant brand 'Meze by Elliniko', which can be found in 5 of the chain's properties in the Greek islands as well as in Cyprus. 'Meze' is the Greek word for tapas, so, we are talking about a feast of many small plates, strong tastes and lots of ouzo, wine or raki!
But first things first: Let's meet the Louis Hotels chain.
Specializing on the tourism industry for more than 77 years, Louis Hotels is a well established hotel chain with 26 hotels in Cyprus and the Greek Islands, whose intimate atmosphere and advanced services have won the heart of every traveller that has visited them.
Whether you are searching for a place to stay for your family holidays, adventurous excursions, or even relaxing beach vacations, Louis Hotels will give you the answer.
Among the 26 properties, there are currently 5 of them that feature the Meze by Elliniko Restaurant and these are The King Jason and St. Elias Resort in Protaras, The Royal Apollonia in Limassol, Louis Zante Beach in Zante, and Louis Paphos Breeze in Paphos.
Let's discover the secrets of Greek Cuisine through the eyes of Louis Hotels:
Meze by Elliniko – The hidden truth behind the Greek Cuisine!
The secret that makes Greek cuisine so popular is… its simplicity. The dishes are not overstuffed with unnecessary sauces taking over the taste of the rest of the ingredients, and they are perfectly combined in a way that every single bite is like a unique blast of flavor in your mouth. Having taken a grasp of the Greek food culture, Meze by Elliniko has included a wide diversity of dishes in its menu, all of which aspire to bring the authentic Greek cuisine to your plate.
But in addition to flavour, Meze by Elliniko dishes also look extremely impressive they also got the looks. All of the dishes have been enhanced visually, giving a more gourmet feel without altering the taste, which is authentic and traditional. They are all bustling in vivid colours and beautifully presented their presentation is so good that will make you feel bad for eating them and spoiling their beauty. On the other hand, the dishes' rich and intense aromas will instantly awaken your appetite. Salads fresh ingredients and homemade dressings with 100% extra virgin olive oil smell like a wonder.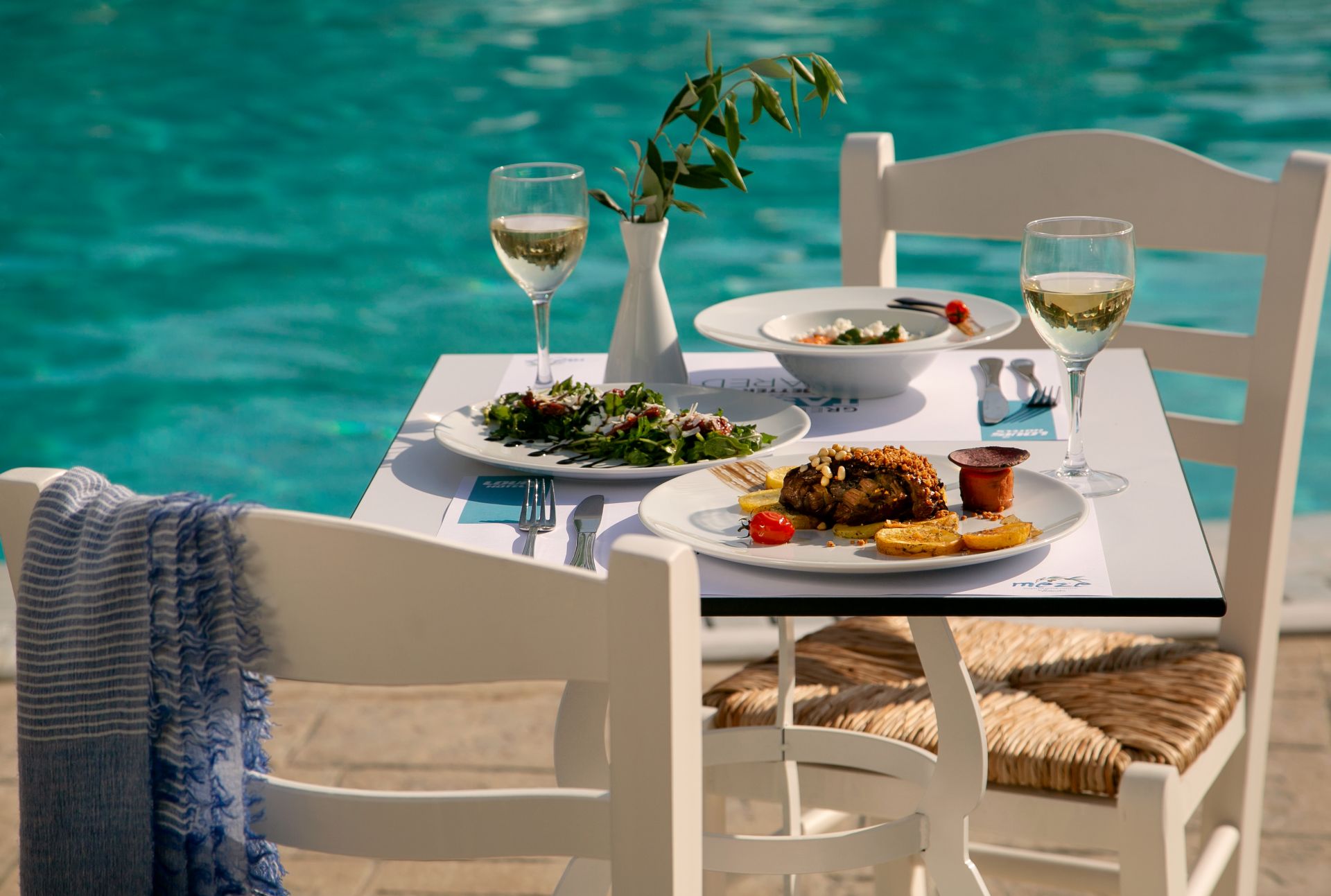 Even though 'Meze by Elliniko' is actually a restaurant chain within a hotel chain, the experience in each of the five hotels is completely different. Different location, different ambiance, different backgrounds. However, one thing is for sure: the quality, taste and service in all the restaurants, will exceed your expectations!

So, let's go through the most fascinating features of 'Meze by Elliniko' restaurants and explore the five properties where you can find them in:
5 Hotels shape the Greek Dining Experience!
Your dining experience in the"Meze by Elliniko" restaurant will be centered around mezedes. Mezes is a small side-dish, similar to the Spanish tapas, that Greeks eat while drinking ouzo, tsipouro and wine. In "Meze by Elliniko", you will try a menu of 12 unique mezedes that include salad, cod, stuffed squid, slow roasted meat, chicken thighs and more.
It would not be a proper Greek meal, if it didn't include something to drink while enjoying your food. In this case, you are going to taste a premium quality wine, that many call it the nectar of the gods. The red wine served in the restaurant was specially selected to match with the dishes' flavours. In the end, you will try a unique liqueur made with honey, that you will definitely want to get back to home!
No matter how delicious the food is, if the staff isn't friendly, you will never truly enjoy your meal. The attentive and professional staff of "Meze by Elliniko" restaurants is a true surprise for anyone. They will cater to all of your needs, even altering the ingredients of some dishes if you wish. They also present every dish in detail, so that you know exactly what you eat as well as little bit of its history. This makes them the ideal places to discover the Greek food culture!
The restaurants feature an indoor area that resemble a traditional tavern with a modern touch, as well as an outdoor area where you can dine at a garden or on a terrace, depending on the hotel that you visit. The atmosphere is pretty laid-back and cozy in all of the restaurants, further enhancing the experience. Even if you happen to visit on a fully-booked day, you will notice that the staff handles every situation with expertise.

After your dinner, we are sure that you would be so satisfied that you would want to take the chefs with you back home. Well, you can! Not the chefs, actually, but every restaurant has a food market at the entrance, where you can buy all kinds of goods including Greek cheese, traditional charcuterie, extra virgin olive oil, and other ingredients that will help create an authentic Greek dinner by yourself.

Sorry, it was my belly!
You must be starving by now, so we recommend you to go grab common to eat for now, and start planning already your trip in one of the above hotels. Trust us, you won't regret it!