The beautiful pearl of Europe, Portugal, has always escape the tourism's attention, but more and more travellers seem to be interested in exploring it recently. It's home to some of the most beautiful coastlines in Europe, while its capital, Lisbon, is among the most beautiful city destinations in the world, known for its red-tiled rooftops and picturesque alleys.
Of course, there are much more to admire and do in Portugal, than its capital, Lisbon. To help you organize your trip easier, we decided to create this article with the top 10 awesome things do in Portugal. So, after quite a research, and without further ado, let's explore the best things to do in Portugal to make the most of your holidays in this beautiful and diverse country.
1. Stroll around the streets of a Village built around a rock
Located on a mountaintop overlooking the Portuguese countryside, Monsanto is one of the most beautiful towns you will come across in Portugal. It's home to 1,000 residents, while it's famous for its buildings' unique setting, between and underneath giant boulders.
This village has not changed at all the past hundreds of years, so it's like a living museum of traditional Portugal. Walking along its picturesque cobbled streets will give you a rough idea on why it's a microcosm of Portugal.
Santarem Hotel - A Luxury Hotel in Santarem, that will become a referrence point of your Portugal Exploration
To make the most of your Portugal exploration, you have to pick a hotel that's centrally located, giving you easy way to navigate around the country, and Santarem Hotel is such hotel. Located in the homonymous town of Santarem, Santarem Hotel has the perfect setting to relax and enjoy your vacations at your own pace.
One of the hotel's strongest points is that it's found at the Center of Portugal, distancing only 45 minutes by car from the main Touristic and Interesting visiting points in the area, i.e. The Fátima's Sanctuary, Batalha and Alcobaça Monasteries, City of Tomar (Templars Knights Town), Óbidos (a small Medieval Village within its Castle) and a Historical Salt Exploration in the Town of Rio Maior)
We know that most of your time will be exploring, but we highly recommend you choosing the Premium Double River View, as its wonderful views over the river and its great amenities will greatly enhance your stay. Of course, if you don't mid the room, the Classic Double City View is also awesome and facilities packed.
Of course, the daily buffet breakfast will become the most anticipated meal of your day as it's diverse, packed a list of items including fruits, jello, compotes, cold cuts, cheezes, and more. Although, the 5 hot dishes are the ones that steal the show, as they are all delicious and worthy to try. It's the perfect way to start your day energized. And, don't forget to book directly to the hotel, so as to get the best price!

2. Admire the eccentrically decorated Quinta da Ragaleira
This wonderful palace is known for its amazing grottoes, fountains, tunnels, and caves, awaiting to be explored. It's a UNESCO World Heritage site, while it was designed by Carvalho Monteiro. This landmarks spreads through an area of four-hectare, featuring enigmatic buildings and very beautiful gardens to walk through.
3. Bask the Beautiful View over the top of Belem Tower
Torre de Belem is one of the most iconic monuments in Portugal, found in the Belem District in Lisbon. It was built in 1521 to guard the city from invasions via the River Tagus, while it's one of the finest examples on how to build a successful fortress. It's a designated UNESCO World Heritage Site.

4. Take a Wine Tasting Tour at Douro Valley
Known for its production of fine wine, The Douro Valley is the perfect place to enjoy a memorable wine-tasting experience. This is the oldest demarcated wine region in the world, and even if you are not a wine lover, you will love this place. Stroll our the vineyards, and, if you want to make the most of your Douro Valley Experience, take one of the wine tours available in the region.
5. Watch Majestic Sea Creatures and Animals at the Oceanario de Lisboa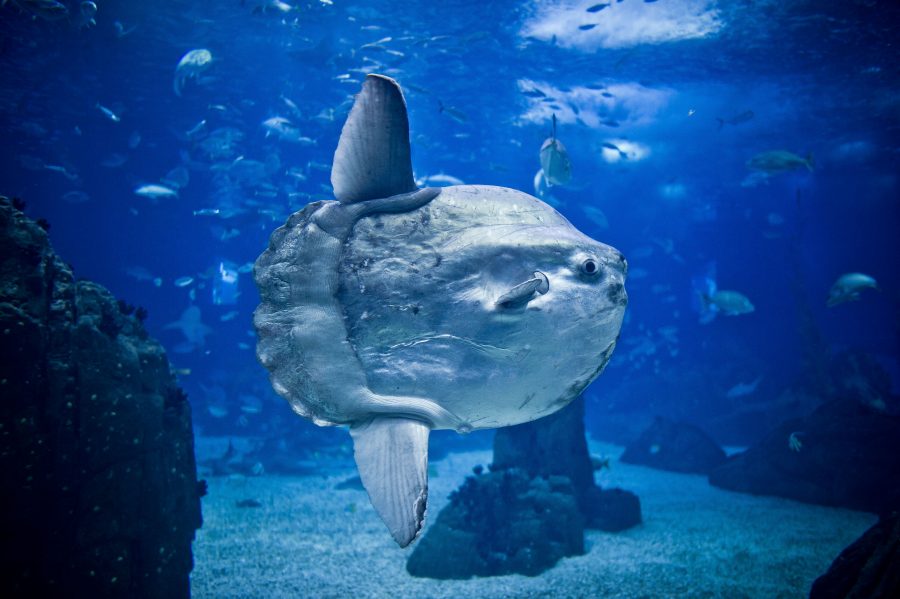 Photo Credits: Suitcases and Sandcastles
Operating since 1998, Oceanario de Lisboa has become one of the city's major attractions, loved by both adults and children. It is the largest indoor aquarium in Europe and it's home to an abundance of sea creatures, including white sharks,, rays, penguins and more.

It's a breathtaking spectacle to watch for everyone. It is separated into four separate ecosystems, divided to represent the Antarctic, Atlantic, Pacific, and Indian Oceans.


7. Go Waterfall-Hunting at The Azores
The Azores is an island complex in Portugal known for its vast beauty and lush nature. One of the most popular activities to do on these islands is waterfall hunting. Most waterfalls are spotted around Sao Miguel, but Flores and Santa Maria Islands are home to a couple of waterfalls as well.
Some of the most popular waterfalls to admire are Salto do Prego in Sao Miguel, Salto do Cabrito in Sao Miguel, Poco do Bacalhau in Flores, and Cascata Ribeira do Aveiro in Santa Maria.
8. Sunbathe in one of the countless Beaches of the Algarve
Algarve Coast is home to some of the finest beaches in Europe, counting 150+ stretches of sand to sunbathe and swim to your hear's content. Among the beaches that stand out are Praia da Marinha in Lagos, Praia da Falesia in Albufeira, Praia de Odeceixe in Odeceixe, and Ilha de Tavira in Tavira.
Almost all of the beaches in Algarve are known for their fine, golden sand, and turquoise or emerald waters. They are also perfect for children as they are usually shallow and with excellent swimming conditions. Just put on your favorite swimsuit and enjoy the most refreshing experience in Portugal.
9. Stroll around the picturesque alleys of a medieval town that time forgot
Photo Credits: Biospehere Tourism
A tiny village on a mountaintop, Sortelha is a breathtaking town that enjoys the most breathtaking views over Portugal's countryside. This town's setting takes you back in another Medieval time - this is why it's called the town that time forgot.

10. Go hiking at the imposing volcanic landscape of Furnas Lake!
Furnas Lake in San Miguel is very popular for its bubbling, mineral rich geothermal pools and lush nature. People who visit this like to canoe in it, and hike at its surroundings. It has the perfect landscape to enjoy a picnic, or simply stroll and admire the beauty of nature. There is also a special meal cooked at the hot springs of this area called cozido.