What if we told you there's something more magnificent than the Caldera view in Santorini? More fascinating than the famous Santorini sunset, or the wine itself? We're talking about the history and birth of Santorini Caldera.
Located in the southern Aegean Sea, Santorini Caldera is one of the most beautiful natural creations on this planet. Generally speaking, there's a false perception out there about Santorini being just the cosmopolitan island many believe it is — or just an island for a Santorini honeymoon. Wrong.
Being the exact spot where natural beauty meets history, this island is a place of wonder where you can learn more about the ancient history of Greece, and witness the miracles a volcano eruption can create.
Time for a history lesson.
History of Santorini Caldera: Featuring ancient civilizations and volcanic eruptions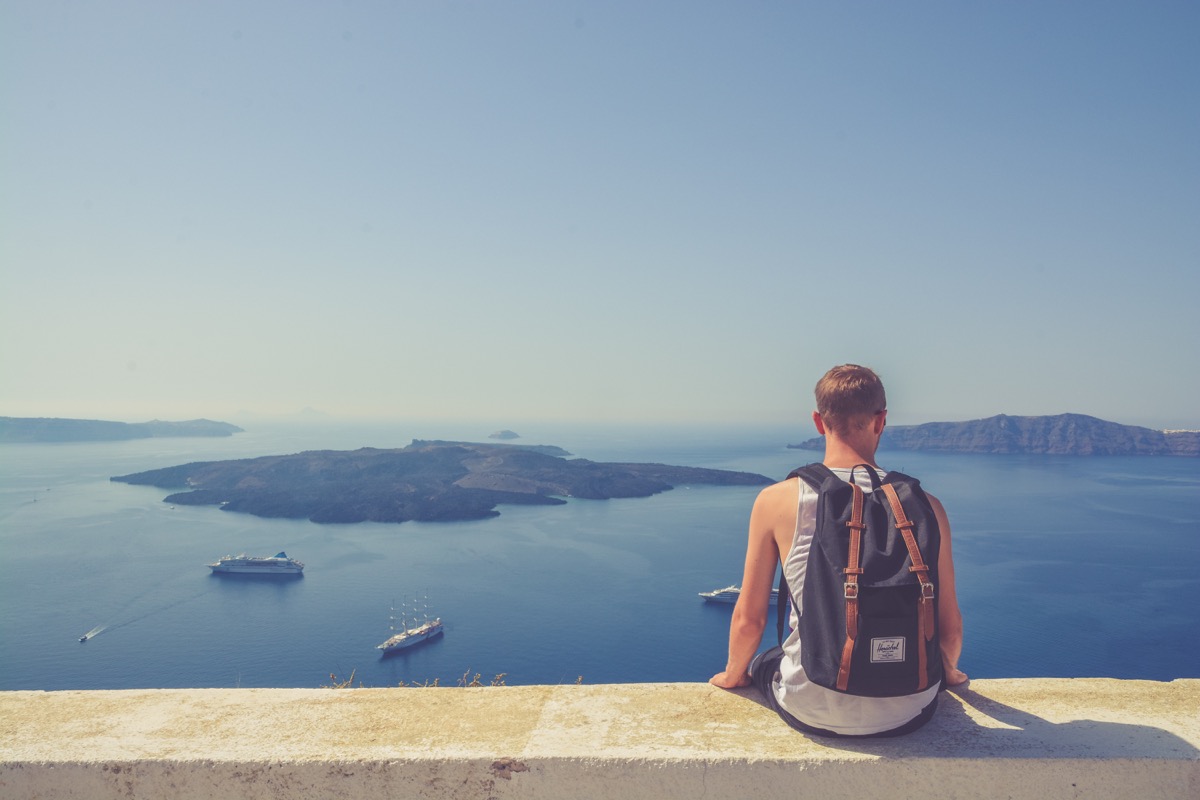 Thirty thousand years ago, an island twice the shape of today's Santorini was formed. Due to its round shape, it was named Strongili which in Greek translates into "circular."

Thousands of years, eruptions, and various natural phenomena later, a wide, half-moon shaped bay was formed on Strongili. This is what we call today the Santorini Caldera.
In 4,500 BC, not too far away from the Caldera, an influential civilization began its establishment in the area and founded the first settlements of Akrotiri. This is one of the first records of the glorious Minoan civilization which thrived later on the island of Crete, Greece. However, 2800 years later, Akrotiri was destroyed by a catastrophic earthquake. However, it was rebuilt and ready to flourish.
It's the spring of 1613 BC. Santorini has a population of 30,000 inhabitants — twice the population it has today — and nature decides to take the reins. Santorini's volcano erupts and humanity witnesses the second largest eruption over the last 10,000 years. The island is destroyed, and tidal waves sweep the shores of nearby islands. The eruption lasts for days, darkness for weeks, winter for years. One-third of the island sinks and the island of Strongili breaks in three pieces: Santorini, Thirasia, and Aspronisi.

In January 1950, the last eruption was recorded without any significant damages. Today, the volcanic activity is monitored, and there's no reason to worry. In other words, now, you're safe and free to enjoy the Caldera view in Santorini while staying at one of the famous, best hotels with private pool in the world that the island is known for.
Santorini today: Home to 1.5 million tourists a year
There are only a few islands in the world that are full of tourists throughout the year. One of them is Santorini. Compared to 2012, tourism rates have grown by 66%, and there's a reason for that. Actually, plenty.
First of all, there's a lot of culture for history and art enthusiasts. Hundreds of churches, museums of the prehistoric era, natural beauties, endless beaches, culinary delights, and small villages to get familiar with the traditional way of living. One of those villages must be Fira.
Capture the Santorini Caldera views in five magnificent suites in Fira
Now that you know that there's no other view more captivating than the Santorini Caldera, we need to talk about the best place to stay in Santorini and one of the best hotels in Fira with a Santorini Caldera view. After all, this is what you want to see as soon as you draw your room's curtains.

Asma Suites might be the best choice if you're looking for one of the best hotels in Santorini or a Santorini Caldera view within reach. Today we're taking a look at their five exclusive suites.
1. Sea Private Suite: Caldera view with an extra touch of luxury
Asma Suite's gem. Decorated in a traditional, Cycladic way, this 527 sq ft private villa will assure that you live the authentic Santorini experience as if you were a local who's grown up in the island.
Wake up to the sound of silence and relax in a modern room which will travel you back to the time when minimalism was an actual art form. But it's not just the cave-house suite that will steal your heart. There's a private balcony with a jacuzzi as well where you can appreciate the island's natural beauty while forgetting about everyday chores and life in the city.
If "best Santorini suites" is in your Google search history, the Sea Private Suite must be what you've been looking for.
2. Sun Standard Suite: Get a 360 view up on your very own terrace
The Sun Standard Suite is part of a former traditional cave house in Santorini. Today, it's renovated, big enough to host up to three guests, and true to its traditional, insular qualities.
Enjoy the grand Santorini Caldera or sunset in the comfort of your own terrace. Feel the Cycladic breeze while star bathing, have a drink, a romantic dinner, or dive into the external jacuzzi. You can thank us (and Mother Nature for the incredible views) later!
3. Sunset Petit Suite: The Santorini Caldera at hand
If you're searching for the best hotel in Santorini for couples, few accommodations offer what Asma Suites' Sunset Petit Suite does. Spend time with your better half in this "petit," 205 sq ft. love nest, ideal for romantic moments.
To give you an idea of what you should expect, the suite's bed is lifted so you can enjoy the views of the sunset while lying in your bed if the balcony jacuzzi feels too… luxurious for your vacation. Enjoy the famed Santorinian wine under the light of the stars and keep all worries locked in a box. Santorini with throw the key away.
4. Sky Junior Suite
Offering the ideal set up to pop the question, Sky Junior Suite will offer you the privacy and luxury that very few suites offer. The photos might not do justice to what this suite has to offer, but a stay will convince you.
5. Sunrise Junior Suite
The pink colours of Sunrise Junior Suite were chosen to match with the glorious sunset views. A bottle of local wine will await your arrival, while an outdoor hot tub will be warmed up for your evenings overlooking the Caldera. Everything seems perfect when you stay in a room like this!
So, is Santorini Caldera worth it?
The answer should be simple: Yes. But allow us to elaborate.
Santorini is known for the developed ancient civilizations it hosted — a very long time before other, significant towns in Ancient Greece were founded. So, yes, the island itself is a place of historical importance and cultural influences.
Of course, the cuisine or the remarkable wine varieties are there, but our guess is that you've read all about these before. Because what many fail to mention about the island, is what really matters. That its true tale goes back millenniums. Just like the human race was created in destruction, according to science and the circumstantial Big Bang theory, Santorini had to fall to pieces in order to thrive again.
After all, it took an Empire to build this beauty. And Caldera in Santorini narrates the story.