Sri Lanka's balmy tropical weather and jungle settings make for a unique and alternative wedding setting, ideal for gay couples. Head to Balapitiya, and you'll discover palm tree decorated sandy beaches with luxury resorts awaiting to organize your romantic gay wedding. In this guide, we'll tell you where you can host your gay wedding in a hotel that's going to strive to give you all the opulence and luxury to make your day that little bit more special!
Begin celebrating your love | Check into your Jacuzzi Suite - Walawe
Upon arrival, the first you'll need to check off your list is, of course, check in. Stay at The River House, a boutique style resort with a chic vibe that is effortless cool while maintaining a degree of privacy, making your stay feel more personalized. Choose the Jacuzzi Suite, a hideaway spot that's tucked away amid greenery with views of the riverside. The relaxed atmosphere of the waterfront resort will entice you to take a dip into your private outdoor jacuzzi with your partner as you begin your celebrations.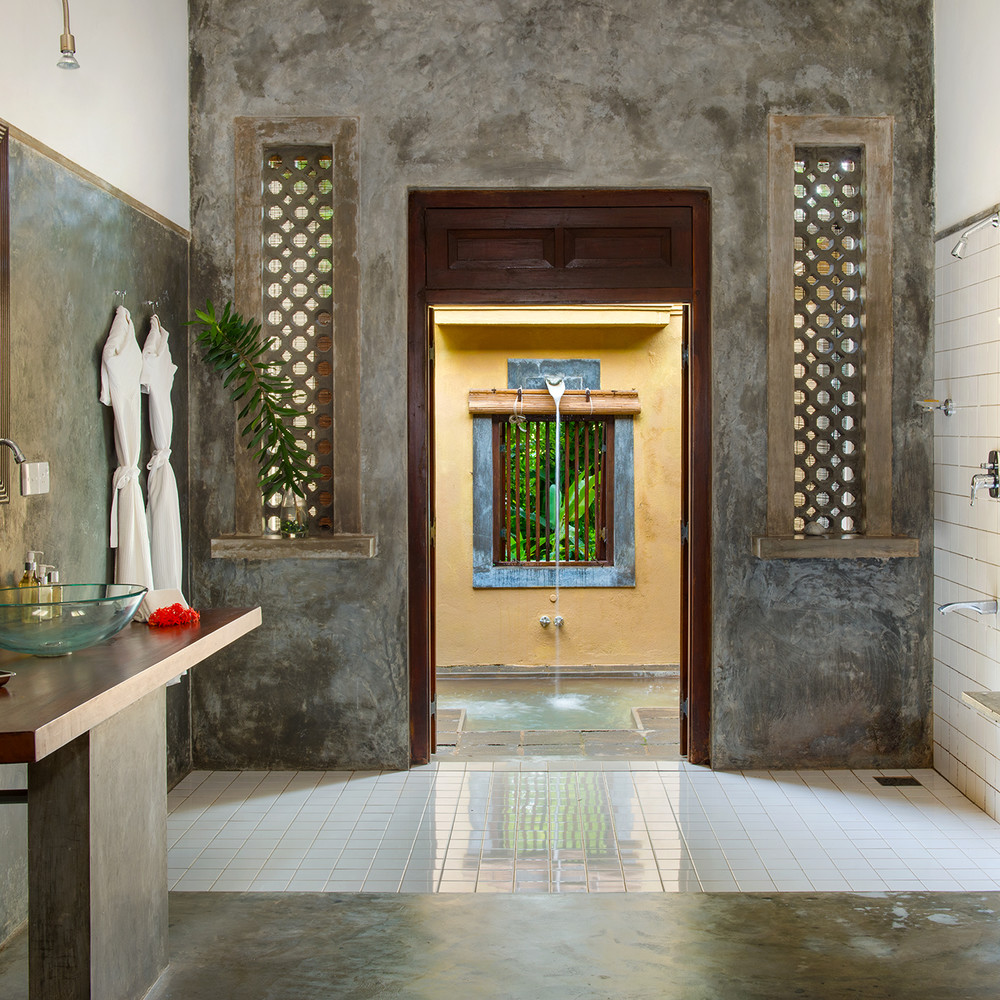 A fabulous ceremony! | Your Gay Wedding Package
However fancy you may want your service to be, it's always good to look at all your available options. River Houses' wedding packages range from more basic packages such as Saman, that includes the standard services for a more intimate ceremony, with decorations and an appointed individual River House member to arrange the wedding.
The packages go up to more luxurious and unique packages that introduce a touch of Sri Lankan culture. For example with the Nelum package, you can choose to have a traditional Sri Lankan wedding ceremony, revolving around a Póruwa with fresh wildflowers. You'll also enjoy the melodic Jayamangala gátha, a chant that provides blessings to your new life as a newlywed couple.
Contrastingly, the Kadapul package offers a complete overall wedding experience that's ideal if you've got around 15 guests in mind for the big day. Inclusive of this package is also the free option to upgrade to a more luxurious suite according to availability as well as a sparkling wine breakfast the following morning for you and your partner to enjoy.

Good to know...
A Póruwa is a raised stand that is traditionally featured in Sri Lankan wedding ceremonies with a backdrop of tropical flowers. Picture it as a podium for you and your husband to stand on!
Your ideal gay wedding venue!
Each couple's going to have its preferences of where they wish their ceremony to be conducted. Although it can be tricky finding inclusive wedding packages that have a good variety of locations, River House provides you with several settings. Whether you're the old-school type and would prefer a classic traditional colonial manor or wish to go all out in the tropics by choosing a tropical garden on the river-banks, or perhaps you don't fancy an inland set-up and want to head out to Shinagawa Beach to exchange your vows at sunset, one of these dreamy venues is bound to suit you.
Say, "Cheese...!"
An essential part of the wedding is, of course, being able to look back at the moment you exchange your vows, or the hilarious moment when your best friend twerked at the reception dance floor after a few too many drinks! While the Nelum Package is inclusive of a photo shoot before the ceremony with 60 shots you can take home with you, the Kadapul package will provide you with a more select range in the format of an album of 25 photos. Either way, you needn't worry about getting those fabulous shots of you and your man on your big day with these two packages!
Good to know...
During your gay ceremony, you'll notice the lighting of an oil lamp. A traditional procedure in Sri Lanka, this practise depicts prosperity, auspiciousness, and abundance of life.
A traditional Sri Lankan wedding ceremony introduction!
Scrap the traditional Western wedding ceremonies and go for a completely unique traditional Sri Lankan ceremony that's going to stand out in yours and your loved one's memories forever! After all, an extraordinary couple deserves a special day, right? Be graced by four Kandyan dancers and two drummers during your ceremony, enhancing your overall traditional Sri Lankan wedding experience with the Nelum and Kadapul packages. After the reception, head to your Mr & Mr specially decorated room for an ultra-romantic first night together as husband and husband!
Wake up and rise to Sparkling Wine | Breakfast the Morning After
You'll probably be needing a little extra TLC the morning after the big day which is why River House aims to continue the luxury treatment by bringing up a glass of sparkling wine with your delectable breakfast selection in the privacy of your Jacuzzi Suite at River House. Spend time taking your first day as a married couple in comfort and style; why not book an in-suite massage treatment with River House's professional therapists? Relax as you unwind to the sound of the birds chirping in the trees and to the pleasant sight of blooming lotuses on your outdoor front porch.
Glide down the Madu Ganga River | Fresh Water Boat Ride
When you picture Sri Lanka, you should imagine: wild jungle settings, river mangroves and the prolific bird life make up Sri Lanka's rich ecosystem. Get out of your suite and head into nature on a freshwater boat-ride down Madu Ganga to mix things up and see if you spot a crocodile or two!
Good to know
If you're particularly enthusiastic or passionate about wildlife, be sure to inquire with River House for excursions that include birdwatching and whale watching to find out more about the exotic animals that inhabit this island and its surrounding waters.
A Candlelight dinner under a Kumbuk Tree! | Private Dining at River House
Surprise your man with a private candlelight dinner overlooking River Houses' main outdoor pool. This is the perfect way to round off your celebrations while you sit under Sri-Lanka's twinkling stars in the tropical forested and uplight environment of the hotel, enjoying Sri-Lanka's warm evening temperatures. Discover the colorful palette of flavors in Ceylonese Cuisine or pre-arrange with the chef to cook your partner their favorite dish.
A Happily Ever After in Sri-Lanka!
If you're searching for a unique gay wedding at an alternative destination that will prioritise your needs and privacy in the style and comfort of a luxury resort, Sri Lanka might just be your best bet! Begin planning your tropical, luxurious gay wedding at The River House or if you're curious about what else is included in their wedding packages, be sure check out their website.