Rethymnon is one of the four main cities of Crete, even though it does not give you the sense of being in a city at all. It's a place with a rich history and great atmosphere, as it combines the oriental features of the Turkish period with Renaissance-style Venetian architecture.
At Rethymnon's historical center, near the Old Town and very close to the sea, you will find a beautiful & historical hotel called "Thalassa Boutique Hotel".

Rethymnon Old Town
Rethymnon Old town is the historic center of the city, and an area full of vivid life. It's home to various sightseeing attractions, with the most popular ones being the remnants of the Venetian, the Roman, and the Ottoman periods. In addition to the historical value of this place, you are going to find several cafes, bars, restaurants, as well as small shops to buy souvenirs and traditional local products.
Now... you are most probably wondering which are the most popular sights to visit when in the Old Town of Rethymnon. Let us suggest you some of the best:
The Venetian Fortezza
Definitely one of the most beautiful attractions in Rethymnon, the Venetian Fortrezza truly steals the show. It's a 16th century fortress that is actually visible from every part of the city, since it's located on top of a low hill, called Paleokastro. There is a number of remarkable sights inside the castle, including an orthodox chapel, a 20th century theater, a church and the Bastion of Santa Maria.
Rimondi Fountain
Rimondi Fountain is a fountain of great architectural and historical value, that was built in 1626. It's located however, at the site of an older fountain that is believed to exist since 1588. It consists of four small columns, standing on raised basins, while water runs from the heads of three lions.
Museum of Contemporary Art of Crete
The Museum of Contemporary Art, also known as the Kanakakis Gallery, is located in a renovated Venetian building in the Rethymnon Old Town. It features the works of Lefteris Kanakakis, a famous local artist, as well as works from other famous Greek artists.
But now let's explore a special place in Rethymnon, as famous as most of the local attractions... We are talking about Thalassa Beach Hotel, located in a building more than 150 years old!
Rethymnon, as one of the 4 major destinations in Crete, attracts many gay travellers annually. This is why many hotels brand themselves as gay-friendly, featuring a friendly environment for their LGBTQI+ Visitors.

Thalassa Beach Resort|The Story behind the Hotel
A picture is enough to show that this is not an ordinary hotel. Thalassa Boutique Hotel is, indeed, a distinguished hotel with a rich history and great design. Of course, its beach-front setting adds greatly to the overall picture!
But... let's talk a bit more about history!
Thalassa Boutique Hotel is housed in a building with over 150 years of history. Of course, there is nothing to highlight the building's age, as it was renovated in 2017. The renovation gave to it a more modern and luxurious touch.
The building used to be Risvan Pasa's summer resort and it was built in 1862. Its location near the sea front was decided by the owner, who wanted to enjoy the beauty of the Mediterranean sea as much as possible. It was later abandoned due to the 2nd World War, while it was used as a Pastopoiio (a place where they ferment fish), by the local fishermen till the 1960.
Then, it was used as a textile manufacturing factory until 1990, when it was transformed into a hotel. Actually, Thallasa Boutique Hotel introduced the first Fish Gourmet Restaurant in the area.
Beach-front Location: Nothing Else Matters
Just Imagine waking up in the morning, in your stone-built suite, overlooking the sea... If this is not the definition of the most remarkable holidays, then what is?! Thalassa Boutique Hotel is well-known for its excellent service, clean rooms, and the stunning view over the sea that definitely steals the show! The picture below speaks for itself!


Thalassa Boutique Hotel stood out for its boutique-style and it was included among the best boutique hotels in Greece to discover in 2019!

Memories | Powered by Thalassa Boutique Hotel
Thalassa Boutique Hotel has a special gift for couples, offering a wide variety of packages, including personalized services and experiences, ideal for the newlyweds. Each package includes various services depending on the theme. These are two of our favorite packages:
I Love Crete Package
If you are a couple and you want to explore Crete as a destination, then this package is ideal for you. Your first introduction to the Cretan culture starts with a personalized welcome fruit basket, Cretan sweets and the raki that you find in your room, upon arrival.
Moreover, you will be able to enjoy one of your traditional Cretan breakfast meals in your room. while you will be able to enjoy a raki cocktail by the beach. The use of Thermal Suite can help you relax and unwind from stress, and we highly recommend you to try the Rakotherapy Massage for two. Of course, a dinner at the hotel's restaurant, 7 Thalasses, is also available where you can thoroughly explore the Cretan gastronomy.
This Package can be further enriched with private Cretan dance lessons, private Cretan cooking lessons, or even a jeep safari in the Cretan culture!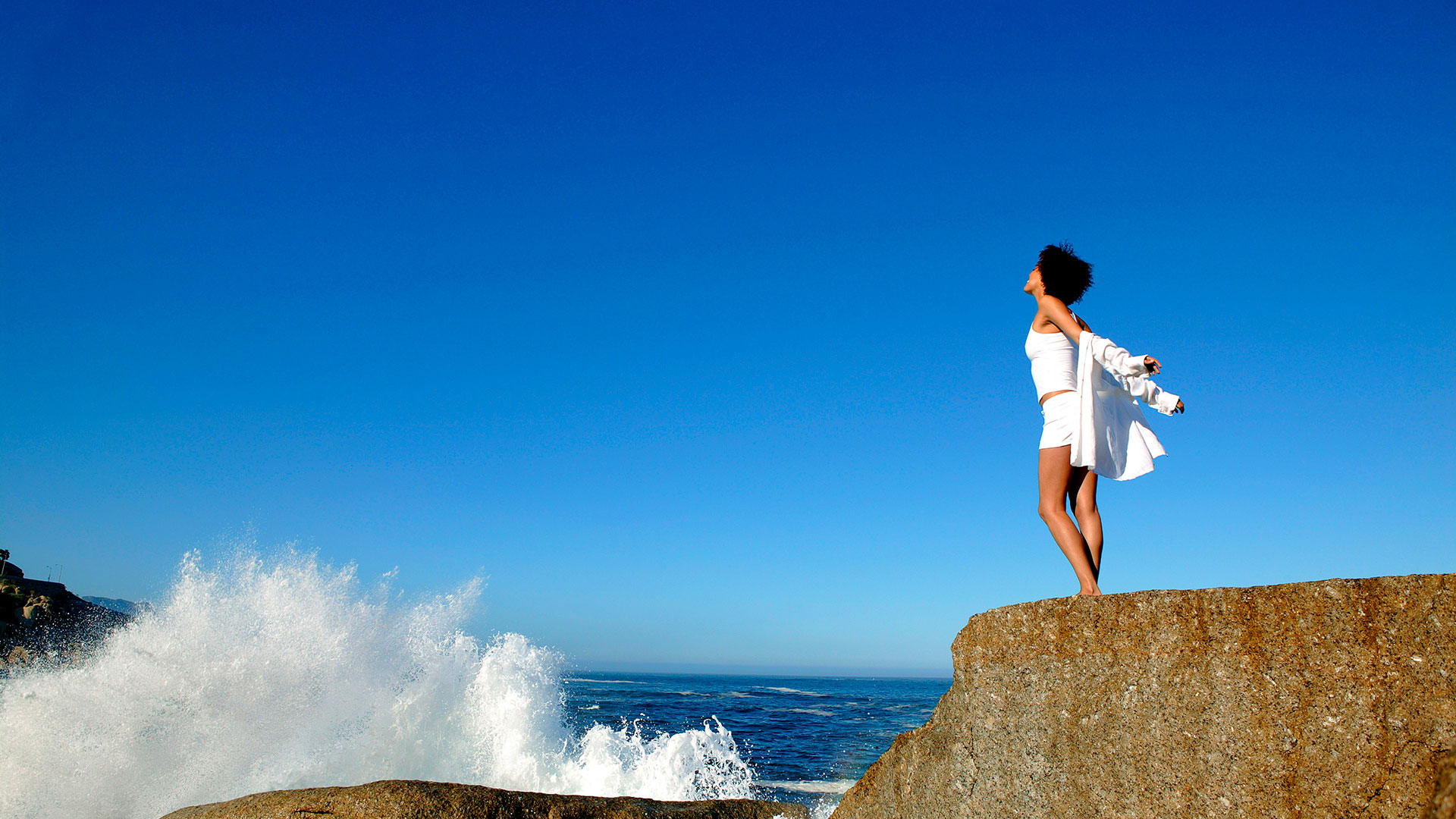 Healthy & Light Pleasures

This couple's package is personalized for people who want to spend their Cretan holidays healthily and light. Firstly, you will be welcomed with a rich fruit basket, dried fruits, nuts, and fresh orange juice upon arrival, diving you from the beginning to your healthy vacations.
You will also be provided with a breakfast in your room, which will offer healthy breakfast options, alongside a light omelet, low fat milk and yogurt. At the beach, you will be able to enjoy a fresh fruit salad while the use of Thermal Suite will be also available.
A "healthy & light" dinner at 7 Thalasses restaurant will further dive you to the local aspect of light and healthy cuisine while the slimming massage by algoane will further rejuvenate your body!
This package can be further enriched with private Pilates lessons and one day excursion at the Samaria Gorge!
Breakfast over the Blue | Thalassa Boutique Hotel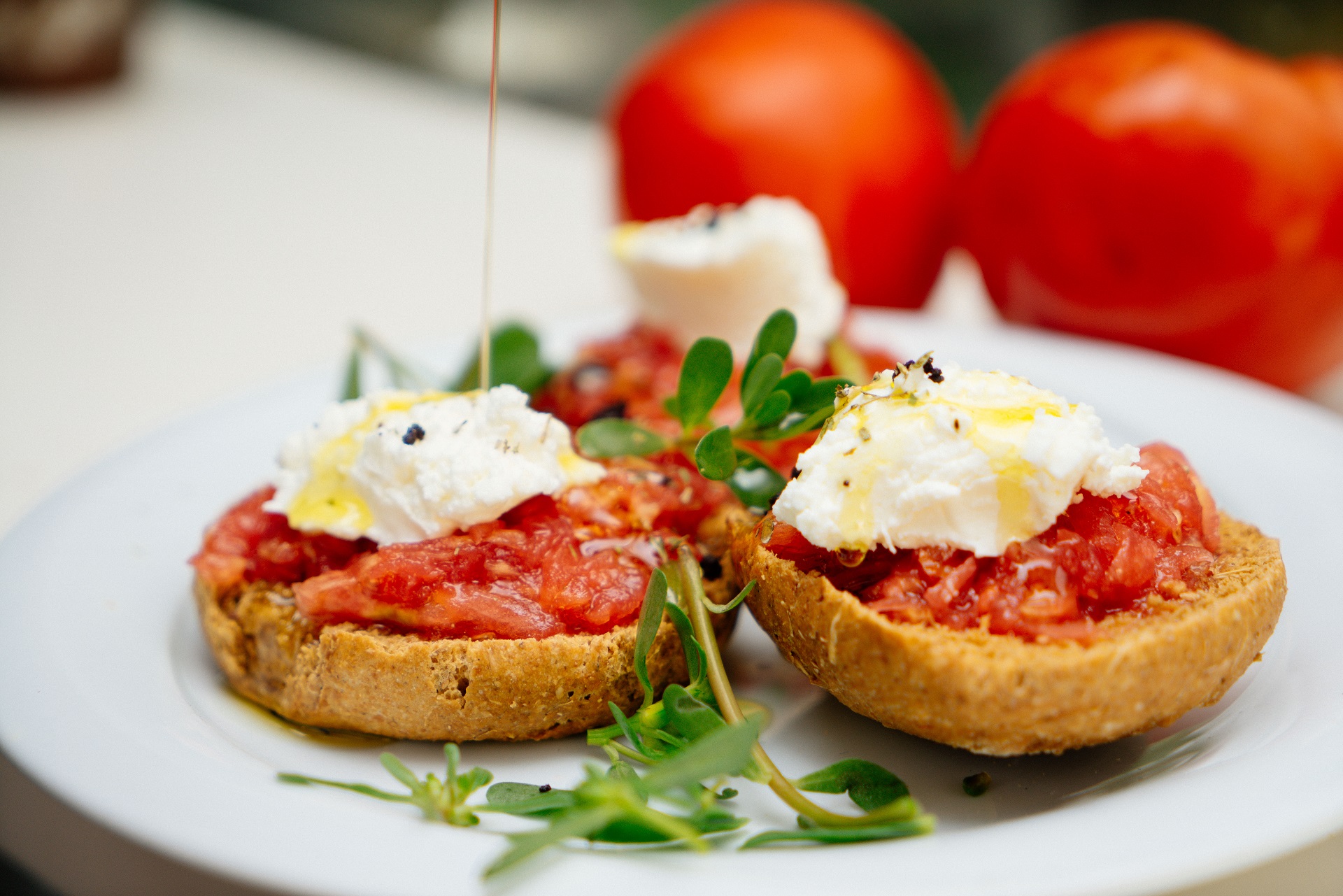 Breakfast is the most important meal of the day, and Thalassa Boutique Hotel has made sure to include a wide diversity of recipes in its buffet breakfast menu, in order to satisfy all kinds of tastes. Of course, the views over the sea greatly add to the overall experience since breakfast is served at the impressive terrace.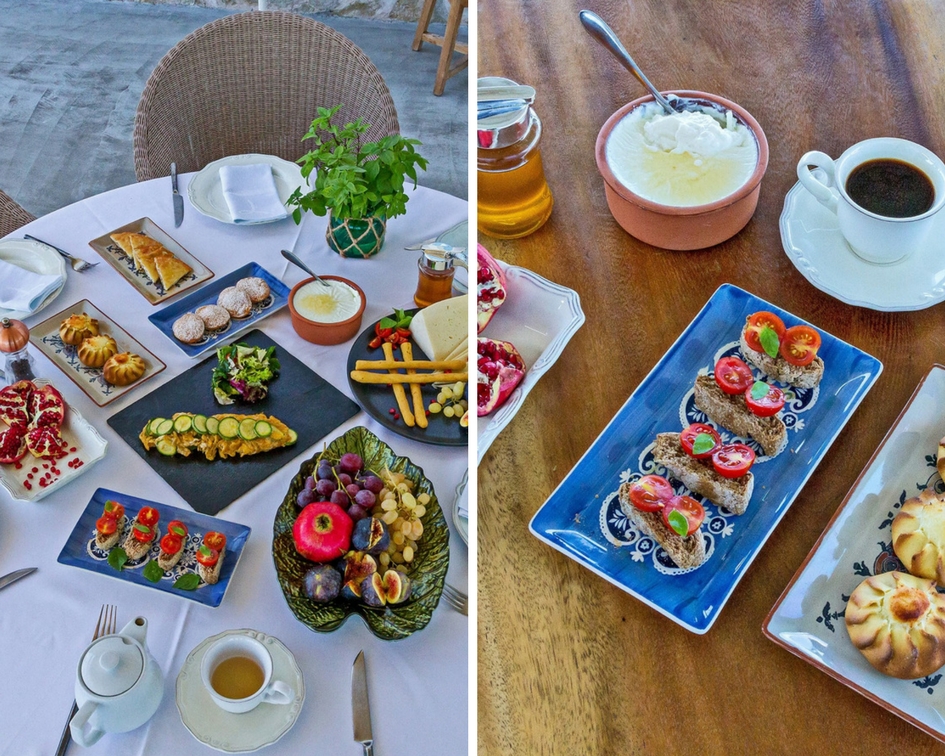 7 Thalasses Restaurant (Seven Seas) | Dining at its Finest
As referred above, the hotel is located in a building used to host the first gourmet fish restaurant in the region, so it was inevitable for Thallasa Boutique Hotel not to keep the restaurant's reputation.
The hotel's restaurant is now one of the most acclaimed ones in the area, serving traditional Cretan cuisine along with a glass of the regional raki. Some dishes that we totally recommend you are:
→ Steamy Mussels with lemon, fresh basil and finocchio
→ Traditional ntakos (rusks) with traditional cheese from Sitia and fresh caper
→ Grilled Shrimps with fresh thyme, olive oil and lemon sauce
→ Traditional Cretan Sfakian Pie with honey from Astrerousia mountain