Luxury Mediterranean Villas are arguably the most attractive and desirable places to stay every summer. The climate that prevails in the lands around the Mediterranean Sea along with the marvelous beaches, charming villages, and lively towns, have come to make the Mediterranean Sea one of our favorite options for summer holidays by far.
Through the years, thousands of Villas have popped up around the nearby destinations, making the selection of the best luxury Mediterranean Villa quite difficult. However, whether you are looking for villas in Greece to spend your honeymoon in the Mediterranean or organize a family or friends gathering, we have picked the best luxury villa complex for you: Olea Villas, in Crete, Greece. Let's dive into one of the best luxury Mediterranean villas!

Olea Villas – Stay in one of the best Luxury Mediterranean villas

Olea Villas is situated in the beautiful Cretan region Chania, within an olive grove with beautiful sea views. A unique staying experience awaits you in one of the two spacious independent villas of the property, with striking architecture and unifying characteristics, such as glass, stone, and wood.
Highlighted by large windows, light and airy rooms, beamed ceilings, wooden floors, and spacious relaxing areas, these stone properties are among the most luxury Mediterranean Villas in Crete. The interior design is characterized by pastel and minimal aesthetics, bringing all the luxury and comfort one can imagine.
You will feel breathless only by stepping on the villa's dining area on the ground floor! Huge glass doors guide you through an open air dining area with beautiful sea views, while the living room leads you to a spacious terrace next to the private infinity pool and the hot tub.

Just imagine spending your afternoons relaxing on your private terrace, equipped with lounge and dining areas, and having all the time of the world to enjoy the impeccable luxury and comfort with your loved ones.

So truly, there is no wonder why the Cretan Olea Villas in Chania has been selected by The Sunday Times as one of the top 50 sensational villas in Europe!
Honeymooners, families, and large groups of friends find their paradise at Olea Villas
The spacious areas along with the luxury facilities and private pool, make Olea Villas an ideal retreat for families and honeymooners. You will rest and relax in a completely safe, quiet, and secluded place while services on request will make your holiday experience even more heavenly.
Our recommended experiences:

Honeymooners may get a peaceful outdoor massage within the private garden of their villa.
A private Chef will carefully prepare delicious and creative dishes for you and your friends.
Sleep well and be transported to the land of dreams
At Olea Villas you will get the sleep quality you deserve, sleeping on mattresses, pillows, and duvets by Coco-Mat, made only from natural materials. Olea Villas' accommodation quality is reflected upon its inclusion in the very special collection with the most impressive hotels in Europe to stay in 2019!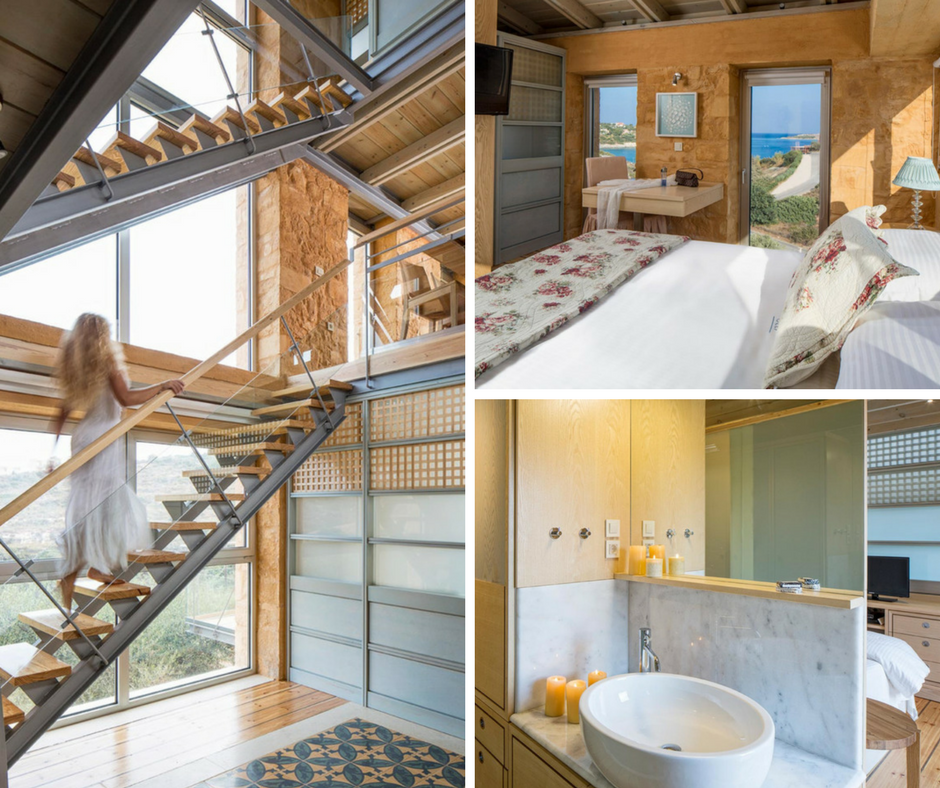 Villa Features:

First Floor: One Bedroom with king size bed and en-suite bathroom.
Lower Floor: 2 Bedrooms with king size beds and en-suite bathrooms
One the first floor, you will relax on a bedroom perfect for intimate moments, featuring a King size bed, fitted wardrobe, and an en-suite bathroom with marble shower. Coco-mat Natural Products and soft bath towels make your bathroom experience feel more spa-like!
A big surprise awaits your kids or even you and your friends on the lower floor – a playroom! Indulge in playing Xbox360 and Nintendo video games, while a home theater along with a big selection of movies will offer your enjoyable moments.

Wake up early and swim in the best beaches near Olea Villas
Loutraki Bay: Olea Villas is just steps away from Loutraki beach, a wave-less sandy beach with shallow and crystal clear turquoise waters! It is a semi-organized beach with sunbeds and parasols, a small café offering light snacks and refreshing drinks, and a restaurant where you will taste the delicacies of Cretan cuisine.
Marathi Bay: A few minutes' drive from Olea Villas you will find the lovely Marathi Bay with three beaches, various restaurants and taverns, as well as a beach-café.
Extra Tip: Toddlers love a good beach, and both Loutraki and Marathi Beach are excellent choices!
Click here to check for prices and availability at Olea Villas, and remember to always book directly with the Hotel, for getting the best available prices and having the most personalized communication with the hotel!