Before you start your vacation in Crete, you need to decide where you are staying. There are four main regions of Crete, each with their own unique characteristics and distinctions. All of them feature different local things to eat and see but the main tourist towns are Chania and Heraklion. In order to truly travel like a local, you will need to rent a car! Crete is the largest Greek island, therefore, making public transit difficult and very time consuming.
Chania
Photo Credits: Discover Greece
Highly regarded as the best location in Crete lies the romantic town of Chania. Featuring a Venetian styled port with Medieval architecture and mansions, Chania is in close proximity to the famous places of Balos, Elafonissi and Samaria Gorge.
Heraklion
On the opposite side of Chania (to the west) lies Heraklion. The capital of Crete, Heraklion Town, is in this region filled with picturesque harbors, fortresses, fountains, shopping centers and more!
Lasithi
Photo Credits: Cretico
Lasithi is known as the least touristy location on the whole island! Although they do feature a few beaches and attractions, it is not recommended that you visit this region unless you are just looking for an eerily quiet trip.
Rethymno
Rethymno is located in the midway point of Chania and Heraklion. It is a region that is filled with beaches, archaeological sites, churches and more! You can even find plenty of monasteries and caves if you search!
STAYING AT A TRADITIONAL HOTEL IN RETHYMNON: PRICELESS
In 1987, Avli Lounge was created with one goal: to modernize the historical town of Rethymno. Since then, it has been transformed into an all-suites hotel that also includes a restaurant, wine cellar and a gorgeous shop where you can take unique and delicious gifts for your family back home.
Their architecture features traditional Cretan aesthetics alongside modern and luxurious elements. The kitchen of their main restaurant also mimics this fusion of local and contemporary.
There are many room options available for you in Avli Lounge. The first thing you will notice is the charming hospitality from the hotel staff and the custom welcome package they have prepared for you. Next, you will be blown away by the stunning interiors of the different types of lounges. Each room has a unique color scheme that represents a unique theme. For example, blue for Greece and the Aegean contrasted with brown for the Earth.
Where to Eat in Heraklion
Cretan food is delicious and is even commended world wide for being one of the healthiest diets! We recommend you check out dishes such as dakos, lamb and the traditional olive oil! Although every tavern and restaurant you walk into will serve impeccable food, here are some local favorites that we recommend checking out!
Peskesi
Peskesi is a small restaurant located in the northwest corner of El Greco Park. Since it is a local favorite, it can get quite busy during peak hours, even on weekdays! This restaurant is known for its rustic architecture and design, especially with the stone styled rooms and the high wooden ceilings. The meat is all organic and grown from a personal family farm. A must try is the Minoan roast pork!
Thalassino Ageri
Of course, when visiting Crete, you must try the seafood! This fish tavern is one of the oldest in all of Crete. It is located 2km from the center of Chania and is an ideal place to catch a view of the sunset while eating the local catch of the day. They have both indoor and outdoor seating at this location, but sit like a local and opt for the outdoors!
Dounias
Dounias is situated on the foot of the White Mountains of Chania. The owner and head chef Stelios Trilirakis plans his cooking according to the famous Cretan diet, also known as the Mediterranean diet! To do this, he uses healthy and locally produced raw products only, such as home grown vegetables, fruits, olives, oil and meat from their personal farm. Some of their specialty dishes include rabbit casseroles and lamb with honey.
Ferryman Taverna
Positioned on the small harbour of Elounda is the modest Gerryman Tavern, which borrows its name from a famous 1970's TV show called "Who Plays the Ferryman". It is a small family run restaurant that sits on the front of Elounda Bay, offering beautiful views of the uninhabited island of Spinalonga. The head chef Yiannis Baxevanis is able to execute and plate dishes spectacularly, creating a gourmet experience unlike anything you have ever experienced! We highly recommend getting the bread here, as it is freshly baked every day with locust beans and homegrown vegetables!
TRADITIONAL CRETAN CUISINE WITH A MODERN TOUCH? WE ARE IN!
Avli Lounge serves local Cretan cuisine in a creative format, using only local ingredeients. If you opt in for the daily buffet breakfast, we recommend trying the "sfakiani" pie that is served sweet with honey and walnuts.
For those who want to get in touch with their inner Gordon Ramsay, we recommend requesting for a cooking lesson! Although not largely advertised, they are available for those who ask, and the owners and head chefs will guide you step by step on how to prepare your favorite Cretan recipes using local ingredients. You can ask for their recommended menus or come up with a menu that is unique to you!
Other fun culinary experiences you can try include tasting local wines from the hotel's wine cellar and purchasing souvenirs and Cretan delicacies (such as olive oil, honey, deli and more) from the grocery store.
Places to Visit

Venetian Harbour
Although this is a tourist favorite, you will frequently see locals roaming around this carefree center as well. The Venetian Harbor is the most famous place in all of Chania, capturing its historic charm with the pastel colored buildings and marina filled with boats and tavernas. Here, you can lose yourself in the Mosque of Kioutsouk Hasan or the Grand Arsenal houses where you can admire the Cretan architecture styles!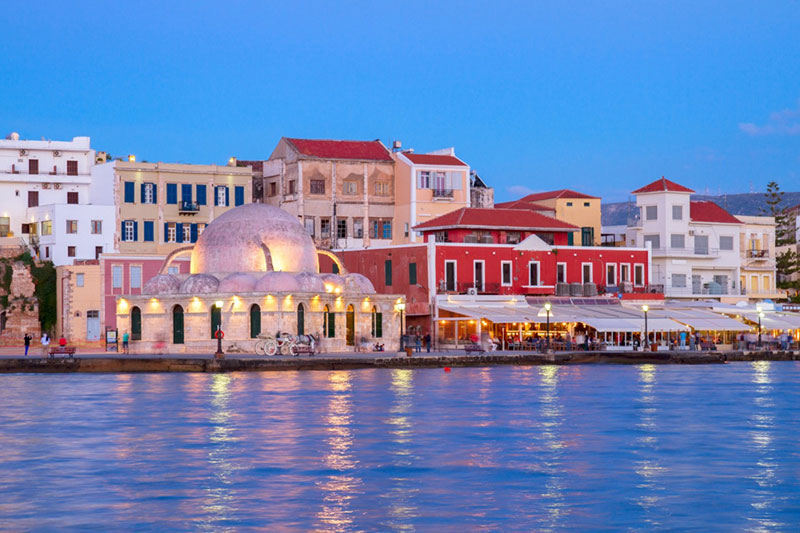 Manousakis Winery
For wine lovers, head down to Manousakis Winery! A Cretan family has been running this business for over 25 years in the wine village of Vatolakkos (16km away from center Chania). Just as the locals do, taste Nostos wines and enjoy a light meal while enjoying the mountainous scenery around you! You can even get a free 15 minute tour of wine production and then lose yourself in the fields of olive and citrus trees!
Loutro, Chania
If you have a car, try driving 70km to the south of Chania towards the fishing village of Loutro. In order to reach the village itself, you must take a boat. It is not a well known tourist place but showcases the true natural beauty of Crete. There are no winds here because the bay of the island is small and protected, forming a natural harbor. You will also see no cars in the entire village, and only a few local inhabitants. In Loutro, you will have no problem finding local restaurants or cafes to visit, and there are plenty of beaches (lesser known than Elafonissi and Balos, but just as nice and peaceful!).
Psychro Cave
Another hidden gem in Crete is Psychro Cave, sometimes referred to as the Dikteon Cave. It is located on the eastern side of Crete, just by the village of Psychro. Crete is home to around 3000 different caves, but Psychro is special because of the mythological importance - it is apparently where the goddess Rhea gave birth to Zeus.