Rhineland's cultural capital, Cologne, is home to more than 30 museums, hundreds of galleries, as well as a rich array of restaurants, bars, and pubs. The city's main attraction is the imposing cathedral that hovers above the roofs and chimneys of the city, but it also has something to offer to sports fans, Roman history explorers, and, of course, foodies.
Cologne's whole-hearted yet simple cuisine has made it a major stop for people who want to try German cuisine – and not only. Even though it's very easy to find Cologne's typical dish (sausage and sauerkraut), you will also find plentiful of restaurants serving International Cuisine, as well as Michelin-Star Restaurants.
Among the best places to try Cologne's rich cuisine, is also a fabulous hotel located on the right bank of the River Rhine at Hohenzollern Bridge. Home to three restaurants, a bar and a sumptuous breakfast that will make you lick your finger, it's only natural the only hotel for foodies in the city.
Hyatt Regency Cologne: A Few Words for the Hotel!
Only steps away from the Rheinboulevard Riverwalk and minutes from the Opera House, Hyatt Regency Cologne is among the top located hotels in the city. Many of its rooms enjoy striking views over the old city and the fabulous Cologne Cathedral. They are also well-equipped with plenty of advanced facilities and services while they spacious enough to make you feel cozy and like home.

Hyatt Breakfast: A Sumptuous Buffet to Seize the Day!
Every morning, from 6:00 am to 10:30, you will able to enjoy a sumptuous breakfast with Continental delicacies cooked to perfection. After high demand, the venue is open to external guests as well, but only prior to reservation.
The breakfast comes at a small extra cost and it includes a live-cooking egg station where you can order your eggs in anyway you want and enjoy them fresh, a wide selection of bread and other Breakfast highlights that we leave them as a surprise.
To wash it all down, you will be provided with plentiful of beverages, juices and coffees to start your day fresh and energy-packed. In case you want to enjoy your breakfast in your privacy, you can also order it in bed!

3 Restaurants, 3 Ways that Hyatt Regency Stands out from the crowd!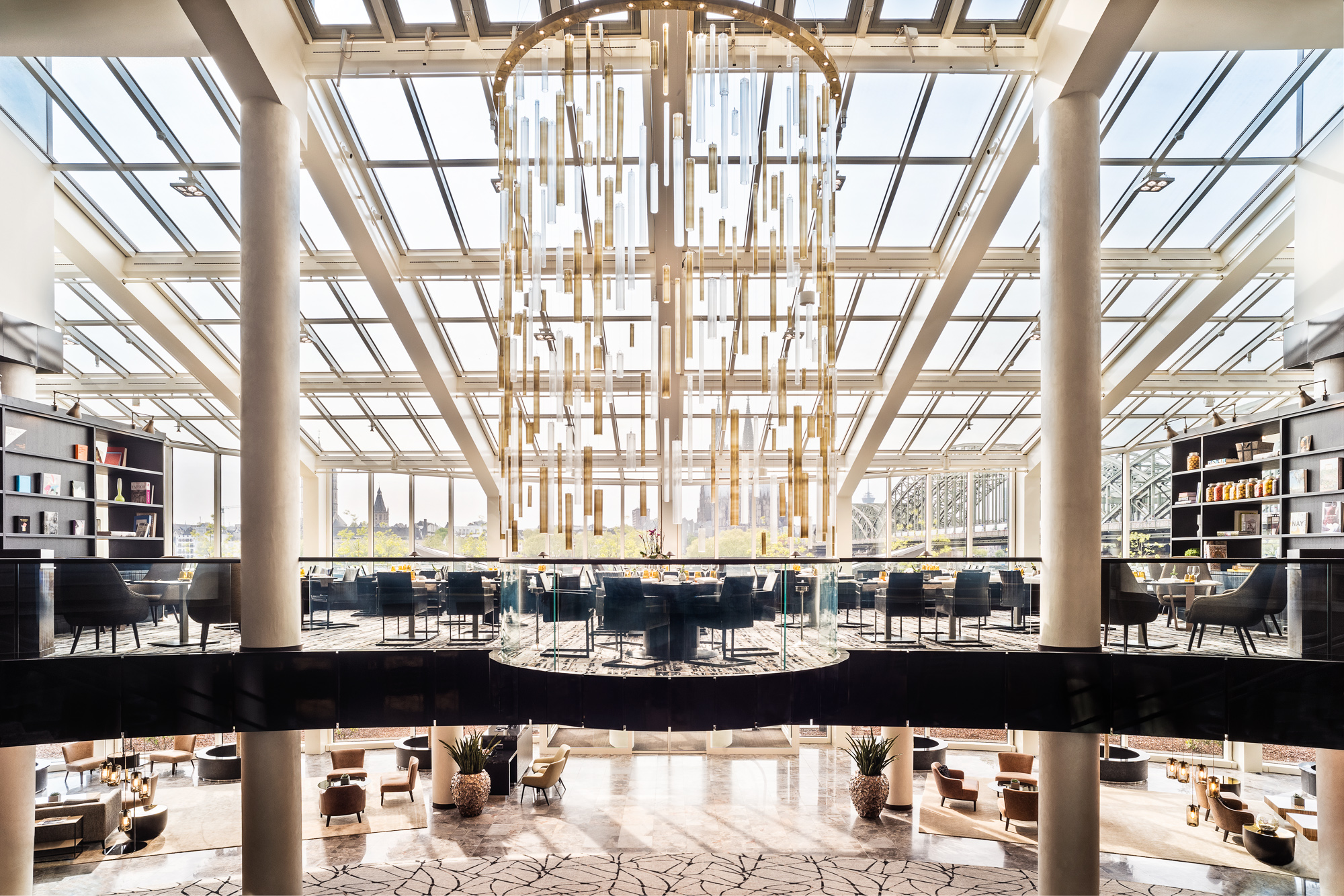 For a city hotel outside Asia to feature so many restaurants is truly unbelievable. Hyatt Regency Cologne is the proud owner of three amazing restaurants, which do not only aim to ease your appetite but also offer an authentic food experience that will please all your 5 senses.
It all starts from Glashaus Restaurant, the hotel's jewel. Glashaus offers stunning views over Rhine River, Hohenzollern Bridge and Cologne Cathedral. It has a swanky yet comfortable atmosphere, where you will enjoy international and regional delicacies. The sushi is a true highlight and a must-try. You can visit Glashaus both for dinner and lunch from Monday to Sunday!
Grissini Restaurant offers authentic Italian dishes, honoring the tremendous Italian tradition. Just like Glashaus Restaurant, Grissini also overlooks Cologne Cathedral and the Old Town, featuring a cozy atmosphere that will transport you to Italy. The menu includes a wide diversity of dishes based on meat, fish, pasta, and some sweet highlights.

Sticky Fingers will become your favorite street food corner, where you will enjoy modern and international delicacies. From pork burgers, to delicious sticky fries, and healthy poke bowls, you will surely fall in love with this place!
Legends Bar: A place to wash it all down!
For a selection of strong spirits and inspiring cocktails, opt to the hotel's cozy lounge, Legends Bar. The bar combines perfectly elegant design with rock history, while music legends who once stayed at the hotel can be spotted in the photographs on the walls.
In addition to the cocktails and the spirits, the bar specializes on German classics like the Bavarian whisky, the Rhineland gin and the craft beer from Hesse. The bar is open all week, operating until 1 am, expect on Friday and Saturday, when it operates until 2 am.
The only thing left is to experience it!
Now that you have found out about the food experience that Hyatt Regency Cologne offers, the only thing left to do is to… experience it. Don't waste any more time and schedule your trip right by checking prices at the hotel from here!