Bali's Luxury resort Visesa Ubud is a culturally inspired resort that honors local culture and tradition. Located in 6.5 hectares of countryside, the resort resembles a Balinese village and even has its own rice paddy fields. It's an oasis of peace and tranquility which respects the local surroundings.
A holiday here allows you to learn about the Balinese way of life, its rich agricultural heritage, sustainable farming and embark on a spiritual journey.
Accommodation wise, the Visesa Ubud has 66 villas and 40 suites surrounded lush Balinese countryside. With four restaurants, a luxurious spa and stacks of local activities you've got everything you need for an authentic Balinese holiday.
Check into Visesa Ubud Luxury Resort – a resort that celebrates Balinese tradition: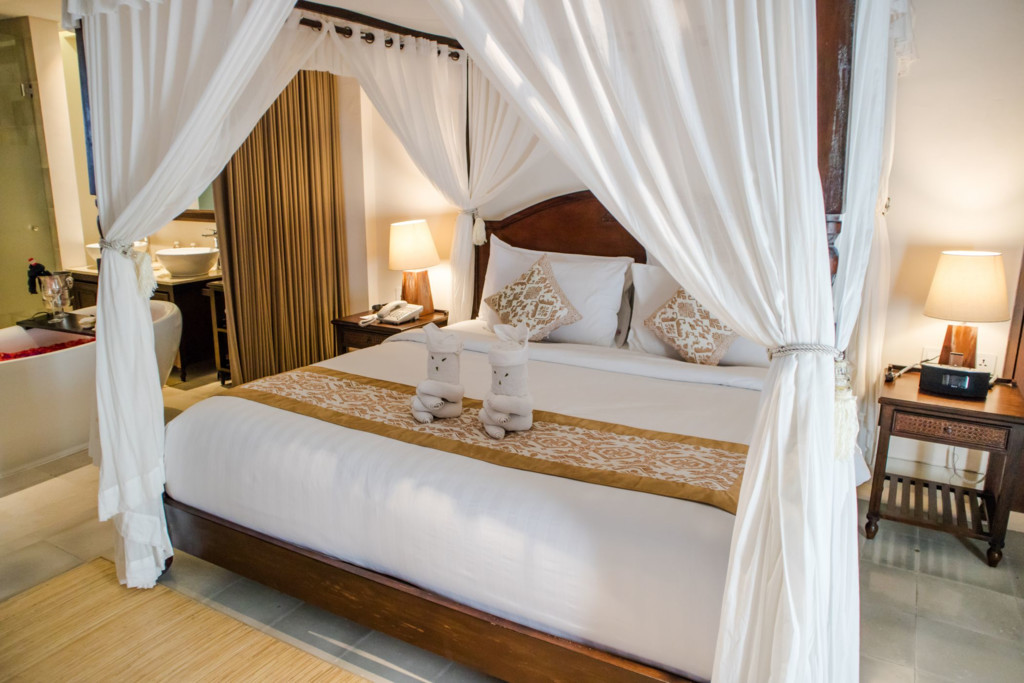 Bali's Luxury resort Visesa Ubud is an establishment that honors local culture and tradition. The culturally inspired property aims to capture the essence of a Balinese village, and this is evident in the authentic Bali cuisine featured in their restaurants, the modern architecture that offers luxury with traditional dark wooden furniture and the permaculture farm that is nearby the resort.

Visesa Ubud Resort is also ideal for those who are interested in meditation and spiritual retreats with scenes that induce holistic energy onto your Bali experience. Made up of 66 villas and 40 suites surrounded by Padi fields and the lush green jungle at your doorstep, as well as four superb restaurants and luxurious spa experiences, every part of you will be pampered.


A day in the life of a local
If you want to get a feel for life in Bali, join one of the many activities on offer at Visesa Ubud Resort. Offering authentic Balinese experiences, the resort allows you to immerse yourself in the local culture. With the knowledge of their eco-friendly practices, you can spend your time cultivating land and helping locals with their daily activities, such as planting, seeding, and harvesting. The younger guests are kept occupied with activities like duck egg collecting, fishing feeding and rooster caring.
Don't be fooled by the comfortable surroundings and luxurious facilities of Visesa Ubud Resort. Although the resort will ensure you leave rested, it still offers authentic Balinese experiences, that will let you dive into deeper in the local culture. These range from ploughing rice fields with local farmers, duck egg collecting, catering for roosters, discovering heritage ceremonies, creating healthy herbal brews, etc.
If you're traveling with animal-loving children, they'll surely love the cows, roosters, and other farm animals!


A Yoga Practice with Jungle Views!
Experience yoga like never before in the natural surroundings of Ubud. The retreat style resort offers a holistic yoga experience with peaceful moments of mediation that bring harmony to your mind, body, and spirit.


Indulge in Spa Treatments inspired by traditional rituals
Your authentic Balinese experience in Visesa Ubud Resort invites you to the natural surroundings of caves and bamboo pavilions for moments of pure bliss and relaxation. The beauty therapy team at Visesa Balinese Healing & Spa uses Ayurvedic medicinal plants, herbs and spices such as ginger, turmeric and papaya to create cures for common ailments, exfoliating scrubs and masks all of which are sourced organically.
The 5 signature treatments are inspired by the 5 natural elements: Fire (Teja), Earth (Pertiwi), Water (Apah), Air (Bayu) and Space (Akasha) which aim to reduce stress and induce a state of deep relaxation.
After your soothing treatments, head to the Loloh Healthy Bar and choose from a selection of freshly brewed health drinks made from recipes derived from Indonesia's past. Containing natural ingredients such as raw vegetable extracts and sweetened with honey, the drinks aim to reduce inflammation and boost the body's immune system with plenty of vitamins and minerals.
Get Crafty: Create your Gebogan!
The Gebogan is a traditional offering that requires patience to create. The result is a triangle or mountain shape cone of fruits, flowers and. Gebogan can reach heights of up to one and a half meters and is usually carried on the heads of Balinese women, heading to the temple.
After prayer, the cone-shaped offering is symbolically given to the Gods; once the rituals are over, they are of course shared between family and friends quickly, before the fruit spoils. To create your own Gebogan and immerse yourself entirely in this Balinese ritual, enquire about the Gebogan class at Visesa Ubud and learn how to create your own!


Become involved in Balinese Performing Arts!
Ubud presents so many opportunities for travellers to experience the fiery and dynamic energy of Balinese dance, music, and song. Sit in awe as you watch cultural shows with local children telling stories of the "Harvest Goddess" and other traditional Balinese tales. Be witness to the bright traditional costumes, masks and the mastery of puppetry and traditional dance all meshed together for an impressive story-telling experience. Tickets to the Balinese Living Arts Performance can be purchased at Visesa Ubud Resort
If you are totally inspired by the Balinese Living Arts performance, we recommend taking part in a traditional Balinese Dance Lesson for a first-hand experience of Bali's immersive and rich culture. Taught by the Visesa Ubud's Cultural Ambassadors, your dance lesson at Visesa Ubud Resort will show you all about the delicate finger movements that are key to the dance. Balinese Dance also emphasises grace in the steps which you will be encouraged to master, all with the background ambience of hypnotic music.


A Balinese Dining Experience!
Enjoy the local traditional Balinese dishes in the setting of Visesa Ubud Resort amazing restaurants. Choose from four dining experiences at Visesa Ubud Resort: Lumbung Restaurant, Padi Fine Dining Restaurant, Warung Tani and Lesung Restaurant.
For traditional cuisine, visit Lumbung Restaurant and dive into the mouth-watering flavors of local Indonesian home cooking using indigenous cooking techniques and ingredients.
Besides the hotel's spacious lobby, you will find an exquisite restaurant serving signature gourmet appetizers and creative flavors. Lesung Restaurant has a rich menu bustling in vivid colours and aromas, including various delicious dishes like the chargrilled prawns with fresh mangoes and cherry tomatoes. Traditional desserts like the coconut and jackfruit dessert will also cater to your sweet tooth!


Discover Bali in your own time and way!
Bali is the unique Asian destination. The Visesa Ubud an exclusive resort in Bali. With a wealth of activities, you can explore your artistic or practical side, learn about Balinese culture and experience a truly authentic stay. All in luxurious surroundings. To begin planning your authentic Bali holiday, check booking information at Visesa Ubud Resort or click the link below!